NEW ISSUE NOW ONLINE: Ukraine war jolts confident scrap markets
Subscribe
Page 52 from: NEW ISSUE NOW ONLINE: Ukraine war jolts confident scrap markets
52 'MOST MODERN' GLASS RECYCLING ON THE WAY IN ROMANIA Romanian firm Greenglass Recycling is investing EUR 10 million in a post-consumer glass recycling plant. The company believes this will boost its annual processing capacity to 26...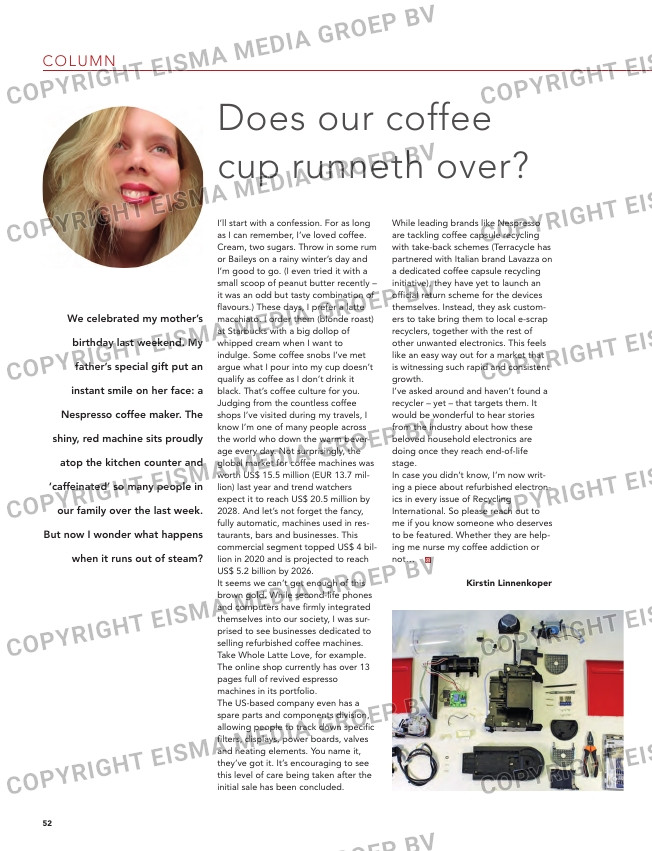 52
'MOST MODERN' GLASS RECYCLING ON THE WAY IN ROMANIA
Romanian firm Greenglass Recycling is investing EUR 10 million in a post-consumer
glass recycling plant. The company believes this will boost its annual processing
capacity to 260 000 tonnes per year.
The new recycling hub will be constructed near the country's capital of Bucharest and is
scheduled to be completed in 2023. Besides handling glass packaging such as bottles
and jars, the new plant will also recycle flat glass from the automotive industry and from
construction and demolition. It is expected to create more than 100 local jobs during
the construction phase and 90 permanent roles once it is complete.
The recycler says that some of the funds will go towards modernising its existing facili-
ties with the expansion and upgrading strategy vital to an ambition to pursue 'the most
modern recycling technologies' which includes opto-electronic sorting equipment. As a result, Greenglass will deliver recycled glass
cullet with a high degree of purity – at least 99.99%.
Most material is collected via Romania's deposit return scheme.
Once the new plant opens its doors, Greenglass is confident it will be able to recycle enough glass necessary for the country to meet
its national collection target of 90% by 2030.
'We are responding to the growing demand from glass manufacturers to increase the share of recycled material in their products, in
order to reduce the use of virgin materials,' says Marius Costache, general manager at Greenglass. 'We aim to create a truly circular
economy in Romania, both for packaging glass waste but also for glass waste resulting from other streams.'
Costache envisions further investment in the central-west area of Romania to optimise the operations that are part of the glass col-
lection and recycling system, meaning closer proximity to generators of waste, lower logistics costs, and less CO2 emissions.
Meanwhile, recent Statista figures indicate that glass production across Europe has increased significantly in recent years and was
over 35 million tonnes in 2020.
INDORAMA BUYS INTO CZECH PET RECYCLER
Indorama Ventures (IVL), the world's largest producer of recy-
cled PET for beverage bottles, has taken an 85% equity stake in
Czech recycler UCY Polymers.
As a result of the investment, IVL will recycle about 1.12 billion
additional post-consumer PET plastic bottles in the Czech Republic
every year by 2025, increasing the total bottles recycled by UCY
across the Czech Republic, Germany and Central Europe to 1.6 bil-
lion bottles per year. UCY currently produces 40 000 tonnes of recy-
cled PET flake per year.
UCY will work with IVL's existing PET flake production facilities in
the EU. These provide the washed and shredded post-consumer
bottles as PET flake feedstock to produce recycled resin that is suit-
able for food contact use.
IVL ceo D K Agarwal says the company's know-how will be used to
grow capacity and recycle more bottles. 'We are building the recy-
cling infrastructure needed to divert PET waste from the environ-
ment. By recycling post-consumer PET bottles into new bottles, we
give waste an economic value.'
Maximilian Josef Söllner, ceo UCY, said, 'Expanding our capacity by
2025 means an extra 896 million more bottles will be recycled in
our facilities compared with today."
The investment is part of IVL's wider global strategy to spend US$
1.5 billion (EUR 1.32 bil-
lion) expanding recycling
facilities and sustainable
production, boosting its
recycling capacity to 750
000 tonnes per year by
2025.
COLUMN
Does our coffee
cup runneth over?
We celebrated my mother's
birthday last weekend. My
father's special gift put an
instant smile on her face: a
Nespresso coffee maker. The
shiny, red machine sits proudly
atop the kitchen counter and
'caffeinated' so many people in
our family over the last week.
But now I wonder what happens
when it runs out of steam?
I'll start with a confession. For as long
as I can remember, I've loved coffee.
Cream, two sugars. Throw in some rum
or Baileys on a rainy winter's day and
I'm good to go. (I even tried it with a
small scoop of peanut butter recently –
it was an odd but tasty combination of
flavours.) These days, I prefer a latte
macchiato. I order them (blonde roast)
at Starbucks with a big dollop of
whipped cream when I want to
indulge. Some coffee snobs I've met
argue what I pour into my cup doesn't
qualify as coffee as I don't drink it
black. That's coffee culture for you.
Judging from the countless coffee
shops I've visited during my travels, I
know I'm one of many people across
the world who down the warm bever-
age every day. Not surprisingly, the
global market for coffee machines was
worth US$ 15.5 million (EUR 13.7 mil-
lion) last year and trend watchers
expect it to reach US$ 20.5 million by
2028. And let's not forget the fancy,
fully automatic, machines used in res-
taurants, bars and businesses. This
commercial segment topped US$ 4 bil-
lion in 2020 and is projected to reach
US$ 5.2 billion by 2026.
It seems we can't get enough of this
brown gold. While second-life phones
and computers have firmly integrated
themselves into our society, I was sur-
prised to see businesses dedicated to
selling refurbished coffee machines.
Take Whole Latte Love, for example.
The online shop currently has over 13
pages full of revived espresso
machines in its portfolio.
The US-based company even has a
spare parts and components division,
allowing people to track down specific
filters, displays, power boards, valves
and heating elements. You name it,
they've got it. It's encouraging to see
this level of care being taken after the
initial sale has been concluded.
While leading brands like Nespresso
are tackling coffee capsule recycling
with take-back schemes (Terracycle has
partnered with Italian brand Lavazza on
a dedicated coffee capsule recycling
initiative), they have yet to launch an
official return scheme for the devices
themselves. Instead, they ask custom-
ers to take bring them to local e-scrap
recyclers, together with the rest of
other unwanted electronics. This feels
like an easy way out for a market that
is witnessing such rapid and consistent
growth.
I've asked around and haven't found a
recycler – yet – that targets them. It
would be wonderful to hear stories
from the industry about how these
beloved household electronics are
doing once they reach end-of-life
stage.
In case you didn't know, I'm now writ-
ing a piece about refurbished electron-
ics in every issue of Recycling
International. So please reach out to
me if you know someone who deserves
to be featured. Whether they are help-
ing me nurse my coffee addiction or
not…
Kirstin Linnenkoper
52-53-54-55_trendsupdatesii.indd 52 28-02-2022 16:19