NEW ISSUE NOW ONLINE: Ukraine war jolts confident scrap markets
Subscribe
Page 39 from: NEW ISSUE NOW ONLINE: Ukraine war jolts confident scrap markets
TECHNOLOGY 39recyclinginternational.com | March/April | 2022 the most demanding and rapid sort- ing tasks. 'No matter the object's curvature or other physical characteristics, XRF devices can handle pretty much any type of scr...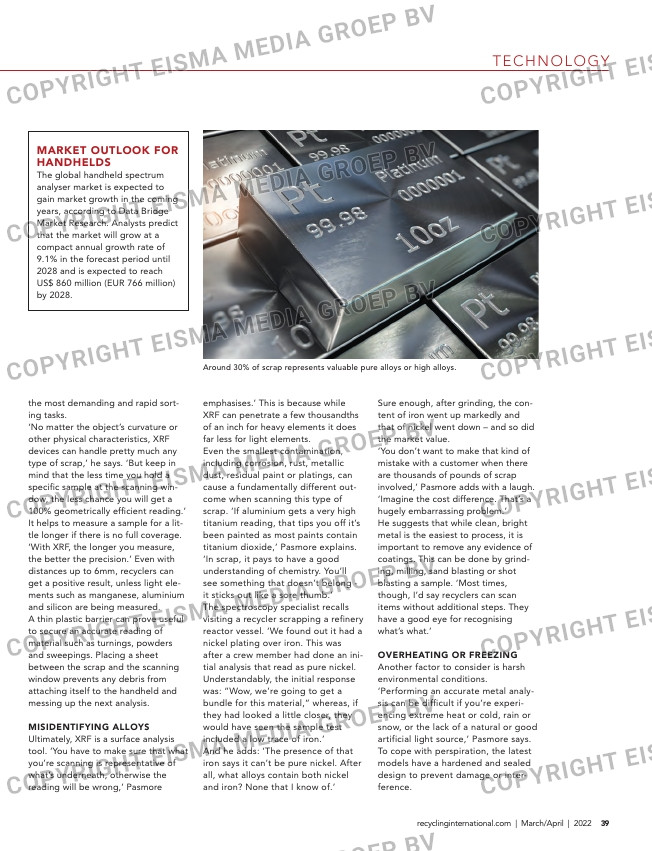 TECHNOLOGY
39recyclinginternational.com | March/April | 2022
the most demanding and rapid sort-
ing tasks.
'No matter the object's curvature or
other physical characteristics, XRF
devices can handle pretty much any
type of scrap,' he says. 'But keep in
mind that the less time you hold a
specific sample at the scanning win-
dow, the less chance you will get a
100% geometrically efficient reading.'
It helps to measure a sample for a lit-
tle longer if there is no full coverage.
'With XRF, the longer you measure,
the better the precision.' Even with
distances up to 6mm, recyclers can
get a positive result, unless light ele-
ments such as manganese, aluminium
and silicon are being measured.
A thin plastic barrier can prove useful
to secure an accurate reading of
material such as turnings, powders
and sweepings. Placing a sheet
between the scrap and the scanning
window prevents any debris from
attaching itself to the handheld and
messing up the next analysis.
MISIDENTIFYING ALLOYS
Ultimately, XRF is a surface analysis
tool. 'You have to make sure that what
you're scanning is representative of
what's underneath, otherwise the
reading will be wrong,' Pasmore
Fotobijschrift
MARKET OUTLOOK FOR
HANDHELDS
The global handheld spectrum
analyser market is expected to
gain market growth in the coming
years, according to Data Bridge
Market Research. Analysts predict
that the market will grow at a
compact annual growth rate of
9.1% in the forecast period until
2028 and is expected to reach
US$ 860 million (EUR 766 million)
by 2028.
Around 30% of scrap represents valuable pure alloys or high alloys.
emphasises.' This is because while
XRF can penetrate a few thousandths
of an inch for heavy elements it does
far less for light elements.
Even the smallest contamination,
including corrosion, rust, metallic
dust, residual paint or platings, can
cause a fundamentally different out-
come when scanning this type of
scrap. 'If aluminium gets a very high
titanium reading, that tips you off it's
been painted as most paints contain
titanium dioxide,' Pasmore explains.
'In scrap, it pays to have a good
understanding of chemistry. You'll
see something that doesn't belong –
it sticks out like a sore thumb.'
The spectroscopy specialist recalls
visiting a recycler scrapping a refinery
reactor vessel. 'We found out it had a
nickel plating over iron. This was
after a crew member had done an ini-
tial analysis that read as pure nickel.
Understandably, the initial response
was: "Wow, we're going to get a
bundle for this material," whereas, if
they had looked a little closer, they
would have seen the sample test
included a low trace of iron.'
And he adds: 'The presence of that
iron says it can't be pure nickel. After
all, what alloys contain both nickel
and iron? None that I know of.'
Sure enough, after grinding, the con-
tent of iron went up markedly and
that of nickel went down – and so did
the market value.
'You don't want to make that kind of
mistake with a customer when there
are thousands of pounds of scrap
involved,' Pasmore adds with a laugh.
'Imagine the cost difference. That's a
hugely embarrassing problem.'
He suggests that while clean, bright
metal is the easiest to process, it is
important to remove any evidence of
coatings. This can be done by grind-
ing, milling, sand blasting or shot
blasting a sample. 'Most times,
though, I'd say recyclers can scan
items without additional steps. They
have a good eye for recognising
what's what.'
OVERHEATING OR FREEZING
Another factor to consider is harsh
environmental conditions.
'Performing an accurate metal analy-
sis can be difficult if you're experi-
encing extreme heat or cold, rain or
snow, or the lack of a natural or good
artificial light source,' Pasmore says.
To cope with perspiration, the latest
models have a hardened and sealed
design to prevent damage or inter-
ference.
38-39-40_handheldanalysers-2.indd 39 28-02-2022 16:13