NEW ISSUE NOW ONLINE: Ukraine war jolts confident scrap markets
Subscribe
Page 31 from: NEW ISSUE NOW ONLINE: Ukraine war jolts confident scrap markets
31recyclinginternational.com | March/April | 2022 BUSINESS recycle paper cups while advances in polymer recycling have increased the demand for additional types of plastic products. 'Last year, Rumpke announced the addition of t...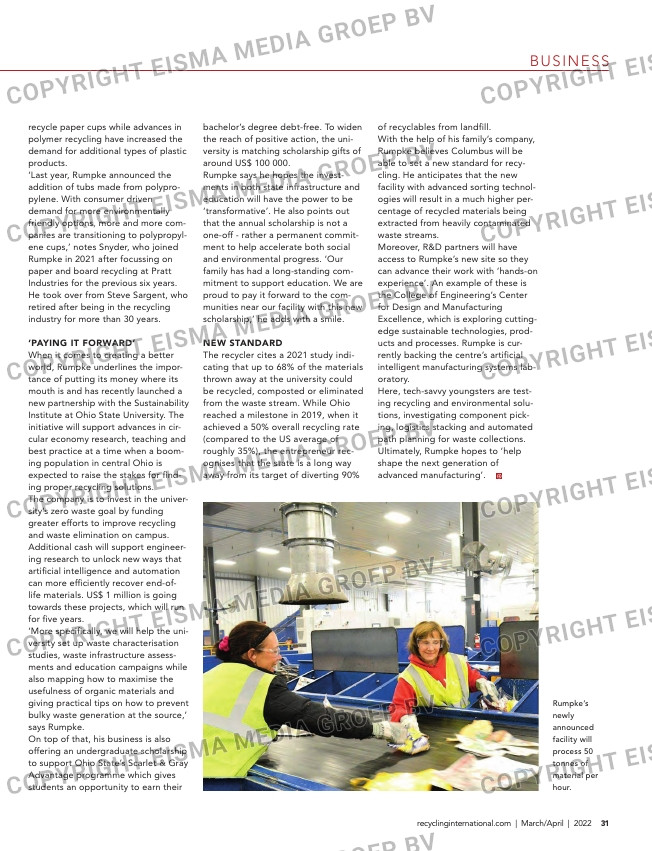 31recyclinginternational.com | March/April | 2022
BUSINESS
recycle paper cups while advances in
polymer recycling have increased the
demand for additional types of plastic
products.
'Last year, Rumpke announced the
addition of tubs made from polypro-
pylene. With consumer driven
demand for more environmentally
friendly options, more and more com-
panies are transitioning to polypropyl-
ene cups,' notes Snyder, who joined
Rumpke in 2021 after focussing on
paper and board recycling at Pratt
Industries for the previous six years.
He took over from Steve Sargent, who
retired after being in the recycling
industry for more than 30 years.
'PAYING IT FORWARD'
When it comes to creating a better
world, Rumpke underlines the impor-
tance of putting its money where its
mouth is and has recently launched a
new partnership with the Sustainability
Institute at Ohio State University. The
initiative will support advances in cir-
cular economy research, teaching and
best practice at a time when a boom-
ing population in central Ohio is
expected to raise the stakes for find-
ing proper recycling solutions.
The company is to invest in the univer-
sity's zero waste goal by funding
greater efforts to improve recycling
and waste elimination on campus.
Additional cash will support engineer-
ing research to unlock new ways that
artificial intelligence and automation
can more efficiently recover end-of-
life materials. US$ 1 million is going
towards these projects, which will run
for five years.
'More specifically, we will help the uni-
versity set up waste characterisation
studies, waste infrastructure assess-
ments and education campaigns while
also mapping how to maximise the
usefulness of organic materials and
giving practical tips on how to prevent
bulky waste generation at the source,'
says Rumpke.
On top of that, his business is also
offering an undergraduate scholarship
to support Ohio State's Scarlet & Gray
Advantage programme which gives
students an opportunity to earn their
bachelor's degree debt-free. To widen
the reach of positive action, the uni-
versity is matching scholarship gifts of
around US$ 100 000.
Rumpke says he hopes the invest-
ments in both state infrastructure and
education will have the power to be
'transformative'. He also points out
that the annual scholarship is not a
one-off – rather a permanent commit-
ment to help accelerate both social
and environmental progress. 'Our
family has had a long-standing com-
mitment to support education. We are
proud to pay it forward to the com-
munities near our facility with this new
scholarship,' he adds with a smile.
NEW STANDARD
The recycler cites a 2021 study indi-
cating that up to 68% of the materials
thrown away at the university could
be recycled, composted or eliminated
from the waste stream. While Ohio
reached a milestone in 2019, when it
achieved a 50% overall recycling rate
(compared to the US average of
roughly 35%), the entrepreneur rec-
ognises that the state is a long way
away from its target of diverting 90%
of recyclables from landfill.
With the help of his family's company,
Rumpke believes Columbus will be
able to set a new standard for recy-
cling. He anticipates that the new
facility with advanced sorting technol-
ogies will result in a much higher per-
centage of recycled materials being
extracted from heavily contaminated
waste streams.
Moreover, R&D partners will have
access to Rumpke's new site so they
can advance their work with 'hands-on
experience'. An example of these is
the College of Engineering's Center
for Design and Manufacturing
Excellence, which is exploring cutting-
edge sustainable technologies, prod-
ucts and processes. Rumpke is cur-
rently backing the centre's artificial
intelligent manufacturing systems lab-
oratory.
Here, tech-savvy youngsters are test-
ing recycling and environmental solu-
tions, investigating component pick-
ing, logistics stacking and automated
path planning for waste collections.
Ultimately, Rumpke hopes to 'help
shape the next generation of
advanced manufacturing'.
Fotobijschrift
KADERKOP
??
Rumpke's
newly
announced
facility will
process 50
tonnes of
material per
hour.
30-31_companyprofile-rumpke.indd 31 28-02-2022 16:07