Recycling International March issue | 2022
Subscribe
Page 29 from: Recycling International March issue | 2022
TECHNOLOGY EXPERT POWERFUL, FAST, HIGHLY PRODUCTIVE The slowdown due to Covid gave the Vezzani technical department the breathing space needed to focus on this project. The brief from Jansen was for a mobile machine to be based mostl...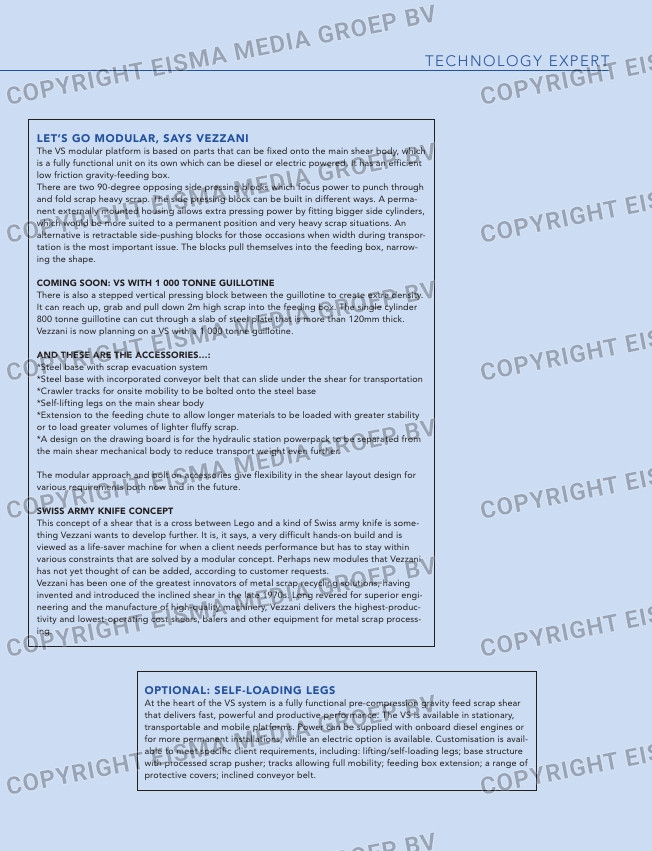 TECHNOLOGY EXPERT
POWERFUL, FAST, HIGHLY PRODUCTIVE
The slowdown due to Covid gave the Vezzani
technical department the breathing space
needed to focus on this project. The brief from
Jansen was for a mobile machine to be based
mostly at its main scrap yard but also easily
transportable to other locations by truck while
respecting road restrictions. The shear had to
be powerful, fast and highly productive – in
every way the equivalent of the Vezzani static
shear of a similar size. And the scrap to be
processed would often be heavy and bulky.
First studies resulting in an outline design of a
'theoretical' machine was based on the exist-
ing VS. First results were not good because
transport weight and dimensions were an issue
but certain elements of the design were essen-
tial and couldn't be changed in any way.
'LEGO' APPROACH
Vezzani had reached deadlock. In the end, it
made a leap of imagination and dreamt up a
system of interlocking 'Lego' like elements
that could be assembled or disassembled
whenever needed. This allowed the manufac-
turer to maintain the heavy build quality and
hydraulic circuit performance of a static shear
without compromising in critical areas. True to
the ingenuity of Vezzani design, each of these
customizable components could be added to
or removed from the main body of the shear
through a quick-locking assembly process. This
now permits maximum flexibility in terms of
production while increasing the ease of trans-
port. Fully assembled, the VS800 at Jansen
weighs in at well over 110 tonnes.
The VS was successfully installed in the autumn
of 2021 and Jansen says it is very happy with
the shear.
HUNGER FOR SCRAP
Vezzani has already received considerable
interest in the new VS. The shear has an alert,
aggressive look, almost suggesting it wants to
pounce on the scrap pile. This styling was not
intentional but is well-matched by its fast,
powerful, nonstop cycle. Currently the VS800
is set to make 240 guillotine cut strokes per
hour nonstop automatically. In fact, the VS can
go faster because the diesel unit is oversized
and will never drop its revs at any point in the
cycle while the pumps develop maximum pres-
sure. The VS has all the quality details you
would expect from a static installation.
LET'S GO MODULAR, SAYS VEZZANI
The VS modular platform is based on parts that can be fixed onto the main shear body, which
is a fully functional unit on its own which can be diesel or electric powered. It has an efficient
low friction gravity-feeding box.
There are two 90-degree opposing side pressing blocks which focus power to punch through
and fold scrap heavy scrap. The side pressing block can be built in different ways. A perma-
nent externally mounted housing allows extra pressing power by fitting bigger side cylinders,
which would be more suited to a permanent position and very heavy scrap situations. An
alternative is retractable side-pushing blocks for those occasions when width during transpor-
tation is the most important issue. The blocks pull themselves into the feeding box, narrow-
ing the shape.
COMING SOON: VS WITH 1 000 TONNE GUILLOTINE
There is also a stepped vertical pressing block between the guillotine to create extra density.
It can reach up, grab and pull down 2m high scrap into the feeding box. The single cylinder
800 tonne guillotine can cut through a slab of steel plate that is more than 120mm thick.
Vezzani is now planning on a VS with a 1 000 tonne guillotine.
AND THESE ARE THE ACCESSORIES…:
*Steel base with scrap evacuation system
*Steel base with incorporated conveyor belt that can slide under the shear for transportation
*Crawler tracks for onsite mobility to be bolted onto the steel base
*Self-lifting legs on the main shear body
*Extension to the feeding chute to allow longer materials to be loaded with greater stability
or to load greater volumes of lighter fluffy scrap.
*A design on the drawing board is for the hydraulic station powerpack to be separated from
the main shear mechanical body to reduce transport weight even further.
The modular approach and bolt on accessories give flexibility in the shear layout design for
various requirements both now and in the future.
SWISS ARMY KNIFE CONCEPT
This concept of a shear that is a cross between Lego and a kind of Swiss army knife is some-
thing Vezzani wants to develop further. It is, it says, a very difficult hands-on build and is
viewed as a life-saver machine for when a client needs performance but has to stay within
various constraints that are solved by a modular concept. Perhaps new modules that Vezzani
has not yet thought of can be added, according to customer requests.
Vezzani has been one of the greatest innovators of metal scrap recycling solutions, having
invented and introduced the inclined shear in the late 1970s. Long revered for superior engi-
neering and the manufacture of high-quality machinery, Vezzani delivers the highest-produc-
tivity and lowest-operating cost shears, balers and other equipment for metal scrap process-
ing.
OPTIONAL: SELF-LOADING LEGS
At the heart of the VS system is a fully functional pre-compression gravity feed scrap shear
that delivers fast, powerful and productive performance. The VS is available in stationary,
transportable and mobile platforms. Power can be supplied with onboard diesel engines or
for more permanent installations, while an electric option is available. Customisation is avail-
able to meet specific client requirements, including: lifting/self-loading legs; base structure
with processed scrap pusher; tracks allowing full mobility; feeding box extension; a range of
protective covers; inclined conveyor belt.
26-27-28-29_vezzani.indd 49 28-02-2022 16:06