NEW ISSUE NOW ONLINE: Ukraine war jolts confident scrap markets
Subscribe
Page 23 from: NEW ISSUE NOW ONLINE: Ukraine war jolts confident scrap markets
TECHNOLOGY 23recyclinginternational.com | March/April | 2022 economical and efficient feature, Vecoplan's Live Service. Users request direct online support from technicians who can access the controller and the control panel and...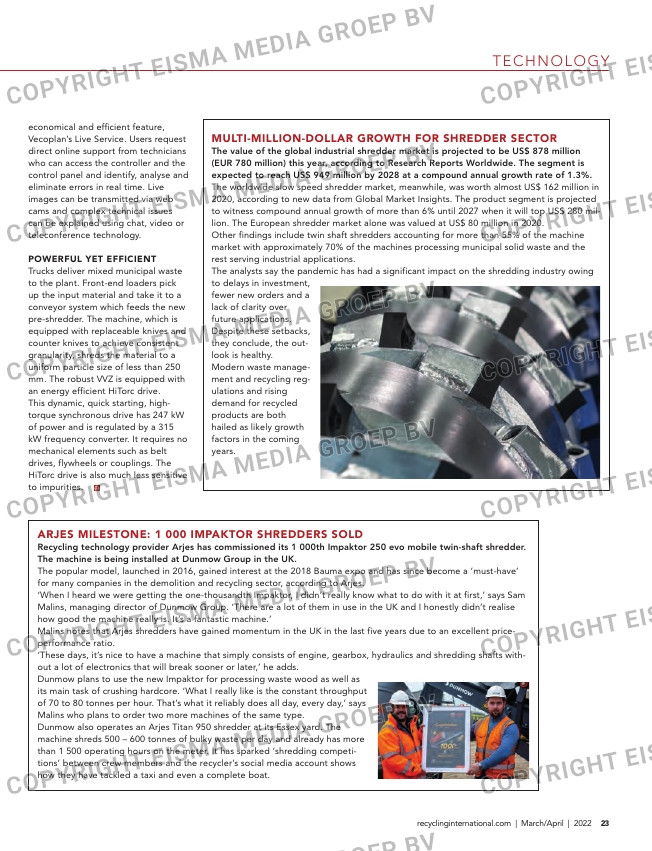 TECHNOLOGY
23recyclinginternational.com | March/April | 2022
economical and efficient feature,
Vecoplan's Live Service. Users request
direct online support from technicians
who can access the controller and the
control panel and identify, analyse and
eliminate errors in real time. Live
images can be transmitted via web
cams and complex technical issues
can be explained using chat, video or
teleconference technology.
POWERFUL YET EFFICIENT
Trucks deliver mixed municipal waste
to the plant. Front-end loaders pick
up the input material and take it to a
conveyor system which feeds the new
pre-shredder. The machine, which is
equipped with replaceable knives and
counter knives to achieve consistent
granularity, shreds the material to a
uniform particle size of less than 250
mm. The robust VVZ is equipped with
an energy efficient HiTorc drive.
This dynamic, quick starting, high-
torque synchronous drive has 247 kW
of power and is regulated by a 315
kW frequency converter. It requires no
mechanical elements such as belt
drives, flywheels or couplings. The
HiTorc drive is also much less sensitive
to impurities.
MULTI-MILLION-DOLLAR GROWTH FOR SHREDDER SECTOR
The value of the global industrial shredder market is projected to be US$ 878 million
(EUR 780 million) this year, according to Research Reports Worldwide. The segment is
expected to reach US$ 949 million by 2028 at a compound annual growth rate of 1.3%.
The worldwide slow speed shredder market, meanwhile, was worth almost US$ 162 million in
2020, according to new data from Global Market Insights. The product segment is projected
to witness compound annual growth of more than 6% until 2027 when it will top US$ 280 mil-
lion. The European shredder market alone was valued at US$ 80 million in 2020.
Other findings include twin shaft shredders accounting for more than 55% of the machine
market with approximately 70% of the machines processing municipal solid waste and the
rest serving industrial applications.
The analysts say the pandemic has had a significant impact on the shredding industry owing
to delays in investment,
fewer new orders and a
lack of clarity over
future applications.
Despite these setbacks,
they conclude, the out-
look is healthy.
Modern waste manage-
ment and recycling reg-
ulations and rising
demand for recycled
products are both
hailed as likely growth
factors in the coming
years.
ARJES MILESTONE: 1 000 IMPAKTOR SHREDDERS SOLD
Recycling technology provider Arjes has commissioned its 1 000th Impaktor 250 evo mobile twin-shaft shredder.
The machine is being installed at Dunmow Group in the UK.
The popular model, launched in 2016, gained interest at the 2018 Bauma expo and has since become a 'must-have'
for many companies in the demolition and recycling sector, according to Arjes.
'When I heard we were getting the one-thousandth Impaktor, I didn't really know what to do with it at first,' says Sam
Malins, managing director of Dunmow Group. 'There are a lot of them in use in the UK and I honestly didn't realise
how good the machine really is. It's a fantastic machine.'
Malins notes that Arjes shredders have gained momentum in the UK in the last five years due to an excellent price-
performance ratio.
'These days, it's nice to have a machine that simply consists of engine, gearbox, hydraulics and shredding shafts with-
out a lot of electronics that will break sooner or later,' he adds.
Dunmow plans to use the new Impaktor for processing waste wood as well as
its main task of crushing hardcore. 'What I really like is the constant throughput
of 70 to 80 tonnes per hour. That's what it reliably does all day, every day,' says
Malins who plans to order two more machines of the same type.
Dunmow also operates an Arjes Titan 950 shredder at its Essex yard. The
machine shreds 500 – 600 tonnes of bulky waste per day and already has more
than 1 500 operating hours on the meter. It has sparked 'shredding competi-
tions' between crew members and the recycler's social media account shows
how they have tackled a taxi and even a complete boat.
22-23-24_pre-shredders.indd 23 01-03-2022 10:02