NEW ISSUE NOW ONLINE: Ukraine war jolts confident scrap markets
Subscribe
Page 10 from: NEW ISSUE NOW ONLINE: Ukraine war jolts confident scrap markets
10 'Chemical must not replace mechanical recycling' A leading member of the global recycling industry has cautioned about the grow- ing trend towards the chemical recycling of plastics. Henk Alssema, who chairs the BIR plastics co...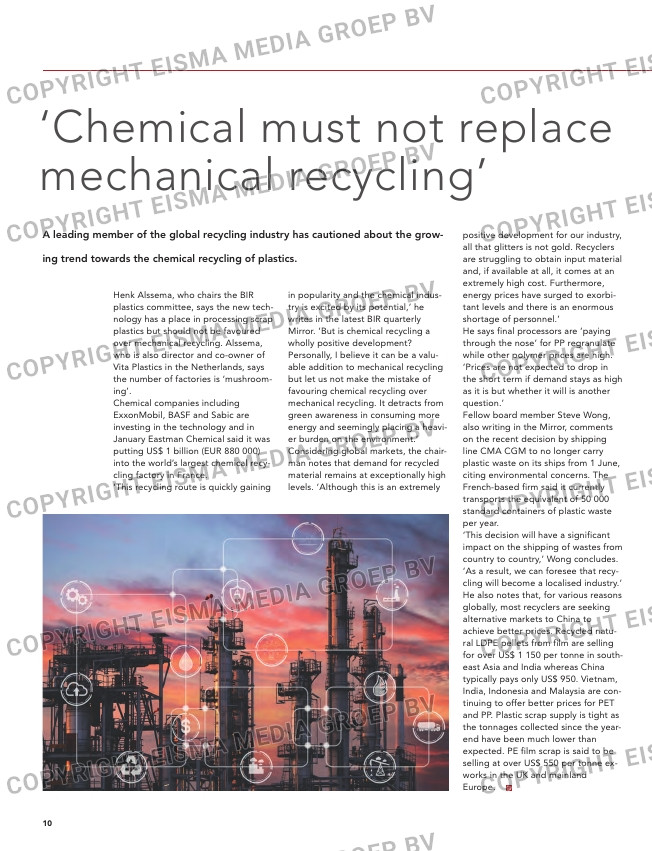 10
'Chemical must not replace
mechanical recycling'
A leading member of the global recycling industry has cautioned about the grow-
ing trend towards the chemical recycling of plastics.
Henk Alssema, who chairs the BIR
plastics committee, says the new tech-
nology has a place in processing scrap
plastics but should not be favoured
over mechanical recycling. Alssema,
who is also director and co-owner of
Vita Plastics in the Netherlands, says
the number of factories is 'mushroom-
ing'.
Chemical companies including
ExxonMobil, BASF and Sabic are
investing in the technology and in
January Eastman Chemical said it was
putting US$ 1 billion (EUR 880 000)
into the world's largest chemical recy-
cling factory in France.
'This recycling route is quickly gaining
in popularity and the chemical indus-
try is excited by its potential,' he
writes in the latest BIR quarterly
Mirror. 'But is chemical recycling a
wholly positive development?
Personally, I believe it can be a valu-
able addition to mechanical recycling
but let us not make the mistake of
favouring chemical recycling over
mechanical recycling. It detracts from
green awareness in consuming more
energy and seemingly placing a heavi-
er burden on the environment.'
Considering global markets, the chair-
man notes that demand for recycled
material remains at exceptionally high
levels. 'Although this is an extremely
positive development for our industry,
all that glitters is not gold. Recyclers
are struggling to obtain input material
and, if available at all, it comes at an
extremely high cost. Furthermore,
energy prices have surged to exorbi-
tant levels and there is an enormous
shortage of personnel.'
He says final processors are 'paying
through the nose' for PP regranulate
while other polymer prices are high.
'Prices are not expected to drop in
the short term if demand stays as high
as it is but whether it will is another
question.'
Fellow board member Steve Wong,
also writing in the Mirror, comments
on the recent decision by shipping
line CMA CGM to no longer carry
plastic waste on its ships from 1 June,
citing environmental concerns. The
French-based firm said it currently
transports the equivalent of 50 000
standard containers of plastic waste
per year.
'This decision will have a significant
impact on the shipping of wastes from
country to country,' Wong concludes.
'As a result, we can foresee that recy-
cling will become a localised industry.'
He also notes that, for various reasons
globally, most recyclers are seeking
alternative markets to China to
achieve better prices. Recycled natu-
ral LDPE pellets from film are selling
for over US$ 1 150 per tonne in south-
east Asia and India whereas China
typically pays only US$ 950. Vietnam,
India, Indonesia and Malaysia are con-
tinuing to offer better prices for PET
and PP. Plastic scrap supply is tight as
the tonnages collected since the year-
end have been much lower than
expected. PE film scrap is said to be
selling at over US$ 550 per tonne ex-
works in the UK and mainland
Europe.
GROWTH AHEAD FOR SCRAP TECH
SECTOR
The global market for metal recycling equipment will be
worth over US$ 9.9 billion (EUR 8.7 billion) by 2028, a com-
pound annual growth rate of 6.1%, according to analysts at
Research&Markets.
Factors for this growth include the high manufacturing costs of
primary metals, concerns over the availability of metal deposits
and because developing countries are improving recycling infra-
structure, boosting demand for equipment. All of this has
sparked an increasing appetite for scrap, leading businesses to
invest in more advanced recycling technology.
Report highlights:
• Baler presses accounted for the largest revenue share of over
20% in 2020.
• The separators segment accounted for the second-largest reve-
nue share.
• The shredders segment is projected to see the fastest growth,
estimated at 6.8% cagr during the forecast period.
• Asia Pacific led the market and accounted for over 40% share of
the global revenue in 2020. This is due to the rising industrial
construction and infrastructure activities in emerging nations
such as India, Vietnam, Thailand, and Malaysia.
• US player SA Recycling acquired PSC Metals for US$ 290 mil-
lion in October 2021. This acquisition enabled the recycler to
gain access to PSC Metals' scrap metal processing facilities in
North America, thereby increasing its capabilities.
new dimensions
of wear protection
we understand
we produce
we advise
we are SWB
billions in valuable materials are lost to wear each year
we advise our customers on-site in more than 50 countries worldwide
we are world leader in differentially hardened alloy shredder hammers
we are permanently researching pioneering solutions against wear
www.stahlwerke-bochum.com
we develop
10-11-12-13-14-15_trendsupdates.indd 10 28-02-2022 15:58