May 2005
Subscribe
Closed: May 4 2005 With the arrival of spring, collection volumes in Europe have once again increased to the extent that the recy- cling sector finds itself under renewed pressure. To make matters worse, African buyers are continuing ...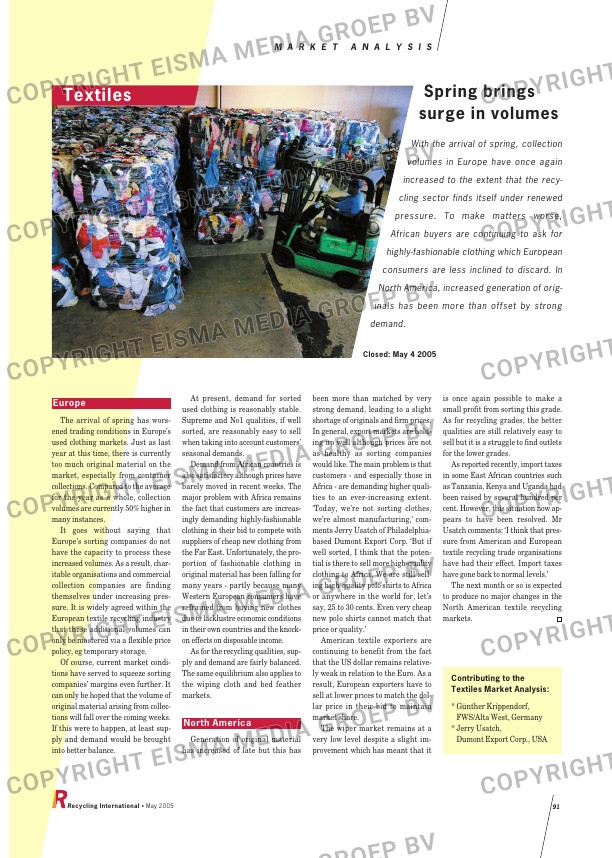 Closed: May 4 2005

With the arrival of spring, collection

volumes in Europe have once again

increased to the extent that the recy-

cling sector finds itself under renewed

pressure. To make matters worse,

African buyers are continuing to ask for

highly-fashionable clothing which European

consumers are less inclined to discard. In

North America, increased generation of orig-

inals has been more than offset by strong

demand.

Spring brings
surge in volumes

M A R K E T A N A L Y S I S

Textiles

Europe

The arrival of spring has wors-
ened trading conditions in Europe's
used clothing markets. Just as last
year at this time, there is currently
too much original material on the
market, especially from container
collections. Compared to the average
for the year as a whole, collection
volumes are currently 50% higher in
many instances.
It goes without saying that
Europe's sorting companies do not
have the capacity to process these
increased volumes. As a result, char-
itable organisations and commercial
collection companies are finding
themselves under increasing pres-
sure. It is widely agreed within the
European textile recycling industry
that these additional volumes can
only be mastered via a flexible price
policy, eg temporary storage.
Of course, current market condi-
tions have served to squeeze sorting
companies' margins even further. It
can only be hoped that the volume of
original material arising from collec-
tions will fall over the coming weeks.
If this were to happen, at least sup-
ply and demand would be brought
into better balance.
At present, demand for sorted
used clothing is reasonably stable.
Supreme and No1 qualities, if well
sorted, are reasonably easy to sell
when taking into account customers'
seasonal demands.
Demand from African countries is
also satisfactory although prices have
barely moved in recent weeks. The
major problem with Africa remains
the fact that customers are increas-
ingly demanding highly-fashionable
clothing in their bid to compete with
suppliers of cheap new clothing from
the Far East. Unfortunately, the pro-
portion of fashionable clothing in
original material has been falling for
many years – partly because many
Western European consumers have
refrained from buying new clothes
due to lacklustre economic conditions
in their own countries and the knock-
on effects on disposable income.
As for the recycling qualities, sup-
ply and demand are fairly balanced.
The same equilibrium also applies to
the wiping cloth and bed feather
markets.
North America

Generation of original material
has increased of late but this has
been more than matched by very
strong demand, leading to a slight
shortage of originals and firm prices.
In general, export markets are hold-
ing up well although prices are not
as healthy as sorting companies
would like. The main problem is that
customers – and especially those in
Africa – are demanding higher quali-
ties to an ever-increasing extent.
'Today, we're not sorting clothes,
we're almost manufacturing,' com-
ments Jerry Usatch of Philadelphia-
based Dumont Export Corp. 'But if
well sorted, I think that the poten-
tial is there to sell more high-quality
clothing to Africa. We are still sell-
ing high-quality polo shirts to Africa
or anywhere in the world for, let's
say, 25 to 30 cents. Even very cheap
new polo shirts cannot match that
price or quality.'
American textile exporters are
continuing to benefit from the fact
that the US dollar remains relative-
ly weak in relation to the Euro. As a
result, European exporters have to
sell at lower prices to match the dol-
lar price in their bid to maintain
market share.
The wiper market remains at a
very low level despite a slight im-
provement which has meant that it
is once again possible to make a
small profit from sorting this grade.
As for recycling grades, the better
qualities are still relatively easy to
sell but it is a struggle to find outlets
for the lower grades.
As reported recently, import taxes
in some East African countries such
as Tanzania, Kenya and Uganda had
been raised by several hundred per
cent. However, this situation now ap-
pears to have been resolved. Mr
Usatch comments: 'I think that pres-
sure from American and European
textile recycling trade organisations
have had their effect. Import taxes
have gone back to normal levels.'
The next month or so is expected
to produce no major changes in the
North American textile recycling
markets.
Contributing to the
Textiles Market Analysis:

* Günther Krippendorf,
FWS/Alta West, Germany
* Jerry Usatch,
Dumont Export Corp., USA
Recycling International • May 2005 91