May 2005
Subscribe
M A R K E T A N A L Y S I S Non-Ferrous Closed: May 2 2005 A survey conducted by the German metal traders associa- tion VDM has found that 70% of its members expect demand to stay at current levels or to weaken slightly, while around...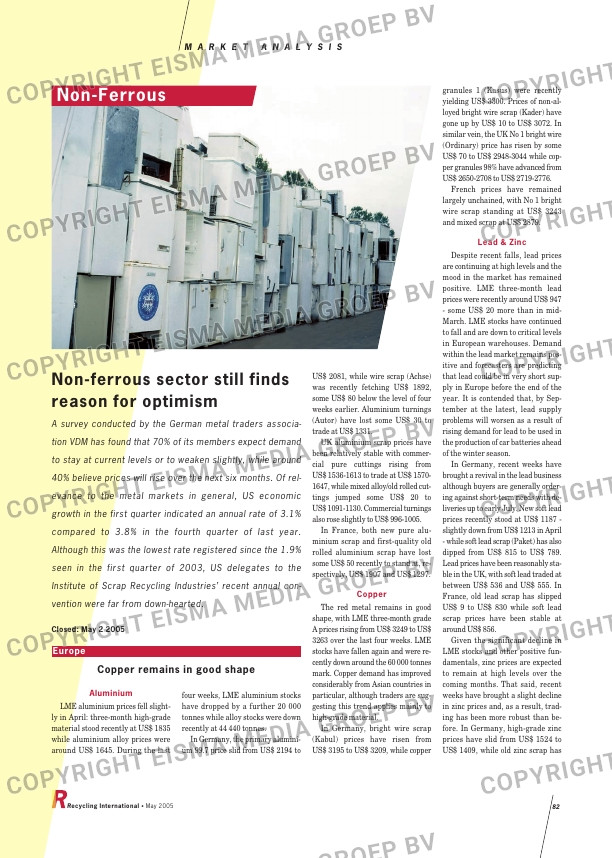 M A R K E T A N A L Y S I S

Non-Ferrous

Closed: May 2 2005

A survey conducted by the German metal traders associa-

tion VDM has found that 70% of its members expect demand

to stay at current levels or to weaken slightly, while around

40% believe prices will rise over the next six months. Of rel-

evance to the metal markets in general, US economic

growth in the first quarter indicated an annual rate of 3.1%

compared to 3.8% in the fourth quarter of last year.

Although this was the lowest rate registered since the 1.9%

seen in the f irst quarter of 2003, US delegates to the

Institute of Scrap Recycling Industries' recent annual con-

vention were far from down-hearted.

Non-ferrous sector still finds
reason for optimism

Europe

Aluminium

LME aluminium prices fell slight-
ly in April: three-month high-grade
material stood recently at US$ 1835
while aluminium alloy prices were
around US$ 1645. During the last
four weeks, LME aluminium stocks
have dropped by a further 20 000
tonnes while alloy stocks were down
recently at 44 440 tonnes.
In Germany, the primary alumini-
um 99.7 price slid from US$ 2194 to
US$ 2081, while wire scrap (Achse)
was recently fetching US$ 1892,
some US$ 80 below the level of four
weeks earlier. Aluminium turnings
(Autor) have lost some US$ 30 to
trade at US$ 1331.
UK aluminium scrap prices have
been relatively stable with commer-
cial pure cuttings rising from
US$ 1536-1613 to trade at US$ 1570-
1647, while mixed alloy/old rolled cut-
tings jumped some US$ 20 to
US$ 1091-1130. Commercial turnings
also rose slightly to US$ 996-1005.
In France, both new pure alu-
minium scrap and first-quality old
rolled aluminium scrap have lost
some US$ 50 recently to stand at, re-
spectively, US$ 1907 and US$ 1297.
Copper

The red metal remains in good
shape, with LME three-month grade
A prices rising from US$ 3249 to US$
3263 over the last four weeks. LME
stocks have fallen again and were re-
cently down around the 60 000 tonnes
mark. Copper demand has improved
considerably from Asian countries in
particular, although traders are sug-
gesting this trend applies mainly to
high-grade material.
In Germany, bright wire scrap
(Kabul) prices have risen from
US$ 3195 to US$ 3209, while copper
granules 1 (Kasus) were recently
yielding US$ 3300. Prices of non-al-
loyed bright wire scrap (Kader) have
gone up by US$ 10 to US$ 3072. In
similar vein, the UK No 1 bright wire
(Ordinary) price has risen by some
US$ 70 to US$ 2948-3044 while cop-
per granules 98% have advanced from
US$ 2650-2708 to US$ 2719-2776.
French prices have remained
largely unchained, with No 1 bright
wire scrap standing at US$ 3243
and mixed scrap at US$ 2879.
Lead & Zinc

Despite recent falls, lead prices
are continuing at high levels and the
mood in the market has remained
positive. LME three-month lead
prices were recently around US$ 947
– some US$ 20 more than in mid-
March. LME stocks have continued
to fall and are down to critical levels
in European warehouses. Demand
within the lead market remains pos-
itive and forecasters are predicting
that lead could be in very short sup-
ply in Europe before the end of the
year. It is contended that, by Sep-
tember at the latest, lead supply
problems will worsen as a result of
rising demand for lead to be used in
the production of car batteries ahead
of the winter season.
In Germany, recent weeks have
brought a revival in the lead business
although buyers are generally order-
ing against short-term needs with de-
liveries up to early July. New soft lead
prices recently stood at US$ 1187 –
slightly down from US$ 1213 in April
– while soft lead scrap (Paket) has also
dipped from US$ 815 to US$ 789.
Lead prices have been reasonably sta-
ble in the UK, with soft lead traded at
between US$ 536 and US$ 555. In
France, old lead scrap has slipped
US$ 9 to US$ 830 while soft lead
scrap prices have been stable at
around US$ 856.
Given the significant decline in
LME stocks and other positive fun-
damentals, zinc prices are expected
to remain at high levels over the
coming months. That said, recent
weeks have brought a slight decline
in zinc prices and, as a result, trad-
ing has been more robust than be-
fore. In Germany, high-grade zinc
prices have slid from US$ 1524 to
US$ 1409, while old zinc scrap has
Copper remains in good shape

Recycling International • May 2005 82