March 2016
Subscribe
71March 2016 B E C K ' S Death by keystroke Navigating cyberspace can be scary if technology isn't your best friend. But if you have the requisite skills to trawl through some of the murkier depths of Webland, then pr...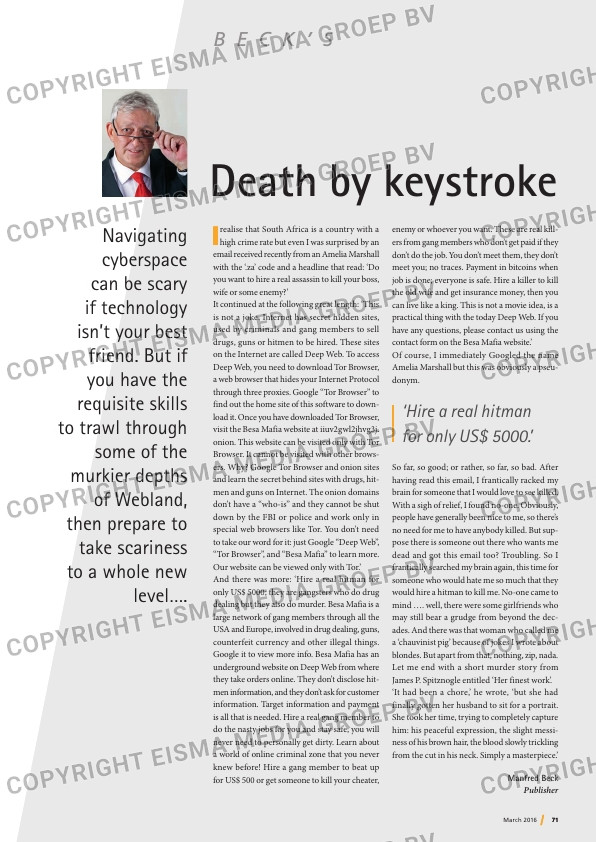 71March 2016
B E C K ' S

Death by keystroke
Navigating
cyberspace
can be scary
if technology
isn't your best
friend. But if
you have the
requisite skills
to trawl through
some of the
murkier depths
of Webland,
then prepare to
take scariness
to a whole new
level….
I realise that South Africa is a country with a high crime rate but even I was surprised by an
email received recently from an Amelia Marshall
with the '.za' code and a headline that read: 'Do
you want to hire a real assassin to kill your boss,
wife or some enemy?'
It continued at the following great length: 'This
is not a joke. Internet has secret hidden sites,
used by criminals and gang members to sell
drugs, guns or hitmen to be hired. These sites
on the Internet are called Deep Web. To access
Deep Web, you need to download Tor Browser,
a web browser that hides your Internet Protocol
through three proxies. Google "Tor Browser" to
find out the home site of this software to down-
load it. Once you have downloaded Tor Browser,
visit the Besa Mafia website at iiuv2gwl2jhvg3j.
onion. This website can be visited only with Tor
Browser. It cannot be visited with other brows-
ers. Why? Google Tor Browser and onion sites
and learn the secret behind sites with drugs, hit-
men and guns on Internet. The onion domains
don't have a "who-is" and they cannot be shut
down by the FBI or police and work only in
special web browsers like Tor. You don't need
to take our word for it: just Google "Deep Web",
"Tor Browser", and "Besa Mafia" to learn more.
Our website can be viewed only with Tor.'
And there was more: 'Hire a real hitman for
only US$ 5000; they are gangsters who do drug
dealing but they also do murder. Besa Mafia is a
large network of gang members through all the
USA and Europe, involved in drug dealing, guns,
counterfeit currency and other illegal things.
Google it to view more info. Besa Mafia has an
underground website on Deep Web from where
they take orders online. They don't disclose hit-
men information, and they don't ask for customer
information. Target information and payment
is all that is needed. Hire a real gang member to
do the nasty jobs for you and stay safe; you will
never need to personally get dirty. Learn about
a world of online criminal zone that you never
knew before! Hire a gang member to beat up
for US$ 500 or get someone to kill your cheater,
enemy or whoever you want. These are real kill-
ers from gang members who don't get paid if they
don't do the job. You don't meet them, they don't
meet you; no traces. Payment in bitcoins when
job is done; everyone is safe. Hire a killer to kill
the old wife and get insurance money, then you
can live like a king. This is not a movie idea, is a
practical thing with the today Deep Web. If you
have any questions, please contact us using the
contact form on the Besa Mafia website.'
Of course, I immediately Googled the name
Amelia Marshall but this was obviously a pseu-
donym.
So far, so good; or rather, so far, so bad. After
having read this email, I frantically racked my
brain for someone that I would love to see killed.
With a sigh of relief, I found no-one. Obviously,
people have generally been nice to me, so there's
no need for me to have anybody killed. But sup-
pose there is someone out there who wants me
dead and got this email too? Troubling. So I
frantically searched my brain again, this time for
someone who would hate me so much that they
would hire a hitman to kill me. No-one came to
mind …. well, there were some girlfriends who
may still bear a grudge from beyond the dec-
ades. And there was that woman who called me
a 'chauvinist pig' because of jokes I wrote about
blondes. But apart from that, nothing, zip, nada.
Let me end with a short murder story from
James P. Spitznogle entitled 'Her finest work'.
'It had been a chore,' he wrote, 'but she had
finally gotten her husband to sit for a portrait.
She took her time, trying to completely capture
him: his peaceful expression, the slight messi-
ness of his brown hair, the blood slowly trickling
from the cut in his neck. Simply a masterpiece.'
'Hire a real hitman
for only US$ 5000.'

Manfred Beck
Publisher