March 2016
Subscribe
69March 2016 E V E N T S 13-15 September Birmingham (UK) RWM Exhibition i2i Events Group Phone: +44 203 033 2494 Email:
[email protected]
www.rwmexhibition.com 14-16 September Antwerp (Belgium) ICBR 21st international congress f...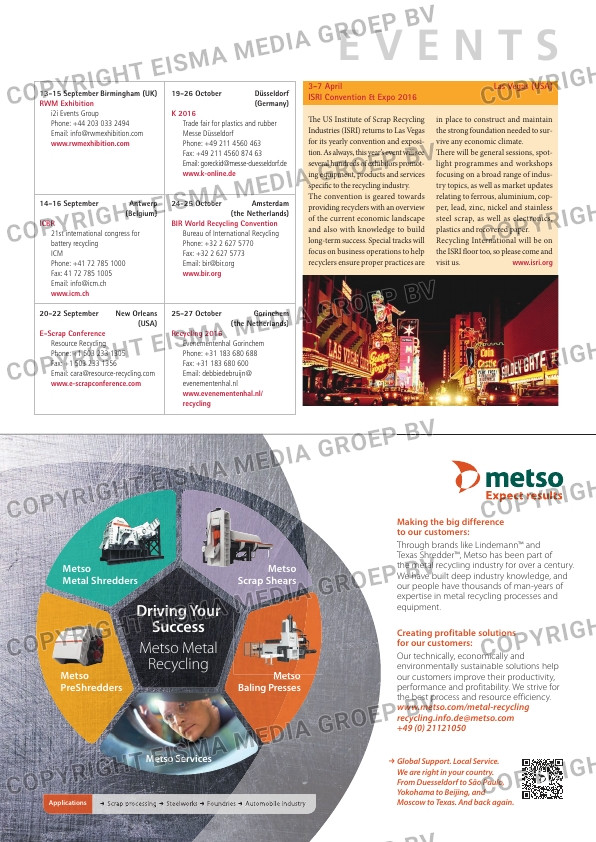 69March 2016
E V E N T S
13-15 September Birmingham (UK)
RWM Exhibition

i2i Events Group
Phone: +44 203 033 2494
Email: [email protected]
www.rwmexhibition.com

14-16 September Antwerp
(Belgium)
ICBR

21st international congress for
battery recycling
ICM
Phone: +41 72 785 1000
Fax: 41 72 785 1005
Email: [email protected]
www.icm.ch

20-22 September New Orleans
(USA)
E-Scrap Conference

Resource Recycling
Phone: +1 503 233 1305
Fax: +1 503 233 1356
Email: [email protected]
www.e-scrapconference.com

19-26 October Düsseldorf
(Germany)
K 2016

Trade fair for plastics and rubber
Messe Düsseldorf
Phone: +49 211 4560 463
Fax: +49 211 4560 874 63
Email: [email protected]
www.k-online.de

24-25 October Amsterdam
(the Netherlands)
BIR World Recycling Convention

Bureau of International Recycling
Phone: +32 2 627 5770
Fax: +32 2 627 5773
Email: [email protected]
www.bir.org

25-27 October Gorinchem
(the Netherlands)
Recycling 2016

Evenementenhal Gorinchem
Phone: +31 183 680 688
Fax: +31 183 680 600
Email: debbiedebruijn@
evenementenhal.nl
www.evenementenhal.nl/
recycling

3-7 April Las Vegas (USA)
ISRI Convention & Expo 2016

e US Institute of Scrap Recycling
Industries (ISRI) returns to Las Vegas
for its yearly convention and exposi-
tion. As always, this year's event will see
several hundreds of exhibitors promot-
ing equipment, products and services
specic to the recycling industry.
The convention is geared towards
providing recyclers with an overview
of the current economic landscape
and also with knowledge to build
long-term success. Special tracks will
focus on business operations to help
recyclers ensure proper practices are
in place to construct and maintain
the strong foundation needed to sur-
vive any economic climate.
ere will be general sessions, spot-
light programmes and workshops
focusing on a broad range of indus-
try topics, as well as market updates
relating to ferrous, aluminium, cop-
per, lead, zinc, nickel and stainless
steel scrap, as well as electronics,
plastics and recovered paper.
Recycling International will be on
the ISRI oor too, so please come and
visit us. www.isri.org

May 30–June 3, 2016
World's Leading Trade Fair for Water, Sewage, Waste and Raw Materials Management

Innovative. Global. Future-oriented. Experience environmental technologies.

Discover the potential of future-oriented strategies, products and services. Come along to the world's leading trade fair for
environmental technologies and experience exciting live demonstrations for yourself—of complex processes and applications,
machinery, systems and vehicles. Future-proof technology, up-close and practical.
Welcome to IFAT 2016!

Register now online!
www.ifat.de/tickets/en

MESSE MÜNCHEN | www.ifat.de
[email protected] | Tel. +49 89 949-11358 Follow us on:

IFAT worldwide—Visit the IFAT fairs around the globe:

May 5–7, 2016
www.ie-expo.com
September 28–30, 2016
www.ifat-india.com
Spring 2017
www.ifat-eurasia.com
Autumn 2017
www.ifatforum-africa.com

IFAT16_Besanz_210x144_Recycling_E.indd 1 21.01.16 10:55
Making the big difference
to our customers:
Through brands like Lindemann™ and
Texas Shredder™, Metso has been part of
the metal recycling industry for over a century.
We have built deep industry knowledge, and
our people have thousands of man-years of
expertise in metal recycling processes and
equipment.
Creating profitable solutions
for our customers:
Our technically, economically and
environmentally sustainable solutions help
our customers improve their productivity,
performance and profitability. We strive for
the best process and resource efficiency.
www.metso.com/metal-recycling
[email protected]
+49 (0) 21121050

Metso
PreShredders
Metso
Baling Presses
Metso Services
Metso
Metal Shredders
Metso
Scrap Shears
Driving Your
Success
Metso Metal
Recycling
Global Support. Local Service.
We are right in your country.
From Duesseldorf to São Paulo,
Yokohama to Beijing, and
Moscow to Texas. And back again.

k
Applications k Scrap processing k Steelworks k Foundries k Automobile industry