March 2016
Subscribe
65March 2016 hikes will hold for any length of time and whether they will have an impact on domestic mill prices. Most traders are anticipating only nominal reverbera- tions among domestic ONP and mixed paper prices because those grade...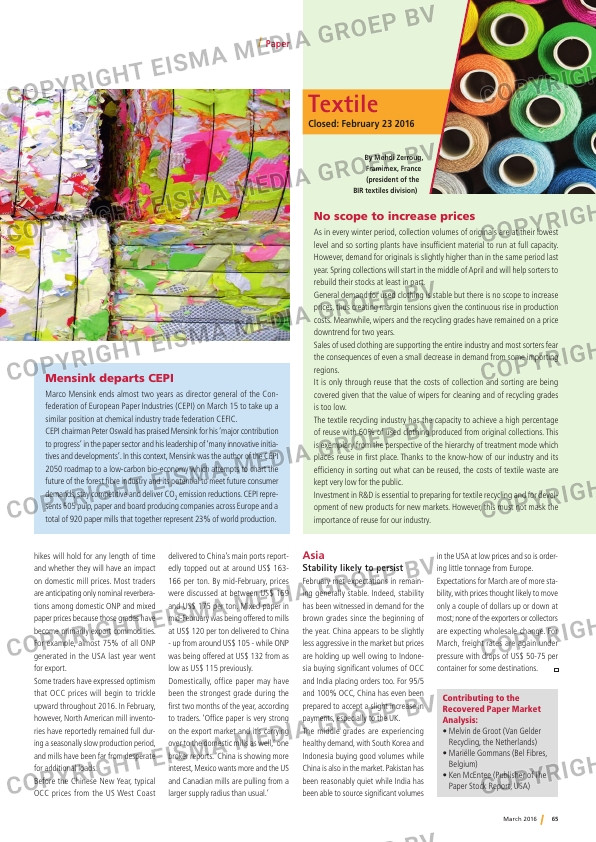 65March 2016
hikes will hold for any length of time
and whether they will have an impact
on domestic mill prices. Most traders
are anticipating only nominal reverbera-
tions among domestic ONP and mixed
paper prices because those grades have
become primarily export commodities.
For example, almost 75% of all ONP
generated in the USA last year went
for export.
Some traders have expressed optimism
that OCC prices will begin to trickle
upward throughout 2016. In February,
however, North American mill invento-
ries have reportedly remained full dur-
ing a seasonally slow production period,
and mills have been far from desperate
for additional loads.
Before the Chinese New Year, typical
OCC prices from the US West Coast
delivered to China's main ports report-
edly topped out at around US$ 163-
166 per ton. By mid-February, prices
were discussed at between US$ 169
and US$ 175 per ton. Mixed paper in
mid-February was being offered to mills
at US$ 120 per ton delivered to China
– up from around US$ 105 – while ONP
was being offered at US$ 132 from as
low as US$ 115 previously.
Domestically, office paper may have
been the strongest grade during the
first two months of the year, according
to traders. 'Office paper is very strong
on the export market and it's carrying
over to the domestic mills as well,' one
broker reports. 'China is showing more
interest, Mexico wants more and the US
and Canadian mills are pulling from a
larger supply radius than usual.'
Asia
Stability likely to persist
February met expectations in remain-
ing generally stable. Indeed, stability
has been witnessed in demand for the
brown grades since the beginning of
the year. China appears to be slightly
less aggressive in the market but prices
are holding up well owing to Indone-
sia buying significant volumes of OCC
and India placing orders too. For 95/5
and 100% OCC, China has even been
prepared to accept a slight increase in
payments, especially to the UK.
The middle grades are experiencing
healthy demand, with South Korea and
Indonesia buying good volumes while
China is also in the market. Pakistan has
been reasonably quiet while India has
been able to source significant volumes
in the USA at low prices and so is order-
ing little tonnage from Europe.
Expectations for March are of more sta-
bility, with prices thought likely to move
only a couple of dollars up or down at
most; none of the exporters or collectors
are expecting wholesale change. For
March, freight rates are again under
pressure with drops of US$ 50-75 per
container for some destinations.
Mensink departs CEPI
Marco Mensink ends almost two years as director general of the Con-
federation of European Paper Industries (CEPI) on March 15 to take up a
similar position at chemical industry trade federation CEFIC.
CEPI chairman Peter Oswald has praised Mensink for his 'major contribution
to progress' in the paper sector and his leadership of 'many innovative initia-
tives and developments'. In this context, Mensink was the author of the CEPI
2050 roadmap to a low-carbon bio-economy which attempts to chart the
future of the forest fibre industry and its potential to meet future consumer
demands, stay competitive and deliver CO2 emission reductions. CEPI repre-
sents 505 pulp, paper and board producing companies across Europe and a
total of 920 paper mills that together represent 23% of world production.
Paper

Contributing to the
Recovered Paper Market
Analysis:
• Melvin de Groot (Van Gelder
Recycling, the Netherlands)
• Mariëlle Gommans (Bel Fibres,
Belgium)
• Ken McEntee (Publisher of The
Paper Stock Report, USA)
Textile
Closed: February 23 2016

By Mehdi Zerroug,
Framimex, France
(president of the

BIR textiles division)

No scope to increase prices
As in every winter period, collection volumes of originals are at their lowest
level and so sorting plants have insufficient material to run at full capacity.
However, demand for originals is slightly higher than in the same period last
year. Spring collections will start in the middle of April and will help sorters to
rebuild their stocks at least in part.
General demand for used clothing is stable but there is no scope to increase
prices, thus creating margin tensions given the continuous rise in production
costs. Meanwhile, wipers and the recycling grades have remained on a price
downtrend for two years.
Sales of used clothing are supporting the entire industry and most sorters fear
the consequences of even a small decrease in demand from some importing
regions.
It is only through reuse that the costs of collection and sorting are being
covered given that the value of wipers for cleaning and of recycling grades
is too low.
The textile recycling industry has the capacity to achieve a high percentage
of reuse with 60% of used clothing produced from original collections. This
is exemplary from the perspective of the hierarchy of treatment mode which
places reuse in first place. Thanks to the know-how of our industry and its
efficiency in sorting out what can be reused, the costs of textile waste are
kept very low for the public.
Investment in R&D is essential to preparing for textile recycling and for devel-
opment of new products for new markets. However, this must not mask the
importance of reuse for our industry.