March 2016
Subscribe
55March 2016 Ferrous fully addressed, the effective and swift implementation of trade defence instru- ments will be critical.' Mark D. Millett, ceo of Steel Dynamics, Inc. in the USA, offers a more encourag- ing insight, suggesting ...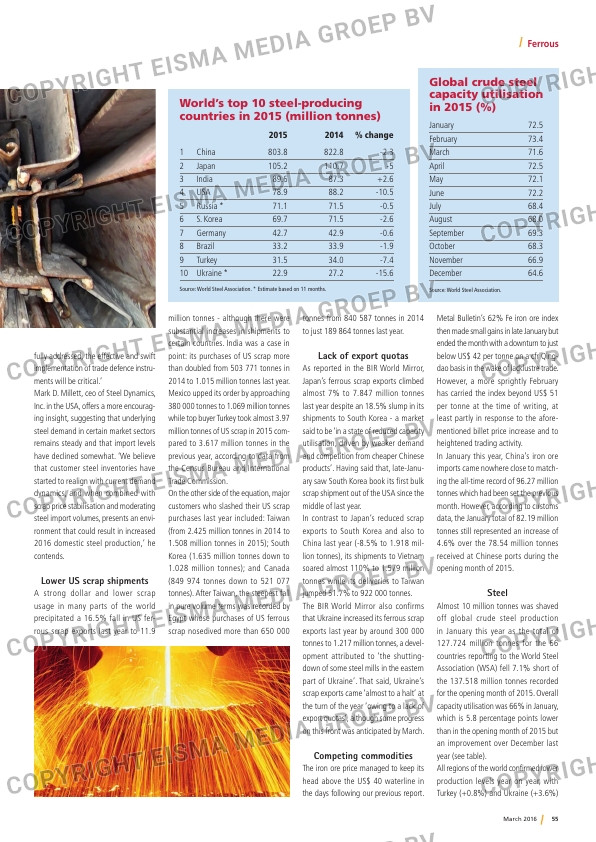 55March 2016
Ferrous

fully addressed, the effective and swift
implementation of trade defence instru-
ments will be critical.'
Mark D. Millett, ceo of Steel Dynamics,
Inc. in the USA, offers a more encourag-
ing insight, suggesting that underlying
steel demand in certain market sectors
remains steady and that import levels
have declined somewhat. 'We believe
that customer steel inventories have
started to realign with current demand
dynamics, and when combined with
scrap price stabilisation and moderating
steel import volumes, presents an envi-
ronment that could result in increased
2016 domestic steel production,' he
contends.
Lower US scrap shipments
A strong dollar and lower scrap
usage in many parts of the world
precipitated a 16.5% fall in US fer-
rous scrap exports last year to 11.9
million tonnes – although there were
substantial increases in shipments to
certain countries. India was a case in
point: its purchases of US scrap more
than doubled from 503 771 tonnes in
2014 to 1.015 million tonnes last year.
Mexico upped its order by approaching
380 000 tonnes to 1.069 million tonnes
while top buyer Turkey took almost 3.97
million tonnes of US scrap in 2015 com-
pared to 3.617 million tonnes in the
previous year, according to data from
the Census Bureau and International
Trade Commission.
On the other side of the equation, major
customers who slashed their US scrap
purchases last year included: Taiwan
(from 2.425 million tonnes in 2014 to
1.508 million tonnes in 2015); South
Korea (1.635 million tonnes down to
1.028 million tonnes); and Canada
(849 974 tonnes down to 521 077
tonnes). After Taiwan, the steepest fall
in pure volume terms was recorded by
Egypt whose purchases of US ferrous
scrap nosedived more than 650 000
tonnes from 840 587 tonnes in 2014
to just 189 864 tonnes last year.
Lack of export quotas
As reported in the BIR World Mirror,
Japan's ferrous scrap exports climbed
almost 7% to 7.847 million tonnes
last year despite an 18.5% slump in its
shipments to South Korea – a market
said to be 'in a state of reduced capacity
utilisation, driven by weaker demand
and competition from cheaper Chinese
products'. Having said that, late-Janu-
ary saw South Korea book its first bulk
scrap shipment out of the USA since the
middle of last year.
In contrast to Japan's reduced scrap
exports to South Korea and also to
China last year (-8.5% to 1.918 mil-
lion tonnes), its shipments to Vietnam
soared almost 110% to 1.579 million
tonnes while its deliveries to Taiwan
jumped 51.7% to 922 000 tonnes.
The BIR World Mirror also confirms
that Ukraine increased its ferrous scrap
exports last year by around 300 000
tonnes to 1.217 million tonnes, a devel-
opment attributed to 'the shutting-
down of some steel mills in the eastern
part of Ukraine'. That said, Ukraine's
scrap exports came 'almost to a halt' at
the turn of the year 'owing to a lack of
export quotas', although some progress
on this front was anticipated by March.
Competing commodities
The iron ore price managed to keep its
head above the US$ 40 waterline in
the days following our previous report.
Metal Bulletin's 62% Fe iron ore index
then made small gains in late January but
ended the month with a downturn to just
below US$ 42 per tonne on a cfr Qing-
dao basis in the wake of lacklustre trade.
However, a more sprightly February
has carried the index beyond US$ 51
per tonne at the time of writing, at
least partly in response to the afore-
mentioned billet price increase and to
heightened trading activity.
In January this year, China's iron ore
imports came nowhere close to match-
ing the all-time record of 96.27 million
tonnes which had been set the previous
month. However, according to customs
data, the January total of 82.19 million
tonnes still represented an increase of
4.6% over the 78.54 million tonnes
received at Chinese ports during the
opening month of 2015.
Steel
Almost 10 million tonnes was shaved
off global crude steel production
in January this year as the total of
127.724 million tonnes for the 66
countries reporting to the World Steel
Association (WSA) fell 7.1% short of
the 137.518 million tonnes recorded
for the opening month of 2015. Overall
capacity utilisation was 66% in January,
which is 5.8 percentage points lower
than in the opening month of 2015 but
an improvement over December last
year (see table).
All regions of the world confirmed lower
production levels year on year, with
Turkey (+0.8%) and Ukraine (+3.6%)
Global crude steel
capacity utilisation
in 2015 (%)
January 72.5
February 73.4
March 71.6
April 72.5
May 72.1
June 72.2
July 68.4
August 68.0
September 69.3
October 68.3
November 66.9
December 64.6
Source: World Steel Association.
World's top 10 steel-producing
countries in 2015 (million tonnes)
2015 2014 % change
1 China 803.8 822.8 -2.3
2 Japan 105.2 110.7 -5
3 India 89.6 87.3 +2.6
4 USA 78.9 88.2 -10.5
5 Russia * 71.1 71.5 -0.5
6 S. Korea 69.7 71.5 -2.6
7 Germany 42.7 42.9 -0.6
8 Brazil 33.2 33.9 -1.9
9 Turkey 31.5 34.0 -7.4
10 Ukraine * 22.9 27.2 -15.6
Source: World Steel Association. * Estimate based on 11 months.