March 2016
Subscribe
51March 2016 S C R A P A R T One-of-a-kind artworks crafted from grand fixation 'More often than not, the most fascinating aspect of a material lies under its exterior surface,' says Benjamin Rollins Caldwell. The young a...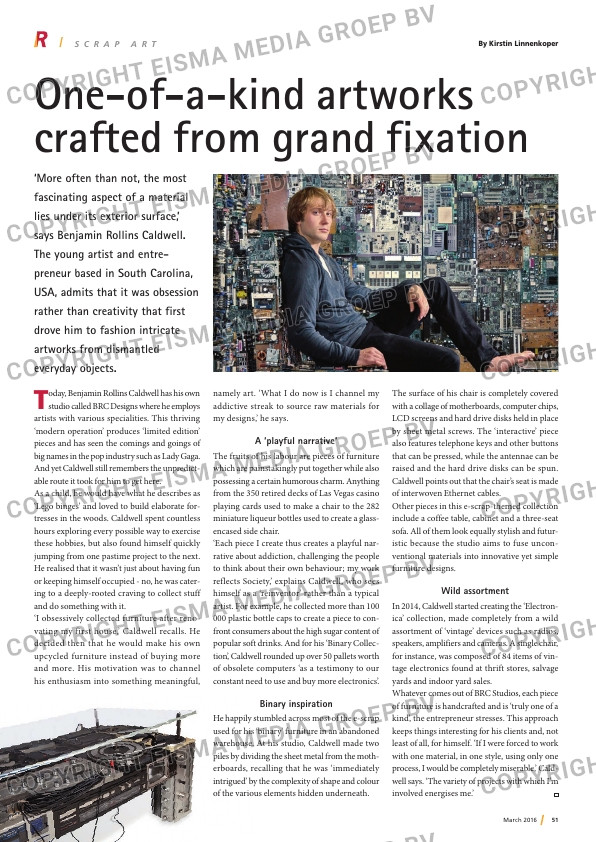 51March 2016
S C R A P A R T

One-of-a-kind artworks
crafted from grand fixation
'More often than not, the most

fascinating aspect of a material

lies under its exterior surface,'

says Benjamin Rollins Caldwell.

The young artist and entre-

preneur based in South Carolina,

USA, admits that it was obsession

rather than creativity that first

drove him to fashion intricate

artworks from dismantled

everyday objects.

Today, Benjamin Rollins Caldwell has his own studio called BRC Designs where he employs
artists with various specialities. This thriving
'modern operation' produces 'limited edition'
pieces and has seen the comings and goings of
big names in the pop industry such as Lady Gaga.
And yet Caldwell still remembers the unpredict-
able route it took for him to get here.
As a child, he would have what he describes as
'Lego binges' and loved to build elaborate for-
tresses in the woods. Caldwell spent countless
hours exploring every possible way to exercise
these hobbies, but also found himself quickly
jumping from one pastime project to the next.
He realised that it wasn't just about having fun
or keeping himself occupied – no, he was cater-
ing to a deeply-rooted craving to collect stuff
and do something with it.
'I obsessively collected furniture after reno-
vating my first house,' Caldwell recalls. He
decided then that he would make his own
upcycled furniture instead of buying more
and more. His motivation was to channel
his enthusiasm into something meaningful,
namely art. 'What I do now is I channel my
addictive streak to source raw materials for
my designs,' he says.
A 'playful narrative'
The fruits of his labour are pieces of furniture
which are painstakingly put together while also
possessing a certain humorous charm. Anything
from the 350 retired decks of Las Vegas casino
playing cards used to make a chair to the 282
miniature liqueur bottles used to create a glass-
encased side chair.
'Each piece I create thus creates a playful nar-
rative about addiction, challenging the people
to think about their own behaviour; my work
reflects Society,' explains Caldwell, who sees
himself as a 'reinventor' rather than a typical
artist. For example, he collected more than 100
000 plastic bottle caps to create a piece to con-
front consumers about the high sugar content of
popular soft drinks. And for his 'Binary Collec-
tion', Caldwell rounded up over 50 pallets worth
of obsolete computers 'as a testimony to our
constant need to use and buy more electronics'.
Binary inspiration
He happily stumbled across most of the e-scrap
used for his 'binary' furniture in an abandoned
warehouse. At his studio, Caldwell made two
piles by dividing the sheet metal from the moth-
erboards, recalling that he was 'immediately
intrigued' by the complexity of shape and colour
of the various elements hidden underneath.
The surface of his chair is completely covered
with a collage of motherboards, computer chips,
LCD screens and hard drive disks held in place
by sheet metal screws. The 'interactive' piece
also features telephone keys and other buttons
that can be pressed, while the antennae can be
raised and the hard drive disks can be spun.
Caldwell points out that the chair's seat is made
of interwoven Ethernet cables.
Other pieces in this e-scrap-themed collection
include a coffee table, cabinet and a three-seat
sofa. All of them look equally stylish and futur-
istic because the studio aims to fuse uncon-
ventional materials into innovative yet simple
furniture designs.
Wild assortment
In 2014, Caldwell started creating the 'Electron-
ica' collection, made completely from a wild
assortment of 'vintage' devices such as radios,
speakers, amplifiers and cameras. A single chair,
for instance, was composed of 84 items of vin-
tage electronics found at thrift stores, salvage
yards and indoor yard sales.
Whatever comes out of BRC Studios, each piece
of furniture is handcrafted and is 'truly one of a
kind', the entrepreneur stresses. This approach
keeps things interesting for his clients and, not
least of all, for himself. 'If I were forced to work
with one material, in one style, using only one
process, I would be completely miserable,' Cald-
well says. 'The variety of projects with which I'm
involved energises me.'
By Kirstin Linnenkoper