March 2016
Subscribe
46 March 2016 S E N S O R - B A S E D S O R T I N G executes these commands before touchscreen operation, giving the operator the opportunity to appreciate the scenario fully. Picking precision is achieved thanks to image segmenta...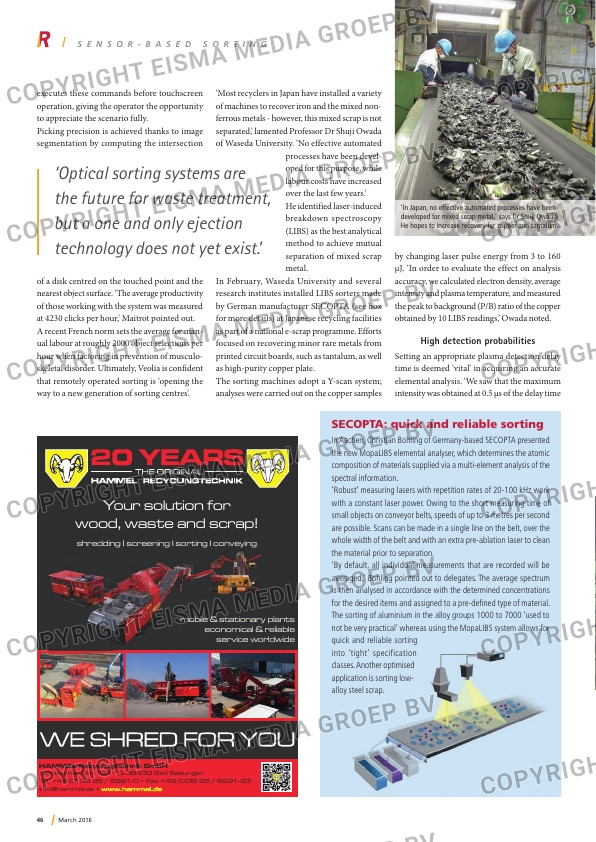 46 March 2016
S E N S O R – B A S E D S O R T I N G

executes these commands before touchscreen
operation, giving the operator the opportunity
to appreciate the scenario fully.
Picking precision is achieved thanks to image
segmentation by computing the intersection
of a disk centred on the touched point and the
nearest object surface. 'The average productivity
of those working with the system was measured
at 4230 clicks per hour,' Maitrot pointed out.
A recent French norm sets the average for man-
ual labour at roughly 2000 object selections per
hour when factoring in prevention of musculo-
skeletal disorder. Ultimately, Veolia is confident
that remotely operated sorting is 'opening the
way to a new generation of sorting centres'.
'Most recyclers in Japan have installed a variety
of machines to recover iron and the mixed non-
ferrous metals – however, this mixed scrap is not
separated,' lamented Professor Dr Shuji Owada
of Waseda University. 'No effective automated
processes have been devel-
oped for this purpose, while
labour costs have increased
over the last few years.'
He identified laser-induced
breakdown spectroscopy
(LIBS) as the best analytical
method to achieve mutual
separation of mixed scrap
metal.
In February, Waseda University and several
research institutes installed LIBS sorters made
by German manufacturer SECOPTA (see box
for more details) at Japanese recycling facilities
as part of a national e-scrap programme. Efforts
focused on recovering minor rare metals from
printed circuit boards, such as tantalum, as well
as high-purity copper plate.
The sorting machines adopt a Y-scan system;
analyses were carried out on the copper samples
by changing laser pulse energy from 3 to 160
μJ. 'In order to evaluate the effect on analysis
accuracy, we calculated electron density, average
intensity and plasma temperature, and measured
the peak to background (P/B) ratio of the copper
obtained by 10 LIBS readings,' Owada noted.
High detection probabilities
Setting an appropriate plasma detection delay
time is deemed 'vital' in acquiring an accurate
elemental analysis. 'We saw that the maximum
intensity was obtained at 0.5 μs of the delay time
mobile & stationary plants
economical & reliable
service worldwide
shredding I screening I sorting I conveying
HAMMEL Recyclingtechnik GmbH

Leimbacher Str. 130 • D-36433 Bad Salzungen
Tel. +49 (0) 36 95 / 6991-0 • Fax +49 (0)36 95 / 6991-93
[email protected] •
Your solution for
wood, waste and scrap!
SECOPTA: quick and reliable sorting
In Aachen, Christian Bohling of Germany-based SECOPTA presented
the new MopaLIBS elemental analyser, which determines the atomic
composition of materials supplied via a multi-element analysis of the
spectral information.
'Robust' measuring lasers with repetition rates of 20-100 kHz work
with a constant laser power. Owing to the short measuring time of
small objects on conveyor belts, speeds of up to 3 metres per second
are possible. Scans can be made in a single line on the belt, over the
whole width of the belt and with an extra pre-ablation laser to clean
the material prior to separation.
'By default, all individual measurements that are recorded will be
averaged,' Bohling pointed out to delegates. The average spectrum
is then analysed in accordance with the determined concentrations
for the desired items and assigned to a pre-defined type of material.
The sorting of aluminium in the alloy groups 1000 to 7000 'used to
not be very practical' whereas using the MopaLIBS system allows for
quick and reliable sorting
into 'tight' specification
classes. Another optimised
application is sorting low-
alloy steel scrap.
'In Japan, no effective automated processes have been
developed for mixed scrap metal,' says Dr Shuji Owada.
He hopes to increase recovery for copper and tantalum.
'Optical sorting systems are
the future for waste treatment,
but a one and only ejection
technology does not yet exist.'