March 2016
Subscribe
43March 2016 work on key recommendations for the metal recycling industry. Also acknowledged was the need to look into the duty structure on imports of all types of metal scrap that attract around 5% customs duty, which is making impo...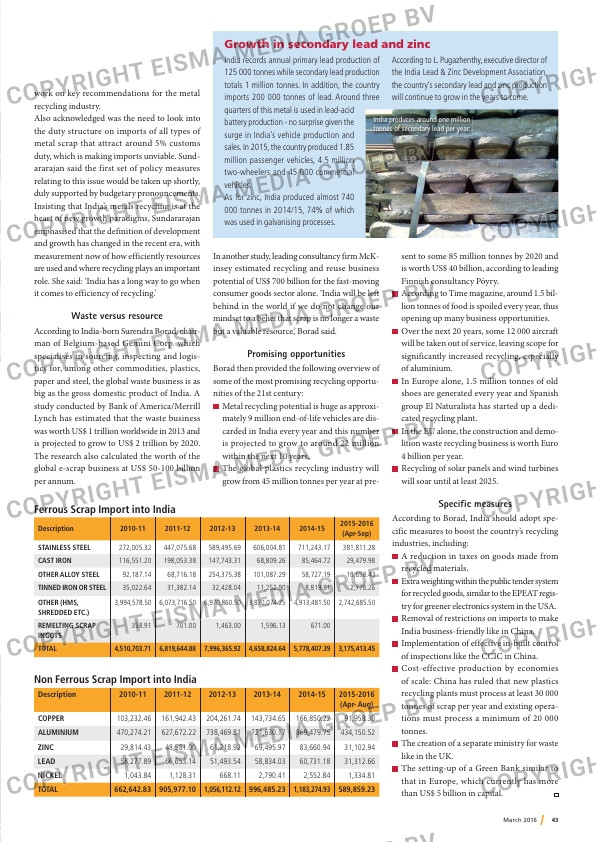 43March 2016
work on key recommendations for the metal
recycling industry.
Also acknowledged was the need to look into
the duty structure on imports of all types of
metal scrap that attract around 5% customs
duty, which is making imports unviable. Sund-
ararajan said the first set of policy measures
relating to this issue would be taken up shortly,
duly supported by budgetary pronouncements.
Insisting that India's metals recycling is at the
heart of new growth paradigms, Sundararajan
emphasised that the definition of development
and growth has changed in the recent era, with
measurement now of how efficiently resources
are used and where recycling plays an important
role. She said: 'India has a long way to go when
it comes to efficiency of recycling.'
Waste versus resource
According to India-born Surendra Borad, chair-
man of Belgium-based Gemini Corp. which
specialises in sourcing, inspecting and logis-
tics for, among other commodities, plastics,
paper and steel, the global waste business is as
big as the gross domestic product of India. A
study conducted by Bank of America/Merrill
Lynch has estimated that the waste business
was worth US$ 1 trillion worldwide in 2013 and
is projected to grow to US$ 2 trillion by 2020.
The research also calculated the worth of the
global e-scrap business at US$ 50-100 billion
per annum.
In another study, leading consultancy firm McK-
insey estimated recycling and reuse business
potential of US$ 700 billion for the fast-moving
consumer goods sector alone. 'India will be left
behind in the world if we do not change our
mindset to a belief that scrap is no longer a waste
but a valuable resource,' Borad said.
Promising opportunities
Borad then provided the following overview of
some of the most promising recycling opportu-
nities of the 21st century:
Metal recycling potential is huge as approxi-
mately 9 million end-of-life vehicles are dis-
carded in India every year and this number
is projected to grow to around 22 million
within the next 10 years.
The global plastics recycling industry will
grow from 45 million tonnes per year at pre-
sent to some 85 million tonnes by 2020 and
is worth US$ 40 billion, according to leading
Finnish consultancy Pöyry.
According to Time magazine, around 1.5 bil-
lion tonnes of food is spoiled every year, thus
opening up many business opportunities.
Over the next 20 years, some 12 000 aircraft
will be taken out of service, leaving scope for
significantly increased recycling, especially
of aluminium.
In Europe alone, 1.5 million tonnes of old
shoes are generated every year and Spanish
group El Naturalista has started up a dedi-
cated recycling plant.
In the EU alone, the construction and demo-
lition waste recycling business is worth Euro
4 billion per year.
Recycling of solar panels and wind turbines
will soar until at least 2025.
Specific measures
According to Borad, India should adopt spe-
cific measures to boost the country's recycling
industries, including:
A reduction in taxes on goods made from
recycled materials.
Extra weighting within the public tender system
for recycled goods, similar to the EPEAT regis-
try for greener electronics system in the USA.
Removal of restrictions on imports to make
India business-friendly like in China.
Implementation of effective in-built control
of inspections like the CCIC in China.
Cost-effective production by economies
of scale: China has ruled that new plastics
recycling plants must process at least 30 000
tonnes of scrap per year and existing opera-
tions must process a minimum of 20 000
tonnes.
The creation of a separate ministry for waste
like in the UK.
The setting-up of a Green Bank similar to
that in Europe, which currently has more
than US$ 5 billion in capital.
Non Ferrous Scrap Import into India
Description 2010-11 2011-12 2012-13 2013-14 2014-15 2015-2016

(Apr- Aug)

COPPER 103,232.46 161,942.43 204,261.74 143,734.65 166,850.22 91,958.30
ALUMINIUM 470,274.21 627,672.22 738,469.81 721,630.17 869,479.75 434,150.52
ZINC 29,814.43 48,581.00 61,218.92 69,495.97 83,660.94 31,102.94
LEAD 58,277.89 66,653.14 51,493.54 58,834.03 60,731.18 31,312.66
NICKEL 1,043.84 1,128.31 668.11 2,790.41 2,552.84 1,334.81
TOTAL 662,642.83 905,977.10 1,056,112.12 996,485.23 1,183,274.93 589,859.23

Growth in secondary lead and zinc
India records annual primary lead production of
125 000 tonnes while secondary lead production
totals 1 million tonnes. In addition, the country
imports 200 000 tonnes of lead. Around three
quarters of this metal is used in lead-acid
battery production – no surprise given the
surge in India's vehicle production and
sales. In 2015, the country produced 1.85
million passenger vehicles, 4.5 million
two-wheelers and 45 000 commercial
vehicles.
As for zinc, India produced almost 740
000 tonnes in 2014/15, 74% of which
was used in galvanising processes.
According to L. Pugazhenthy, executive director of
the India Lead & Zinc Development Association,
the country's secondary lead and zinc production
will continue to grow in the years to come.
India produces around one million
tonnes of secondary lead per year.
Ferrous Scrap Import into India

Description 2010-11 2011-12 2012-13 2013-14 2014-15
2015-2016
(Apr-Sep)

STAINLESS STEEL 272,005.32 447,075.68 589,495.69 606,004.81 711,243.17 381,811.28
CAST IRON 116,551.20 198,053.38 147,743.31 68,809.26 85,464.72 29,479.98
OTHER ALLOY STEEL 92,187.14 68,716.18 254,375.38 101,087.29 58,727.19 18,658.43
TINNED IRON OR STEEL 35,022.64 31,382.14 32,428.04 11,252.90 8,819.81 2,778.26
OTHER (HMS,
SHREDDED ETC.)

3,994,578.50 6,073,716.50 6,970,860.50 3,870,074.25 4,913,481.50 2,742,685.50
REMELTING SCRAP
INGOTS

358.91 701.00 1,463.00 1,596.13 671.00
TOTAL 4,510,703.71 6,819,644.88 7,996,365.92 4,658,824.64 5,778,407.39 3,175,413.45