March 2016
Subscribe
41March 2016 Union, and further expansion followed around 1990 into the UK, South Korea, China and North America. At the turn of the millennium, Vezzani became a truly global player as it began selling equipment to recyclers and steel ...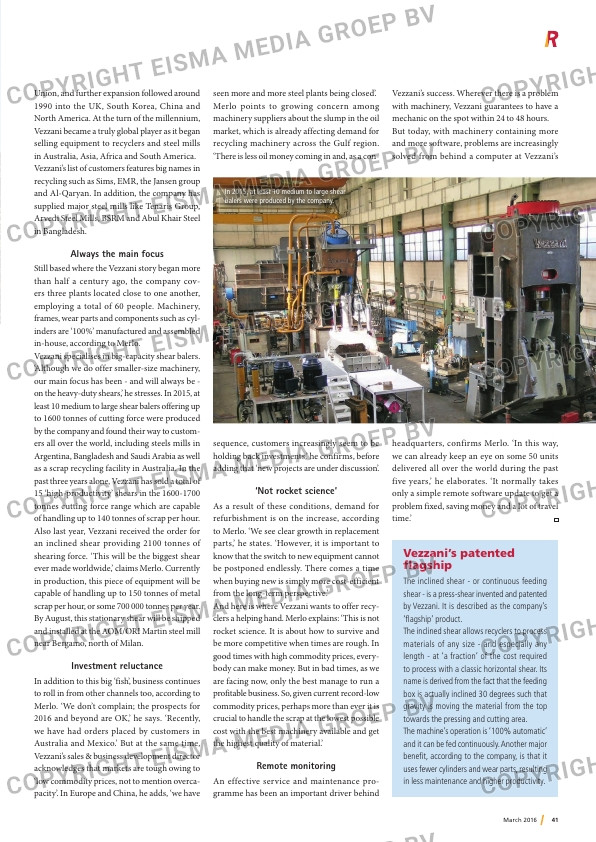 41March 2016
Union, and further expansion followed around
1990 into the UK, South Korea, China and
North America. At the turn of the millennium,
Vezzani became a truly global player as it began
selling equipment to recyclers and steel mills
in Australia, Asia, Africa and South America.
Vezzani's list of customers features big names in
recycling such as Sims, EMR, the Jansen group
and Al-Qaryan. In addition, the company has
supplied major steel mills like Tenaris Group,
Arvedi Steel Mills, BSRM and Abul Khair Steel
in Bangladesh.
Always the main focus
Still based where the Vezzani story began more
than half a century ago, the company cov-
ers three plants located close to one another,
employing a total of 60 people. Machinery,
frames, wear parts and components such as cyl-
inders are '100%' manufactured and assembled
in-house, according to Merlo.
Vezzani specialises in big-capacity shear balers.
'Although we do offer smaller-size machinery,
our main focus has been – and will always be –
on the heavy-duty shears,' he stresses. In 2015, at
least 10 medium to large shear balers offering up
to 1600 tonnes of cutting force were produced
by the company and found their way to custom-
ers all over the world, including steels mills in
Argentina, Bangladesh and Saudi Arabia as well
as a scrap recycling facility in Australia. In the
past three years alone, Vezzani has sold a total of
15 'high-productivity' shears in the 1600-1700
tonnes cutting force range which are capable
of handling up to 140 tonnes of scrap per hour.
Also last year, Vezzani received the order for
an inclined shear providing 2100 tonnes of
shearing force. 'This will be the biggest shear
ever made worldwide,' claims Merlo. Currently
in production, this piece of equipment will be
capable of handling up to 150 tonnes of metal
scrap per hour, or some 700 000 tonnes per year.
By August, this stationary shear will be shipped
and installed at the AOM/ORI Martin steel mill
near Bergamo, north of Milan.
Investment reluctance
In addition to this big 'fish', business continues
to roll in from other channels too, according to
Merlo. 'We don't complain; the prospects for
2016 and beyond are OK,' he says. 'Recently,
we have had orders placed by customers in
Australia and Mexico.' But at the same time,
Vezzani's sales & business development director
acknowledges that markets are tough owing to
'low commodity prices, not to mention overca-
pacity'. In Europe and China, he adds, 'we have
seen more and more steel plants being closed'.
Merlo points to growing concern among
machinery suppliers about the slump in the oil
market, which is already affecting demand for
recycling machinery across the Gulf region.
'There is less oil money coming in and, as a con-
sequence, customers increasingly seem to be
holding back investments,' he confirms, before
adding that 'new projects are under discussion'.
'Not rocket science'
As a result of these conditions, demand for
refurbishment is on the increase, according
to Merlo. 'We see clear growth in replacement
parts,' he states. 'However, it is important to
know that the switch to new equipment cannot
be postponed endlessly. There comes a time
when buying new is simply more cost-efficient
from the long-term perspective.'
And here is where Vezzani wants to offer recy-
clers a helping hand. Merlo explains: 'This is not
rocket science. It is about how to survive and
be more competitive when times are rough. In
good times with high commodity prices, every-
body can make money. But in bad times, as we
are facing now, only the best manage to run a
profitable business. So, given current record-low
commodity prices, perhaps more than ever it is
crucial to handle the scrap at the lowest possible
cost with the best machinery available and get
the highest quality of material.'
Remote monitoring
An effective service and maintenance pro-
gramme has been an important driver behind
Vezzani's success. Wherever there is a problem
with machinery, Vezzani guarantees to have a
mechanic on the spot within 24 to 48 hours.
But today, with machinery containing more
and more software, problems are increasingly
solved from behind a computer at Vezzani's
headquarters, confirms Merlo. 'In this way,
we can already keep an eye on some 50 units
delivered all over the world during the past
five years,' he elaborates. 'It normally takes
only a simple remote software update to get a
problem fixed, saving money and a lot of travel
time.'
Vezzani's patented
flagship
The inclined shear – or continuous feeding
shear – is a press-shear invented and patented
by Vezzani. It is described as the company's
'flagship' product.
The inclined shear allows recyclers to process
materials of any size – and especially any
length – at 'a fraction' of the cost required
to process with a classic horizontal shear. Its
name is derived from the fact that the feeding
box is actually inclined 30 degrees such that
gravity is moving the material from the top
towards the pressing and cutting area.
The machine's operation is '100% automatic'
and it can be fed continuously. Another major
benefit, according to the company, is that it
uses fewer cylinders and wear parts, resulting
in less maintenance and higher productivity.
In 2015, at least 10 medium to large shear
balers were produced by the company.