March 2016
Subscribe
38 March 2016 P L A T I N U M G R O U P M E T A L S quarter of 2015, have undoubtedly impacted palladium values,' A-1 points out. Just as the significant inflow of speculative interest in ETF holdings over the past four years sup...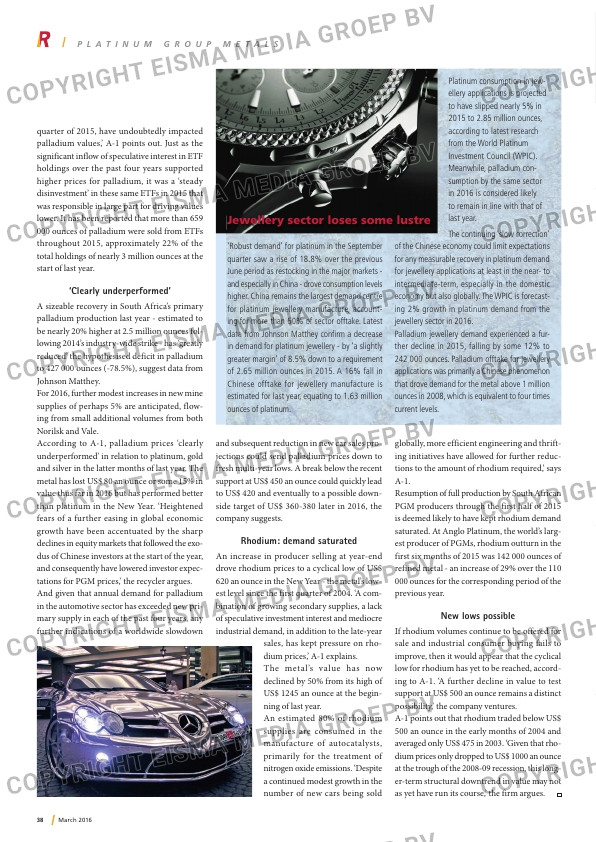 38 March 2016
P L A T I N U M G R O U P M E T A L S

quarter of 2015, have undoubtedly impacted
palladium values,' A-1 points out. Just as the
significant inflow of speculative interest in ETF
holdings over the past four years supported
higher prices for palladium, it was a 'steady
disinvestment' in these same ETFs in 2015 that
was responsible in large part for driving values
lower. It has been reported that more than 659
000 ounces of palladium were sold from ETFs
throughout 2015, approximately 22% of the
total holdings of nearly 3 million ounces at the
start of last year.
'Clearly underperformed'
A sizeable recovery in South Africa's primary
palladium production last year – estimated to
be nearly 20% higher at 2.5 million ounces fol-
lowing 2014's industry-wide strike – has 'greatly
reduced' the hypothesised deficit in palladium
to 427 000 ounces (-78.5%), suggest data from
Johnson Matthey.
For 2016, further modest increases in new mine
supplies of perhaps 5% are anticipated, flow-
ing from small additional volumes from both
Norilsk and Vale.
According to A-1, palladium prices 'clearly
underperformed' in relation to platinum, gold
and silver in the latter months of last year. The
metal has lost US$ 80 an ounce or some 15% in
value thus far in 2016 but has performed better
than platinum in the New Year. 'Heightened
fears of a further easing in global economic
growth have been accentuated by the sharp
declines in equity markets that followed the exo-
dus of Chinese investors at the start of the year,
and consequently have lowered investor expec-
tations for PGM prices,' the recycler argues.
And given that annual demand for palladium
in the automotive sector has exceeded new pri-
mary supply in each of the past four years, any
further indications of a worldwide slowdown
and subsequent reduction in new car sales pro-
jections could send palladium prices down to
fresh multi-year lows. A break below the recent
support at US$ 450 an ounce could quickly lead
to US$ 420 and eventually to a possible down-
side target of US$ 360-380 later in 2016, the
company suggests.
Rhodium: demand saturated
An increase in producer selling at year-end
drove rhodium prices to a cyclical low of US$
620 an ounce in the New Year – the metal's low-
est level since the first quarter of 2004. 'A com-
bination of growing secondary supplies, a lack
of speculative investment interest and mediocre
industrial demand, in addition to the late-year
sales, has kept pressure on rho-
dium prices,' A-1 explains.
The metal's value has now
declined by 50% from its high of
US$ 1245 an ounce at the begin-
ning of last year.
An estimated 80% of rhodium
supplies are consumed in the
manufacture of autocatalysts,
primarily for the treatment of
nitrogen oxide emissions. 'Despite
a continued modest growth in the
number of new cars being sold
globally, more efficient engineering and thrift-
ing initiatives have allowed for further reduc-
tions to the amount of rhodium required,' says
A-1.
Resumption of full production by South African
PGM producers through the first half of 2015
is deemed likely to have kept rhodium demand
saturated. At Anglo Platinum, the world's larg-
est producer of PGMs, rhodium outturn in the
first six months of 2015 was 142 000 ounces of
refined metal – an increase of 29% over the 110
000 ounces for the corresponding period of the
previous year.
New lows possible
If rhodium volumes continue to be offered for
sale and industrial consumer buying fails to
improve, then it would appear that the cyclical
low for rhodium has yet to be reached, accord-
ing to A-1. 'A further decline in value to test
support at US$ 500 an ounce remains a distinct
possibility,' the company ventures.
A-1 points out that rhodium traded below US$
500 an ounce in the early months of 2004 and
averaged only US$ 475 in 2003. 'Given that rho-
dium prices only dropped to US$ 1000 an ounce
at the trough of the 2008-09 recession, this long-
er-term structural downtrend in value may not
as yet have run its course,' the firm argues.
Platinum consumption in jew-
ellery applications is projected
to have slipped nearly 5% in
2015 to 2.85 million ounces,
according to latest research
from the World Platinum
Investment Council (WPIC).
Meanwhile, palladium con-
sumption by the same sector
in 2016 is considered likely
to remain in line with that of
last year.
'Robust demand' for platinum in the September
quarter saw a rise of 18.8% over the previous
June period as restocking in the major markets –
and especially in China – drove consumption levels
higher. China remains the largest demand centre
for platinum jewellery manufacture, account-
ing for more than 60% of sector offtake. Latest
data from Johnson Matthey confirm a decrease
in demand for platinum jewellery – by 'a slightly
greater margin' of 8.5% down to a requirement
of 2.65 million ounces in 2015. A 16% fall in
Chinese offtake for jewellery manufacture is
estimated for last year, equating to 1.63 million
ounces of platinum.
The continuing 'slow correction'
of the Chinese economy could limit expectations
for any measurable recovery in platinum demand
for jewellery applications at least in the near- to
intermediate-term, especially in the domestic
economy but also globally. The WPIC is forecast-
ing 2% growth in platinum demand from the
jewellery sector in 2016.
Palladium jewellery demand experienced a fur-
ther decline in 2015, falling by some 12% to
242 000 ounces. Palladium offtake for jewellery
applications was primarily a Chinese phenomenon
that drove demand for the metal above 1 million
ounces in 2008, which is equivalent to four times
current levels.
Jewellery sector loses some lustre
iRECY – the Mobile Office

iRECY app provides not only the usual functionality of a CRM

system like communication and planning of activities, but also a

complete information system on purchase and sales transactions,

shipped material, contracts, scale tickets, prices, open receivab-

les, runs, and container transactions as well as documents and

photos from our electronic archive. Your buyers will love it!

RECY Business Management Software
for the Recycling and Waste Management Industry

You find further information in the Internet: www.recy-systems.com

More …

Mobile Grading

Use this exciting app on a smartphone for the receiving of

material on your yard. Faster, smarter, and more secure than any

process that you currently use. Photos of the received material

improve quality of data and control for the buyers, and can also

serve as proof in case of claims. There was never a better way of

making sure that you got what you pay for!

Fleet Control / Container Tracking

Your drivers communicate with your dispatch through a tablet in

the truck. Your dispatch knows at all times where their trucks are

and which customer is served right now and next. The drivers

track barcoded containers with an app on their smartphone.

They can use the same app for taking photos and collecting

signatures. They can also operate the truck scale from the tablet

if required. A perfect solution with tools anyone can use. This is

a low investment, but a huge gain in productivity and control.

SERVICING THE RECYCLING INDUSTRY
FOR OVER

30 YEARS

Come visit us in Las Vegas

for the ISRI Convention,

April 3-7, 2016.

You find us at booth 813.

RECY SYSTEMS LLC
11616 Southfork Drive,
Suite 204
Baton Rouge, LA 70816
United States

Phone (225) 773-0087