March 2016
Subscribe
37March 2016 the New Year while platinum has performed more like an industrial metal reacting to the prospect of decelerating worldwide demand growth,' it says. 'Grim scenario' Not only is platinum likely to test US$ 800 an oun...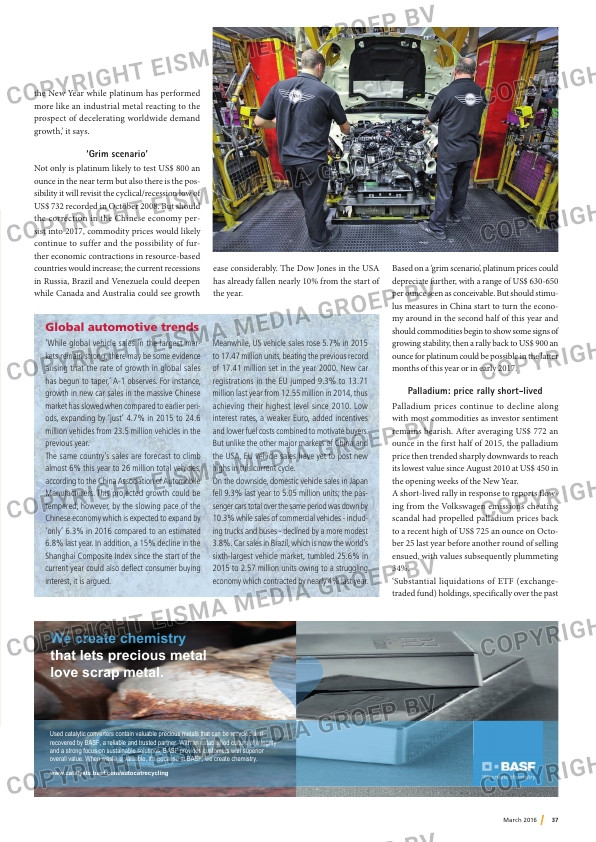 37March 2016
the New Year while platinum has performed
more like an industrial metal reacting to the
prospect of decelerating worldwide demand
growth,' it says.
'Grim scenario'
Not only is platinum likely to test US$ 800 an
ounce in the near term but also there is the pos-
sibility it will revisit the cyclical/recession low of
US$ 732 recorded in October 2008. But should
the correction in the Chinese economy per-
sist into 2017, commodity prices would likely
continue to suffer and the possibility of fur-
ther economic contractions in resource-based
countries would increase; the current recessions
in Russia, Brazil and Venezuela could deepen
while Canada and Australia could see growth
ease considerably. The Dow Jones in the USA
has already fallen nearly 10% from the start of
the year.
Based on a 'grim scenario', platinum prices could
depreciate further, with a range of US$ 630-650
per ounce seen as conceivable. But should stimu-
lus measures in China start to turn the econo-
my around in the second half of this year and
should commodities begin to show some signs of
growing stability, then a rally back to US$ 900 an
ounce for platinum could be possible in the latter
months of this year or in early 2017.
Palladium: price rally short-lived
Palladium prices continue to decline along
with most commodities as investor sentiment
remains bearish. After averaging US$ 772 an
ounce in the first half of 2015, the palladium
price then trended sharply downwards to reach
its lowest value since August 2010 at US$ 450 in
the opening weeks of the New Year.
A short-lived rally in response to reports flow-
ing from the Volkswagen emissions cheating
scandal had propelled palladium prices back
to a recent high of US$ 725 an ounce on Octo-
ber 25 last year before another round of selling
ensued, with values subsequently plummeting
34%.
'Substantial liquidations of ETF (exchange-
traded fund) holdings, specifically over the past
www.duerec.com
New Name – Same Service!

from September 2016
We are changing our name and nothing else! We have been an industry leader for over 18 years –
specialising in the recycling of precious metals. Our new name stands proudly over our never
changing principles of high integrity, superior quality and exceptional service.
For further information visit:
& h e n s e l r e c y c l i n g
We create chemistry
that lets precious metal
love scrap metal.

Used catalytic converters contain valuable precious metals that can be recycled and
recovered by BASF, a reliable and trusted partner. With an established culture of integrity
and a strong focus on sustainable solutions, BASF provides customers with superior
overall value. When waste is valuable, it's because at BASF, we create chemistry.
www.catalysts.basf.com/autocatrecycling

Global automotive trends
'While global vehicle sales in the largest mar-
kets remain strong, there may be some evidence
arising that the rate of growth in global sales
has begun to taper,' A-1 observes. For instance,
growth in new car sales in the massive Chinese
market has slowed when compared to earlier peri-
ods, expanding by 'just' 4.7% in 2015 to 24.6
million vehicles from 23.5 million vehicles in the
previous year.
The same country's sales are forecast to climb
almost 6% this year to 26 million total vehicles,
according to the China Association of Automobile
Manufacturers. This projected growth could be
tempered, however, by the slowing pace of the
Chinese economy which is expected to expand by
'only' 6.3% in 2016 compared to an estimated
6.8% last year. In addition, a 15% decline in the
Shanghai Composite Index since the start of the
current year could also deflect consumer buying
interest, it is argued.
Meanwhile, US vehicle sales rose 5.7% in 2015
to 17.47 million units, beating the previous record
of 17.41 million set in the year 2000. New car
registrations in the EU jumped 9.3% to 13.71
million last year from 12.55 million in 2014, thus
achieving their highest level since 2010. Low
interest rates, a weaker Euro, added incentives
and lower fuel costs combined to motivate buyers.
But unlike the other major markets of China and
the USA, EU vehicle sales have yet to post new
highs in this current cycle.
On the downside, domestic vehicle sales in Japan
fell 9.3% last year to 5.05 million units; the pas-
senger cars total over the same period was down by
10.3% while sales of commercial vehicles – includ-
ing trucks and buses – declined by a more modest
3.8%. Car sales in Brazil, which is now the world's
sixth-largest vehicle market, tumbled 25.6% in
2015 to 2.57 million units owing to a struggling
economy which contracted by nearly 4% last year.