March 2016
Subscribe
35March 2016 ticipants may then become more accepting of the new norm of depressed pricing and less will- ing to withhold scrap converters for an elusive recovery,' A-1 argues. The firm predicts growth of 5-7% for recy- cled autocats t...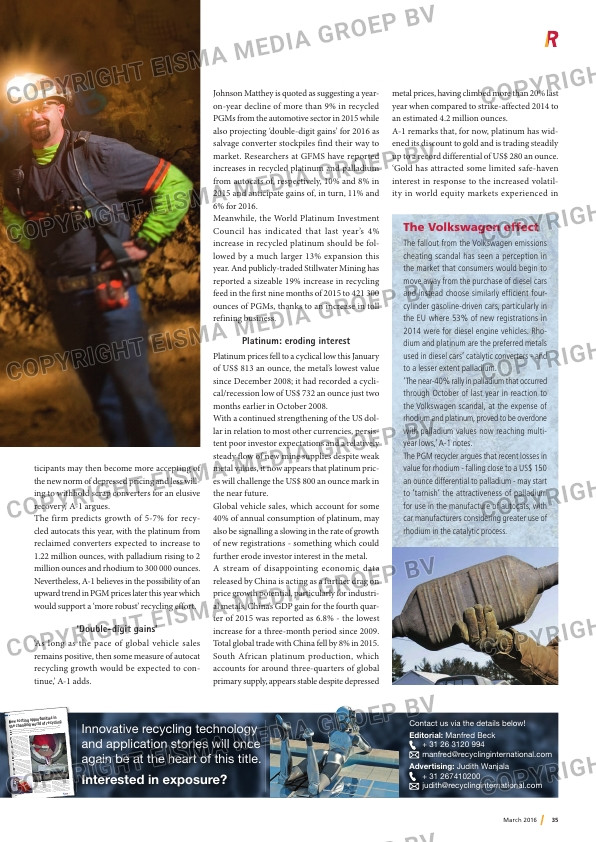 35March 2016
ticipants may then become more accepting of
the new norm of depressed pricing and less will-
ing to withhold scrap converters for an elusive
recovery,' A-1 argues.
The firm predicts growth of 5-7% for recy-
cled autocats this year, with the platinum from
reclaimed converters expected to increase to
1.22 million ounces, with palladium rising to 2
million ounces and rhodium to 300 000 ounces.
Nevertheless, A-1 believes in the possibility of an
upward trend in PGM prices later this year which
would support a 'more robust' recycling effort.
'Double-digit gains'
'As long as the pace of global vehicle sales
remains positive, then some measure of autocat
recycling growth would be expected to con-
tinue,' A-1 adds.
Johnson Matthey is quoted as suggesting a year-
on-year decline of more than 9% in recycled
PGMs from the automotive sector in 2015 while
also projecting 'double-digit gains' for 2016 as
salvage converter stockpiles find their way to
market. Researchers at GFMS have reported
increases in recycled platinum and palladium
from autocats of, respectively, 10% and 8% in
2015 and anticipate gains of, in turn, 11% and
6% for 2016.
Meanwhile, the World Platinum Investment
Council has indicated that last year's 4%
increase in recycled platinum should be fol-
lowed by a much larger 13% expansion this
year. And publicly-traded Stillwater Mining has
reported a sizeable 19% increase in recycling
feed in the first nine months of 2015 to 421 300
ounces of PGMs, thanks to an increase in toll
refining business.
Platinum: eroding interest
Platinum prices fell to a cyclical low this January
of US$ 813 an ounce, the metal's lowest value
since December 2008; it had recorded a cycli-
cal/recession low of US$ 732 an ounce just two
months earlier in October 2008.
With a continued strengthening of the US dol-
lar in relation to most other currencies, persis-
tent poor investor expectations and a relatively
steady flow of new mine supplies despite weak
metal values, it now appears that platinum pric-
es will challenge the US$ 800 an ounce mark in
the near future.
Global vehicle sales, which account for some
40% of annual consumption of platinum, may
also be signalling a slowing in the rate of growth
of new registrations – something which could
further erode investor interest in the metal.
A stream of disappointing economic data
released by China is acting as a further drag on
price growth potential, particularly for industri-
al metals. China's GDP gain for the fourth quar-
ter of 2015 was reported as 6.8% – the lowest
increase for a three-month period since 2009.
Total global trade with China fell by 8% in 2015.
South African platinum production, which
accounts for around three-quarters of global
primary supply, appears stable despite depressed
metal prices, having climbed more than 20% last
year when compared to strike-affected 2014 to
an estimated 4.2 million ounces.
A-1 remarks that, for now, platinum has wid-
ened its discount to gold and is trading steadily
up to a record differential of US$ 280 an ounce.
'Gold has attracted some limited safe-haven
interest in response to the increased volatil-
ity in world equity markets experienced in
The Volkswagen effect
The fallout from the Volkswagen emissions
cheating scandal has seen a perception in
the market that consumers would begin to
move away from the purchase of diesel cars
and instead choose similarly efficient four-
cylinder gasoline-driven cars, particularly in
the EU where 53% of new registrations in
2014 were for diesel engine vehicles. Rho-
dium and platinum are the preferred metals
used in diesel cars' catalytic converters – and
to a lesser extent palladium.
'The near-40% rally in palladium that occurred
through October of last year in reaction to
the Volkswagen scandal, at the expense of
rhodium and platinum, proved to be overdone
with palladium values now reaching multi-
year lows,' A-1 notes.
The PGM recycler argues that recent losses in
value for rhodium – falling close to a US$ 150
an ounce differential to palladium – may start
to 'tarnish' the attractiveness of palladium
for use in the manufacture of autocats, with
car manufacturers considering greater use of
rhodium in the catalytic process.
73
72
2016

2016

Application: SORT
ING SYSTEMS
TOMRA Sorting's
AUTOSORT

boosts Ecopark e
fficiency

The latest generat
ion optical sorter
– TOMRA's AUTOSO
RT – has joined fou
r
existing units at th
e Toledo Ecopark w
aste sorting plant
in Spain. The new
machine is configu
red for paper and
cardboard, resulti
ng in a significant
increase
in the recovery of
these materials, t
hereby enabling th
e Ecopark to achie
ve its
recovery targets.
T
he Toledo Ecopa
rk in Spain, situa
ted at
Dehesa del Aceitu
no within the city
lim-
its, is an innovativ
e municipal solid
waste
(MSW) treatmen
t centre serving
a popula-
tion of more tha
n 650 000 inhabi
tants, with
the capability to t
reat 250 000 tonn
es of waste
per year. The Eco
park is managed
by Gestión
Medioambiental
de Toledo SA (G
esmat), a
company in whic
h Ferrovial Servic
ios España
and Consorcio d
e Servicios Públic
os Medio-
ambientales (Con
sortium of Envir
onmental
Public Services)
for Toledo prov
ince each
have a shareholdi
ng.
This plant is one
of the most adva
nced in
Spain, featuring a
high degree of au
tomation
and excellent effi
ciency in terms o
f waste uti-
lisation, prioritisi
ng recovery, biost
abilisation
and recycling ov
er disposal. Occ
upying 18
hectares, the facil
ity is engaged in t
he separa-
tion of recyclable
s, the biostabilisa
tion of the
organic fraction
and the producti
on of solid
recovered fuel. T
he most significa
nt build-
ing at the Toledo
Ecopark is the so
rting plant
where materials
are sorted in pri
mary and
secondary phase
s. In the first stag
e, the ma-
terial to be biosta
bilised is separate
d from the
remainder, which
is sent to seconda
ry sorting.
The Toledo Park t
reats to 250 000

tonnes of waste p
er year.

Application: SORT
ING SYSTEMS
Here, streams of H
DPE, PET, plastic
film, pa-
per/cardboard, T
etra-Paks, ferrou
s and non-
ferrous metals ar
e separated. In 20
14, a total
of 180 545 tonne
s of waste was pr
ocessed at
this sorting plant
, which has a feed
-in rate of
60 tonnes per ho
ur or 30 tonnes p
er hour to
each of its two lin
es.
Since going into
operation in 20
12, the
Ecopark has bee
n fitted with cu
tting-edge
technology, enab
ling optimum re
covery of
recyclable and r
ecoverable mate
rials. And
a number of TO
MRA's automati
c sorting
systems figure am
ong the facility's
state-of-
the-art equipmen
t. Four of TOMRA
's AUTO-
SORT units of dif
ferent widths wer
e installed
from the outset, t
hree of the latest g
eneration,
fitted with a valve
block positionin
g system.
In line with the p
olicy to impleme
nt im-
provements to de
tection technolog
y, an AU-
TOSORT 4 was i
nstalled last year
in the flat
fraction line for
the recovery of
paper and
board. 'The new A
UTOSORT optic
al separa-
tor was installed
in July 2014,' no
te Ecopark
officials. 'It is con
figured for the re
covery of
paper and board,
resulting in a sign
ificant in-
crease in the reco
very of this mate
rial at the
sorting plant.' In
fact, the installa
tion of the
new unit will hav
e almost doubled
paper and
cardboard recove
ry by the end of 2
015 when
compared to 201
4.
Consistent high-p
urity fractions
The AUTOSOR
T is a multi-fun
ctional
sorting system d
esigned to recov
er a wide
range of mater
ials from differ
ent waste
streams, includin
g packaging, pap
er, house-
hold waste and
many types of p
lastic. The
system operates b
y combining enh
anced ma-
terial information
and colour ident
ification.
This sorting syste
m uses DUOLIN
E scan-
ning technology
, which conduct
s a double
scan on every pa
ss. Extremely fas
t and reli-
able NIR sensors
take in the specif
ic infrared
spectra of variou
s objects at a very
high opti-
cal resolution. Th
is double-scannin
g process
makes it possible
to increase the d
istance be-
tween the scanne
r unit and the con
veyer belt
while maintainin
g the high resolu
tion, thus
minimising dam
age to and contam
ination of
the optical comp
onents to signifi
cantly in-
crease reliability.
The system ensur
es consist-
ent fractions of th
e highest purity.
The latest inno
vative FLYING
BEAM
lighting technolo
gy focuses only o
n the area
of the conveyor
belt that is being
scanned,
resulting in up
to 70% energy s
avings. In
addition, this tec
hnology makes a
real-time
calibration of eve
ry single scan pos
sible, thus
increasing sortin
g stability.
Meeting targets
Use of TOMRA
's sensor-based
sorting
technology has p
rovided numero
us advan-
tages for the Tol
edo Ecopark, esp
ecially in
terms of perform
ance, productivi
ty, profit-
ability and quali
ty of the produc
t obtained.
Having used them
in other facilities
, Gesmat's
previous experie
nce with AUTOS
ORT units
has eased their
integration and
adaptation
from the viewpo
int of equipmen
t manage-
ment while the un
it's configuration
flexibility
enables it to perf
orm different tas
ks accord-
ing to the requir
ements of the so
rting lines.
The Ecopark sta
tes: 'We already
had other
TOMRA Sorting
units at the plant
so we were
familiar with the
ir technology and
reliability
– technology tha
t is enabling us to
meet our
targets and expec
tations.'
PROJECT HIGHLI
GHTS

Project
Recovery of pape
r and cardboard f
rom
municipal solid wa
ste (MSW).
Company

TOMRA Sorting Gm
bH
Operator

Toledo Ecopark M
SW treatment cen
tre
managed by Gesm
at.
Industry

Waste treatment.
Installation

2012 and July 2014
.
Main goals of the
project

Recovery of pape
r and cardboard f
rom MSW,
resulting in a sign
ificant increase in
the
recovery of these
materials.
Results
Paper and cardbo
ard recovery will
have almost
doubled by the en
d of 2015 when co
mpared to
2014 when the ma
chine went into op
eration.
Judit Jansana B
orrajo is
sales manager for
Iberia at
TOMRA Sorting Re
cycling.
www.tomra.com/r
ecycling
The new AUTOSOR
T 4 sensor-based

sorter is

configured for pa
per and cardboar

d, resulting

in a significant in
crease in the reco

very to

these materials.

The AUTOSORT op
erates by combin

ing enhanced mat
erial information

and colour identif
ication.

74
2016

E
veryone familiar
with today's sta
ndard
sorting machines
will acknowledg
e that
performance is v
ery good, regard
less of
the technology. H
owever, the futur
e will re-
quire recyclers an
d processors to r
ecover yet
more material an
d to sort the end
product
more specifically
. Consequently,
the tradi-
tional thinking o
f 'just-add-a-sort
er-to-the-
end-of-the-line' n
eeds to change –
and fast.
Such improveme
nts to sorting pro
cedures
are the essence o
f S2S-Toratècnica
's business
drive known as 'S
ense2Sort', now r
eflected in
the company's tit
le and logo. S2S-T
oratècnica
is seeking out th
e new solutions
needed to
enable recyclers t
o match up to the
new busi-
ness environmen
t confronting th
em while
also focusing on
ever-increasing
profits for
its clients.
Highly entrepren
eurial
Among the comp
any's clients is Sk
rotfrag
AB – a world-cl
ass metal recycle
r based in
Sweden. This pri
vate company wa
s founded
in 1972 by the hig
hly entrepreneur
ial Lars Jo-
hansson and has
grown rapidly o
ver the last
10 years such that
, today, the group
comprises
20 sites. Its three
shredder plants a
re situated
at its headquarte
rs in Gothenburg
while the
others are at Osk
arshamn on Swe
den's east
coast and at Järna
to the south of S
tockholm.
The other 17 co
mpany sites are
traditional
scrap yards, som
e with cutting an
d pressing
facilities.
Production totall
ed 140 000 tons i
n 2011,
of which more t
han 80% was ex
ported to
Asia and elsewhe
re in Europe. Rec
ently, scrap
metal exports – e
specially to Asian
customers
– have become m
ore of a challenge
owing to
changing market
demands, barrie
rs such as
China's Green Fe
nce and the cont
inued ma-
laise in the scrap
metal industry w
orldwide.
But through sk
illed manageme
nt, proper
planning and str
ict attention to m
arket de-
mands, Skrotfrag
has succeeded in
working
its way through t
he hurdles and fin
ancial cri-
ses to emerge stro
nger than ever.
S2S-Toratècnica
has supplied ad
vanced
sorting technolog
y to Skrotfrag for
more than
10 years. Now alo
ng with its US-ba
sed part-
New sorting oppo
rtunities in

the changing wor
ld of recycling

S2S-Toratècnica of
Spain has extensi
vely researched tr
aditional sorting p
rocedures and ide
ntified a need to r
ethink
sorting methods t
o meet emerging r
equirements and o
pportunities. In th
e future, recyclers
and processors w
ill be
asked to recover e
ver more material
– so the status qu
o will not be good
enough.
Molten sample fro
m

furnace in alumin
ium

recycling plant.

3D illustration of
S2S-Toratècnica X

RFSense.

Application: INNO
VATIVE SORTING
2016

• Ultimately,
will everythi
ng get
recycled?
• Quantifying
the resource
savings deliv
ered by recy
cling
• Stripping p
recious and
base
metals from
e-waste
• An alterna
tive approac
h to
rare earth el
ements
Powered by
Recycling
Internationa
l
Top scientist
s share
innovations a
nd insights
Contact us via the details below!
Editorial: Manfred Beck
+ 31 26 3120 994
[email protected]
Advertising: Judith Wanjala
+ 31 267410200
[email protected]
2017
Innovative recycling technology
and application stories will once
again be at the heart of this title.
Interested in exposure?
Recycling Technology
The second edition of
will be
published this October – with
a widespread global distribution.