March 2005
Subscribe
N E W S The Westbound Transpacific Stabilization Agreement (WTSA) has recommended an across-the-board rate increase of US$ 100 per 40-foot container and US$ 80 per 20-foot con- tainer for US-Asia shipments of metal scrap. The increase has ...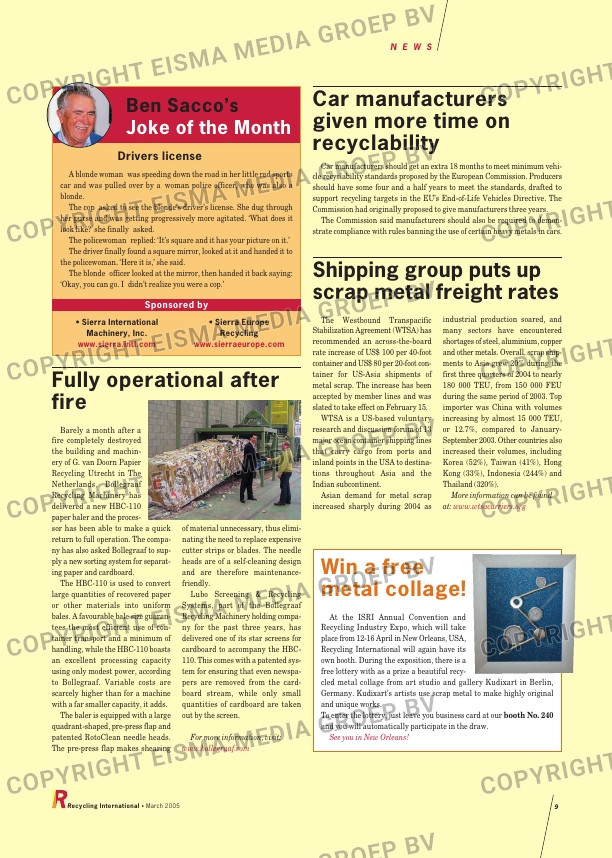 N E W S

The Westbound Transpacific
Stabilization Agreement (WTSA) has
recommended an across-the-board
rate increase of US$ 100 per 40-foot
container and US$ 80 per 20-foot con-
tainer for US-Asia shipments of
metal scrap. The increase has been
accepted by member lines and was
slated to take effect on February 15.
WTSA is a US-based voluntary
research and discussion forum of 13
major ocean container shipping lines
that carry cargo from ports and
inland points in the USA to destina-
tions throughout Asia and the
Indian subcontinent.
Asian demand for metal scrap
increased sharply during 2004 as
industrial production soared, and
many sectors have encountered
shortages of steel, aluminium, copper
and other metals. Overall, scrap ship-
ments to Asia grew 20% during the
first three quarters of 2004 to nearly
180 000 TEU, from 150 000 FEU
during the same period of 2003. Top
importer was China with volumes
increasing by almost 15 000 TEU,
or 12.7%, compared to January-
September 2003. Other countries also
increased their volumes, including
Korea (52%), Taiwan (41%), Hong
Kong (33%), Indonesia (244%) and
Thailand (320%).
More information can be found
at: www.wtsacarriers.org

Recycling International • March 2005 9

Drivers license
A blonde woman was speeding down the road in her little red sports
car and was pulled over by a woman police officer, who was also a
blonde.
The cop asked to see the blonde's driver's license. She dug through
her purse and was getting progressively more agitated. 'What does it
look like?' she finally asked.
The policewoman replied: 'It's square and it has your picture on it.'
The driver finally found a square mirror, looked at it and handed it to
the policewoman. 'Here it is,' she said.
The blonde officer looked at the mirror, then handed it back saying:
'Okay, you can go. I didn't realize you were a cop.'
Ben Sacco's
Joke of the Month

Sponsored by

• Sierra International
Machinery, Inc.

www.sierra.intl.com

• Sierra Europe
Recycling

www.sierraeurope.com

At the ISRI Annual Convention and
Recycling Industry Expo, which will take
place from 12-16 April in New Orleans, USA,
Recycling International will again have its
own booth. During the exposition, there is a
free lottery with as a prize a beautiful recy-
cled metal collage from art studio and gallery Kudixart in Berlin,
Germany. Kudixart's artists use scrap metal to make highly original
and unique works.
To enter the lottery, just leave you business card at our booth No. 240
and you will automatically participate in the draw.
See you in New Orleans!

Shipping group puts up
scrap metal freight rates

Car manufacturers should get an extra 18 months to meet minimum vehi-
cle recyclability standards proposed by the European Commission. Producers
should have some four and a half years to meet the standards, drafted to
support recycling targets in the EU's End-of-Life Vehicles Directive. The
Commission had originally proposed to give manufacturers three years.
The Commission said manufacturers should also be required to demon-
strate compliance with rules banning the use of certain heavy metals in cars.
Car manufacturers
given more time on
recyclability

Barely a month after a
fire completely destroyed
the building and machin-
ery of G. van Doorn Papier
Recycling Utrecht in The
Netherlands, Bollegraaf
Recycling Machinery has
delivered a new HBC-110
paper baler and the proces-
sor has been able to make a quick
return to full operation. The compa-
ny has also asked Bollegraaf to sup-
ply a new sorting system for separat-
ing paper and cardboard.
The HBC-110 is used to convert
large quantities of recovered paper
or other materials into uniform
bales. A favourable bale size guaran-
tees the most efficient use of con-
tainer transport and a minimum of
handling, while the HBC-110 boasts
an excellent processing capacity
using only modest power, according
to Bollegraaf. Variable costs are
scarcely higher than for a machine
with a far smaller capacity, it adds.
The baler is equipped with a large
quadrant-shaped, pre-press flap and
patented RotoClean needle heads.
The pre-press flap makes shearing
of material unnecessary, thus elimi-
nating the need to replace expensive
cutter strips or blades. The needle
heads are of a self-cleaning design
and are therefore maintenance-
friendly.
Lubo Screening & Recycling
Systems, part of the Bollegraaf
Recycling Machinery holding compa-
ny for the past three years, has
delivered one of its star screens for
cardboard to accompany the HBC-
110. This comes with a patented sys-
tem for ensuring that even newspa-
pers are removed from the card-
board stream, while only small
quantities of cardboard are taken
out by the screen.
For more information, visit:
www.bollegraaf.com

Fully operational after
fire

Win a free
metal collage!