March 2005
Subscribe
N E W S Recycling International • March 2005 8 The Brussels-based International Iron and Steel Institute (IISI) has published its first sustainability report on the world steel industry. Some 42 steel companies from around the world, in...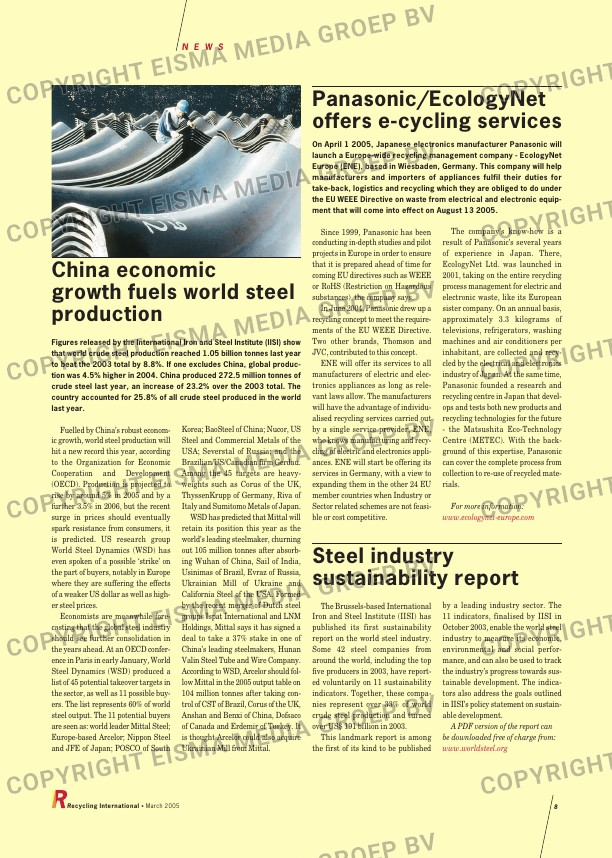 N E W S

Recycling International • March 2005 8

The Brussels-based International
Iron and Steel Institute (IISI) has
published its first sustainability
report on the world steel industry.
Some 42 steel companies from
around the world, including the top
five producers in 2003, have report-
ed voluntarily on 11 sustainability
indicators. Together, these compa-
nies represent over 33% of world
crude steel production and turned
over US$ 191 billion in 2003.
This landmark report is among
the first of its kind to be published
by a leading industry sector. The
11 indicators, finalised by IISI in
October 2003, enable the world steel
industry to measure its economic,
environmental and social perfor-
mance, and can also be used to track
the industry's progress towards sus-
tainable development. The indica-
tors also address the goals outlined
in IISI's policy statement on sustain-
able development.
A PDF version of the report can
be downloaded free of charge from:
www.worldsteel.org

Steel industry
sustainability report

Panasonic/EcologyNet
offers e-cycling services

Since 1999, Panasonic has been
conducting in-depth studies and pilot
projects in Europe in order to ensure
that it is prepared ahead of time for
coming EU directives such as WEEE
or RoHS (Restriction on Hazardous
substances), the company says.
In June 2004, Panasonic drew up a
recycling concept to meet the require-
ments of the EU WEEE Directive.
Two other brands, Thomson and
JVC, contributed to this concept.
ENE will offer its services to all
manufacturers of electric and elec-
tronics appliances as long as rele-
vant laws allow. The manufacturers
will have the advantage of individu-
alised recycling services carried out
by a single service provider, ENE,
who knows manufacturing and recy-
cling of electric and electronics appli-
ances. ENE will start be offering its
services in Germany, with a view to
expanding them in the other 24 EU
member countries when Industry or
Sector related schemes are not feasi-
ble or cost competitive.
The company's know-how is a
result of Panasonic's several years
of experience in Japan. There,
EcologyNet Ltd. was launched in
2001, taking on the entire recycling
process management for electric and
electronic waste, like its European
sister company. On an annual basis,
approximately 3.3 kilograms of
televisions, refrigerators, washing
machines and air conditioners per
inhabitant, are collected and recy-
cled by the electrical and electronics
industry of Japan. At the same time,
Panasonic founded a research and
recycling centre in Japan that devel-
ops and tests both new products and
recycling technologies for the future
– the Matsushita Eco-Technology
Centre (METEC). With the back-
ground of this expertise, Panasonic
can cover the complete process from
collection to re-use of recycled mate-
rials.
For more information:
www.ecologynet-europe.com

On April 1 2005, Japanese electronics manufacturer Panasonic will
launch a Europe-wide recycling management company – EcologyNet
Europe (ENE), based in Wiesbaden, Germany. This company will help
manufacturers and importers of appliances fulfil their duties for
take-back, logistics and recycling which they are obliged to do under
the EU WEEE Directive on waste from electrical and electronic equip-
ment that will come into effect on August 13 2005.

Fuelled by China's robust econom-
ic growth, world steel production will
hit a new record this year, according
to the Organization for Economic
Cooperation and Development
(OECD). Production is projected to
rise by around 5% in 2005 and by a
further 3.5% in 2006, but the recent
surge in prices should eventually
spark resistance from consumers, it
is predicted. US research group
World Steel Dynamics (WSD) has
even spoken of a possible 'strike' on
the part of buyers, notably in Europe
where they are suffering the effects
of a weaker US dollar as well as high-
er steel prices.
Economists are meanwhile fore-
casting that the global steel industry
should see further consolidation in
the years ahead. At an OECD confer-
ence in Paris in early January, World
Steel Dynamics (WSD) produced a
list of 45 potential takeover targets in
the sector, as well as 11 possible buy-
ers. The list represents 60% of world
steel output. The 11 potential buyers
are seen as: world leader Mittal Steel;
Europe-based Arcelor; Nippon Steel
and JFE of Japan; POSCO of South
Korea; BaoSteel of China; Nucor, US
Steel and Commercial Metals of the
USA; Severstal of Russia; and the
Brazilian/US/Canadian firm Gerdau.
Among the 45 targets are heavy-
weights such as Corus of the UK,
ThyssenKrupp of Germany, Riva of
Italy and Sumitomo Metals of Japan.
WSD has predicted that Mittal will
retain its position this year as the
world's leading steelmaker, churning
out 105 million tonnes after absorb-
ing Wuhan of China, Sail of India,
Usinimas of Brazil, Evraz of Russia,
Ukrainian Mill of Ukraine and
California Steel of the USA. Formed
by the recent merger of Dutch steel
groups Ispat International and LNM
Holdings, Mittal says it has signed a
deal to take a 37% stake in one of
China's leading steelmakers, Hunan
Valin Steel Tube and Wire Company.
According to WSD, Arcelor should fol-
low Mittal in the 2005 output table on
104 million tonnes after taking con-
trol of CST of Brazil, Corus of the UK,
Anshan and Benxi of China, Dofsaco
of Canada and Erdemir of Turkey. It
is thought Arcelor could also acquire
Ukrainian Mill from Mittal.
Figures released by the International Iron and Steel Institute (IISI) show
that world crude steel production reached 1.05 billion tonnes last year
to beat the 2003 total by 8.8%. If one excludes China, global produc-
tion was 4.5% higher in 2004. China produced 272.5 million tonnes of
crude steel last year, an increase of 23.2% over the 2003 total. The
country accounted for 25.8% of all crude steel produced in the world
last year.

China economic
growth fuels world steel
production