March 2005
Subscribe
winter storm in the first two weeks of February which slowed up genera- tion and led to firmer prices. Mills in this region not only had to compete with weather conditions, but also with Chinese mills which recently in- creased their purch...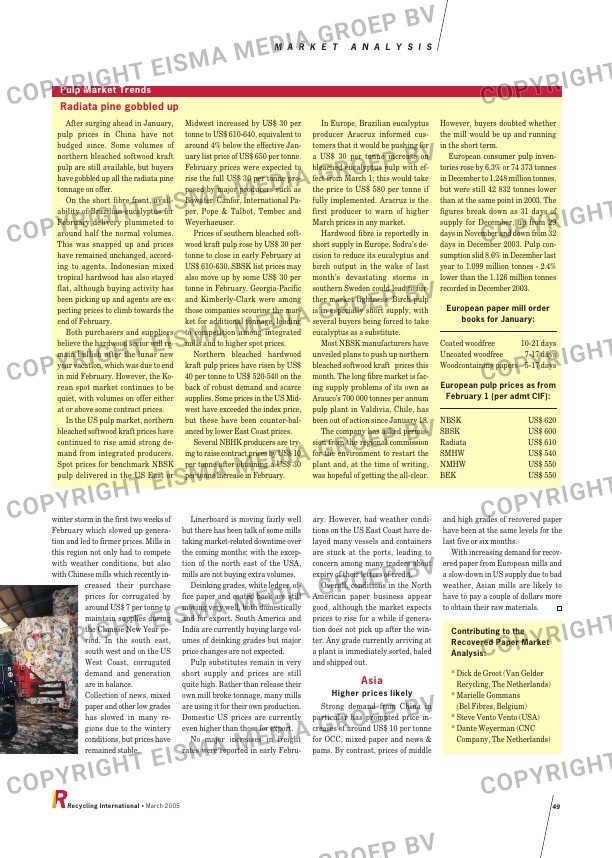 winter storm in the first two weeks of
February which slowed up genera-
tion and led to firmer prices. Mills in
this region not only had to compete
with weather conditions, but also
with Chinese mills which recently in-
creased their purchase
prices for corrugated by
around US$ 7 per tonne to
maintain supplies during
the Chinese New Year pe-
riod. In the south east,
south west and on the US
West Coast, corrugated
demand and generation
are in balance.
Collection of news, mixed
paper and other low grades
has slowed in many re-
gions due to the wintery
conditions, but prices have
remained stable.
Linerboard is moving fairly well
but there has been talk of some mills
taking market-related downtime over
the coming months; with the excep-
tion of the north east of the USA,
mills are not buying extra volumes.
Deinking grades, white ledger, of-
fice paper and coated book are still
moving very well, both domestically
and for export. South America and
India are currently buying large vol-
umes of deinking grades but major
price changes are not expected.
Pulp substitutes remain in very
short supply and prices are still
quite high. Rather than release their
own mill broke tonnage, many mills
are using it for their own production.
Domestic US prices are currently
even higher than those for export.
No major increases in freight
rates were reported in early Febru-
ary. However, bad weather condi-
tions on the US East Coast have de-
layed many vessels and containers
are stuck at the ports, leading to
concern among many traders about
expiry of their letters of credit.
Overall, conditions in the North
American paper business appear
good, although the market expects
prices to rise for a while if genera-
tion does not pick up after the win-
ter. Any grade currently arriving at
a plant is immediately sorted, baled
and shipped out.
Asia
Higher prices likely

Strong demand from China in
particular has prompted price in-
creases of around US$ 10 per tonne
for OCC, mixed paper and news &
pams. By contrast, prices of middle
and high grades of recovered paper
have been at the same levels for the
last five or six months.
With increasing demand for recov-
ered paper from European mills and
a slow-down in US supply due to bad
weather, Asian mills are likely to
have to pay a couple of dollars more
to obtain their raw materials.
M A R K E T A N A L Y S I S

Pulp Market Trends

After surging ahead in January,
pulp prices in China have not
budged since. Some volumes of
northern bleached softwood kraft
pulp are still available, but buyers
have gobbled up all the radiata pine
tonnage on offer.
On the short fibre front, avail-
ability of Brazilian eucalyptus for
February delivery plummeted to
around half the normal volumes.
This was snapped up and prices
have remained unchanged, accord-
ing to agents. Indonesian mixed
tropical hardwood has also stayed
flat, although buying activity has
been picking up and agents are ex-
pecting prices to climb towards the
end of February.
Both purchasers and suppliers
believe the hardwood sector will re-
main bullish after the lunar new
year vacation, which was due to end
in mid February. However, the Ko-
rean spot market continues to be
quiet, with volumes on offer either
at or above some contract prices.
In the US pulp market, northern
bleached softwood kraft prices have
continued to rise amid strong de-
mand from integrated producers.
Spot prices for benchmark NBSK
pulp delivered in the US East or
Midwest increased by US$ 30 per
tonne to US$ 610-640, equivalent to
around 4% below the effective Jan-
uary list price of US$ 650 per tonne.
February prices were expected to
rise the full US$ 30 per tonne pro-
posed by major producers such as
Bowater, Canfor, International Pa-
per, Pope & Talbot, Tembec and
Weyerhaeuser.
Prices of southern bleached soft-
wood kraft pulp rose by US$ 30 per
tonne to close in early February at
US$ 610-630. SBSK list prices may
also move up by some US$ 30 per
tonne in February. Georgia-Pacific
and Kimberly-Clark were among
those companies scouring the mar-
ket for additional tonnage, leading
to competition among integrated
mills and to higher spot prices.
Northern bleached hardwood
kraft pulp prices have risen by US$
40 per tonne to US$ 520-540 on the
back of robust demand and scarce
supplies. Some prices in the US Mid-
west have exceeded the index price,
but these have been counter-bal-
anced by lower East Coast prices.
Several NBHK producers are try-
ing to raise contract prices by US$ 10
per tonne after obtaining a US$ 30
per tonne increase in February.
In Europe, Brazilian eucalyptus
producer Aracruz informed cus-
tomers that it would be pushing for
a US$ 30 per tonne increase on
bleached eucalyptus pulp with ef-
fect from March 1; this would take
the price to US$ 580 per tonne if
fully implemented. Aracruz is the
first producer to warn of higher
March prices in any market.
Hardwood fibre is reportedly in
short supply in Europe. Sodra's de-
cision to reduce its eucalyptus and
birch output in the wake of last
month's devastating storms in
southern Sweden could lead to fur-
ther market tightness. Birch pulp
is in especially short supply, with
several buyers being forced to take
eucalyptus as a substitute.
Most NBSK manufacturers have
unveiled plans to push up northern
bleached softwood kraft prices this
month. The long fibre market is fac-
ing supply problems of its own as
Arauco's 700 000 tonnes per annum
pulp plant in Valdivia, Chile, has
been out of action since January 18.
The company has asked permis-
sion from the regional commission
for the environment to restart the
plant and, at the time of writing,
was hopeful of getting the all-clear.
However, buyers doubted whether
the mill would be up and running
in the short term.
European consumer pulp inven-
tories rose by 6.3% or 74 373 tonnes
in December to 1.248 million tonnes,
but were still 42 832 tonnes lower
than at the same point in 2003. The
figures break down as 31 days of
supply for December, up from 29
days in November and down from 32
days in December 2003. Pulp con-
sumption slid 8.6% in December last
year to 1.099 million tonnes – 2.4%
lower than the 1.126 million tonnes
recorded in December 2003.
European paper mill order
books for January:

Coated woodfree 10-21 days
Uncoated woodfree 7-17 days
Woodcontaining papers 5-17 days
European pulp prices as from
February 1 (per admt CIF):

NBSK US$ 620
SBSK US$ 600
Radiata US$ 610
SMHW US$ 540
NMHW US$ 550
BEK US$ 550
Radiata pine gobbled up

Contributing to the
Recovered Paper Market
Analysis:

* Dick de Groot (Van Gelder
Recycling, The Netherlands)
* Marielle Gommans
(Bel Fibres, Belgium)
* Steve Vento Vento (USA)
* Dante Weyerman (CNC
Company, The Netherlands)
Recycling International • March 2005 49