March 2005
Subscribe
piled in European warehouses, has continued to decline. While European demand for zinc is rising, a growing number of producers are having prob- lems and rumours suggest plants in Switzerland and Spain will be idled in the near future. De...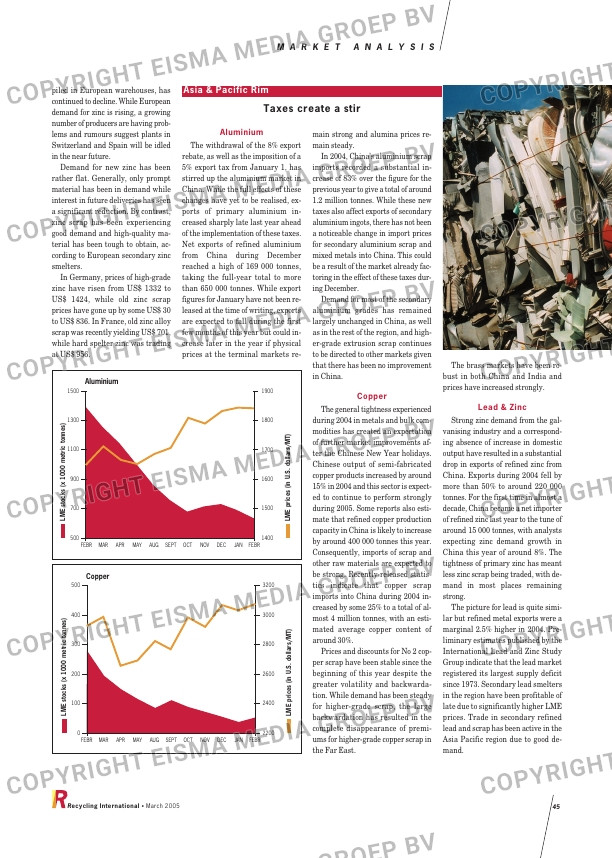 piled in European warehouses, has
continued to decline. While European
demand for zinc is rising, a growing
number of producers are having prob-
lems and rumours suggest plants in
Switzerland and Spain will be idled
in the near future.
Demand for new zinc has been
rather flat. Generally, only prompt
material has been in demand while
interest in future deliveries has seen
a significant reduction. By contrast,
zinc scrap has been experiencing
good demand and high-quality ma-
terial has been tough to obtain, ac-
cording to European secondary zinc
smelters.
In Germany, prices of high-grade
zinc have risen from US$ 1332 to
US$ 1424, while old zinc scrap
prices have gone up by some US$ 30
to US$ 836. In France, old zinc alloy
scrap was recently yielding US$ 701,
while hard spelter zinc was trading
at US$ 956.
M A R K E T A N A L Y S I S

Aluminium

The withdrawal of the 8% export
rebate, as well as the imposition of a
5% export tax from January 1, has
stirred up the aluminium market in
China. While the full effects of these
changes have yet to be realised, ex-
ports of primary aluminium in-
creased sharply late last year ahead
of the implementation of these taxes.
Net exports of refined aluminium
from China during December
reached a high of 169 000 tonnes,
taking the full-year total to more
than 650 000 tonnes. While export
figures for January have not been re-
leased at the time of writing, exports
are expected to fall during the first
few months of this year but could in-
crease later in the year if physical
prices at the terminal markets re-
main strong and alumina prices re-
main steady.
In 2004, China's aluminium scrap
imports recorded a substantial in-
crease of 83% over the figure for the
previous year to give a total of around
1.2 million tonnes. While these new
taxes also affect exports of secondary
aluminium ingots, there has not been
a noticeable change in import prices
for secondary aluminium scrap and
mixed metals into China. This could
be a result of the market already fac-
toring in the effect of these taxes dur-
ing December.
Demand for most of the secondary
aluminium grades has remained
largely unchanged in China, as well
as in the rest of the region, and high-
er-grade extrusion scrap continues
to be directed to other markets given
that there has been no improvement
in China.
Copper

The general tightness experienced
during 2004 in metals and bulk com-
modities has created an expectation
of further market improvements af-
ter the Chinese New Year holidays.
Chinese output of semi-fabricated
copper products increased by around
15% in 2004 and this sector is expect-
ed to continue to perform strongly
during 2005. Some reports also esti-
mate that refined copper production
capacity in China is likely to increase
by around 400 000 tonnes this year.
Consequently, imports of scrap and
other raw materials are expected to
be strong. Recently-released statis-
tics indicate that copper scrap
imports into China during 2004 in-
creased by some 25% to a total of al-
most 4 million tonnes, with an esti-
mated average copper content of
around 30%.
Prices and discounts for No 2 cop-
per scrap have been stable since the
beginning of this year despite the
greater volatility and backwarda-
tion. While demand has been steady
for higher-grade scrap, the large
backwardation has resulted in the
complete disappearance of premi-
ums for higher-grade copper scrap in
the Far East.
The brass markets have been ro-
bust in both China and India and
prices have increased strongly.
Lead & Zinc

Strong zinc demand from the gal-
vanising industry and a correspond-
ing absence of increase in domestic
output have resulted in a substantial
drop in exports of refined zinc from
China. Exports during 2004 fell by
more than 50% to around 220 000
tonnes. For the first time in almost a
decade, China became a net importer
of refined zinc last year to the tune of
around 15 000 tonnes, with analysts
expecting zinc demand growth in
China this year of around 8%. The
tightness of primary zinc has meant
less zinc scrap being traded, with de-
mand in most places remaining
strong.
The picture for lead is quite simi-
lar but refined metal exports were a
marginal 2.5% higher in 2004. Pre-
liminary estimates published by the
International Lead and Zinc Study
Group indicate that the lead market
registered its largest supply deficit
since 1973. Secondary lead smelters
in the region have been profitable of
late due to significantly higher LME
prices. Trade in secondary refined
lead and scrap has been active in the
Asia Pacific region due to good de-
mand.
Recycling International • March 2005 45

Aluminium

LM
E

st
oc

ks
(x

1
00

0
m

et
ri

c
to

nn
es

)

500
700
900
1100
1300
1500
1400
1500
1600
1700
1800
1900
LM
E

pr
ic

es
(i

n
U

.S
. d

ol
la

rs
/M

T)

FEBR FEBRMAR APR MAY AUG SEPT OCT NOV DEC JAN
Copper

LM
E

st
oc

ks
(x

1
00

0
m

et
ri

c
to

nn
es

)

0
100
200
300
400
500
2200
2400
2600
2800
3000
3200
LM
E

pr
ic

es
(i

n
U

.S
. d

ol
la

rs
/M

T)

FEBR FEBRMAR APR MAY AUG SEPT OCT NOV DEC JAN
Asia & Pacific Rim

Taxes create a stir