March 2005
Subscribe
M A R K E T A N A L Y S I S Non-Ferrous Closed: February 15, 2005 European mills are reporting good demand for new metal but processors are continuing to complain about margins and are increasingly considering moving their production...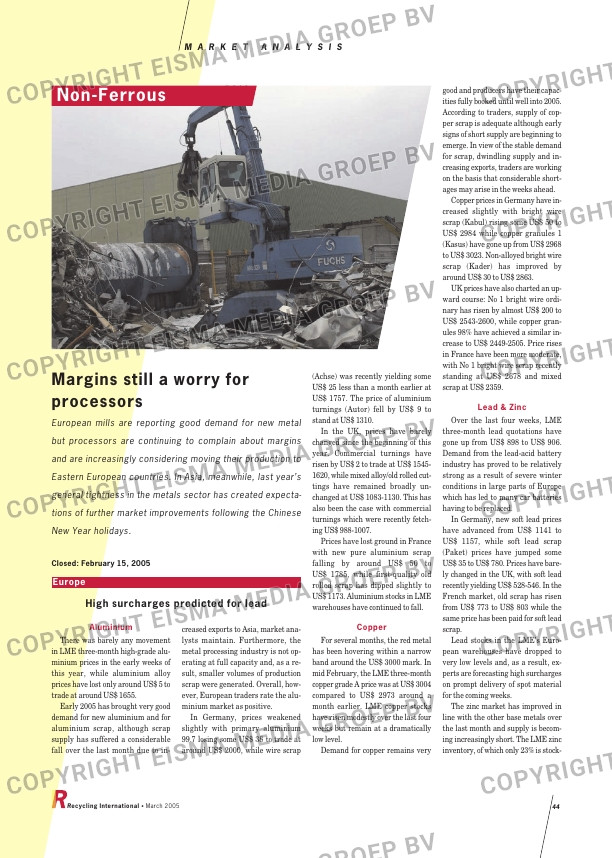 M A R K E T A N A L Y S I S

Non-Ferrous

Closed: February 15, 2005

European mills are reporting good demand for new metal

but processors are continuing to complain about margins

and are increasingly considering moving their production to

Eastern European countries. In Asia, meanwhile, last year's

general tightness in the metals sector has created expecta-

tions of further market improvements following the Chinese

New Year holidays.

Margins still a worry for
processors

Europe

High surcharges predicted for lead

Aluminium

There was barely any movement
in LME three-month high-grade alu-
minium prices in the early weeks of
this year, while aluminium alloy
prices have lost only around US$ 5 to
trade at around US$ 1655.
Early 2005 has brought very good
demand for new aluminium and for
aluminium scrap, although scrap
supply has suffered a considerable
fall over the last month due to in-
creased exports to Asia, market ana-
lysts maintain. Furthermore, the
metal processing industry is not op-
erating at full capacity and, as a re-
sult, smaller volumes of production
scrap were generated. Overall, how-
ever, European traders rate the alu-
minium market as positive.
In Germany, prices weakened
slightly with primary aluminium
99.7 losing some US$ 38 to trade at
around US$ 2000, while wire scrap
(Achse) was recently yielding some
US$ 25 less than a month earlier at
US$ 1757. The price of aluminium
turnings (Autor) fell by US$ 9 to
stand at US$ 1310.
In the UK, prices have barely
changed since the beginning of this
year. Commercial turnings have
risen by US$ 2 to trade at US$ 1545-
1620, while mixed alloy/old rolled cut-
tings have remained broadly un-
changed at US$ 1083-1130. This has
also been the case with commercial
turnings which were recently fetch-
ing US$ 988-1007.
Prices have lost ground in France
with new pure aluminium scrap
falling by around US$ 50 to
US$ 1785, while first-quality old
rolled scrap has dipped slightly to
US$ 1173. Aluminium stocks in LME
warehouses have continued to fall.
Copper

For several months, the red metal
has been hovering within a narrow
band around the US$ 3000 mark. In
mid February, the LME three-month
copper grade A price was at US$ 3004
compared to US$ 2973 around a
month earlier. LME copper stocks
have risen modestly over the last four
weeks but remain at a dramatically
low level.
Demand for copper remains very
good and producers have their capac-
ities fully booked until well into 2005.
According to traders, supply of cop-
per scrap is adequate although early
signs of short supply are beginning to
emerge. In view of the stable demand
for scrap, dwindling supply and in-
creasing exports, traders are working
on the basis that considerable short-
ages may arise in the weeks ahead.
Copper prices in Germany have in-
creased slightly with bright wire
scrap (Kabul) rising some US$ 50 to
US$ 2984 while copper granules 1
(Kasus) have gone up from US$ 2968
to US$ 3023. Non-alloyed bright wire
scrap (Kader) has improved by
around US$ 30 to US$ 2863.
UK prices have also charted an up-
ward course: No 1 bright wire ordi-
nary has risen by almost US$ 200 to
US$ 2543-2600, while copper gran-
ules 98% have achieved a similar in-
crease to US$ 2449-2505. Price rises
in France have been more moderate,
with No 1 bright wire scrap recently
standing at US$ 2678 and mixed
scrap at US$ 2359.
Lead & Zinc

Over the last four weeks, LME
three-month lead quotations have
gone up from US$ 898 to US$ 906.
Demand from the lead-acid battery
industry has proved to be relatively
strong as a result of severe winter
conditions in large parts of Europe
which has led to many car batteries
having to be replaced.
In Germany, new soft lead prices
have advanced from US$ 1141 to
US$ 1157, while soft lead scrap
(Paket) prices have jumped some
US$ 35 to US$ 780. Prices have bare-
ly changed in the UK, with soft lead
recently yielding US$ 528-546. In the
French market, old scrap has risen
from US$ 773 to US$ 803 while the
same price has been paid for soft lead
scrap.
Lead stocks in the LME's Euro-
pean warehouses have dropped to
very low levels and, as a result, ex-
perts are forecasting high surcharges
on prompt delivery of spot material
for the coming weeks.
The zinc market has improved in
line with the other base metals over
the last month and supply is becom-
ing increasingly short. The LME zinc
inventory, of which only 23% is stock-
Recycling International • March 2005 44