March 2005
Subscribe
Closed: February 14, 2005 By Alfred Nijkerk et al In the wake of rapidly rising nickel prices this year, demand for stainless steel scrap has also increased apace. China is seen as the driving force behind the growth in demand for both ...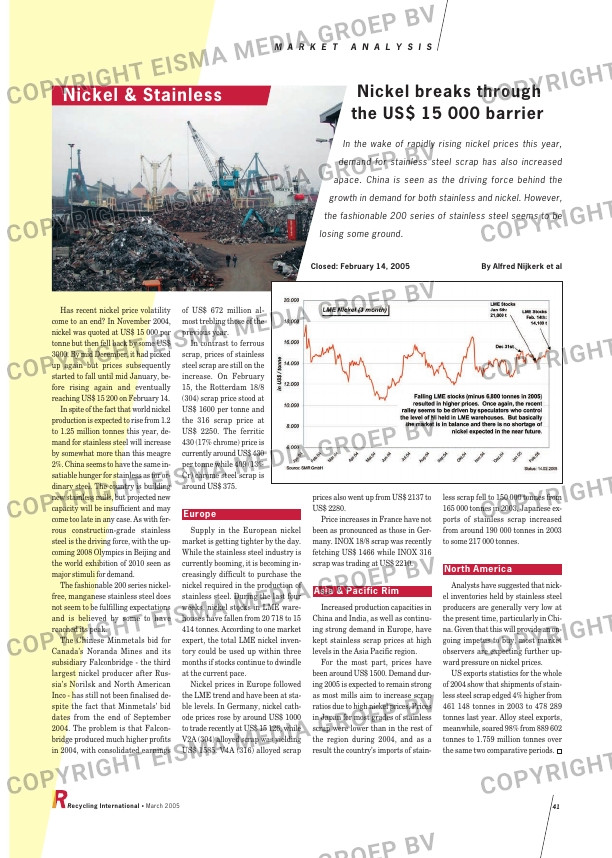 Closed: February 14, 2005 By Alfred Nijkerk et al

In the wake of rapidly rising nickel prices this year,

demand for stainless steel scrap has also increased

apace. China is seen as the driving force behind the

growth in demand for both stainless and nickel. However,

the fashionable 200 series of stainless steel seems to be

losing some ground.

Nickel breaks through
the US$ 15 000 barrier

M A R K E T A N A L Y S I S

Nickel & Stainless

Has recent nickel price volatility
come to an end? In November 2004,
nickel was quoted at US$ 15 000 per
tonne but then fell back by some US$
3000. By mid December, it had picked
up again but prices subsequently
started to fall until mid January, be-
fore rising again and eventually
reaching US$ 15 200 on February 14.
In spite of the fact that world nickel
production is expected to rise from 1.2
to 1.25 million tonnes this year, de-
mand for stainless steel will increase
by somewhat more than this meagre
2%. China seems to have the same in-
satiable hunger for stainless as for or-
dinary steel. The country is building
new stainless mills, but projected new
capacity will be insufficient and may
come too late in any case. As with fer-
rous construction-grade stainless
steel is the driving force, with the up-
coming 2008 Olympics in Beijing and
the world exhibition of 2010 seen as
major stimuli for demand.
The fashionable 200 series nickel-
free, manganese stainless steel does
not seem to be fulfilling expectations
and is believed by some to have
reached its peak.
The Chinese Minmetals bid for
Canada's Noranda Mines and its
subsidiary Falconbridge – the third
largest nickel producer after Rus-
sia's Norilsk and North American
Inco – has still not been finalised de-
spite the fact that Minmetals' bid
dates from the end of September
2004. The problem is that Falcon-
bridge produced much higher profits
in 2004, with consolidated earnings
of US$ 672 million al-
most trebling those of the
previous year.
In contrast to ferrous
scrap, prices of stainless
steel scrap are still on the
increase. On February
15, the Rotterdam 18/8
(304) scrap price stood at
US$ 1600 per tonne and
the 316 scrap price at
US$ 2250. The ferritic
430 (17% chrome) price is
currently around US$ 430
per tonne while 409 (13%
Cr) chrome steel scrap is
around US$ 375.
Europe

Supply in the European nickel
market is getting tighter by the day.
While the stainless steel industry is
currently booming, it is becoming in-
creasingly difficult to purchase the
nickel required in the production of
stainless steel. During the last four
weeks, nickel stocks in LME ware-
houses have fallen from 20 718 to 15
414 tonnes. According to one market
expert, the total LME nickel inven-
tory could be used up within three
months if stocks continue to dwindle
at the current pace.
Nickel prices in Europe followed
the LME trend and have been at sta-
ble levels. In Germany, nickel cath-
ode prices rose by around US$ 1000
to trade recently at US$ 15 126, while
V2A (304) alloyed scrap was yielding
US$ 1585. V4A (316) alloyed scrap
prices also went up from US$ 2137 to
US$ 2280.
Price increases in France have not
been as pronounced as those in Ger-
many. INOX 18/8 scrap was recently
fetching US$ 1466 while INOX 316
scrap was trading at US$ 2210.
Asia & Pacific Rim

Increased production capacities in
China and India, as well as continu-
ing strong demand in Europe, have
kept stainless scrap prices at high
levels in the Asia Pacific region.
For the most part, prices have
been around US$ 1500. Demand dur-
ing 2005 is expected to remain strong
as most mills aim to increase scrap
ratios due to high nickel prices. Prices
in Japan for most grades of stainless
scrap were lower than in the rest of
the region during 2004, and as a
result the country's imports of stain-
less scrap fell to 150 000 tonnes from
165 000 tonnes in 2003. Japanese ex-
ports of stainless scrap increased
from around 190 000 tonnes in 2003
to some 217 000 tonnes.
North America

Analysts have suggested that nick-
el inventories held by stainless steel
producers are generally very low at
the present time, particularly in Chi-
na. Given that this will provide an on-
going impetus to buy, most market
observers are expecting further up-
ward pressure on nickel prices.
US exports statistics for the whole
of 2004 show that shipments of stain-
less steel scrap edged 4% higher from
461 148 tonnes in 2003 to 478 289
tonnes last year. Alloy steel exports,
meanwhile, soared 98% from 889 602
tonnes to 1.759 million tonnes over
the same two comparative periods.
Recycling International • March 2005 41