March 2005
Subscribe
circuitry - is stocked in separate batches to await pro- cessing in the WEEE treatment plant. Multi-stage crushing 'The centrepiece of the first stage of our WEEE treatment line is an S1500 ring roll crusher from Danish manufacturer El...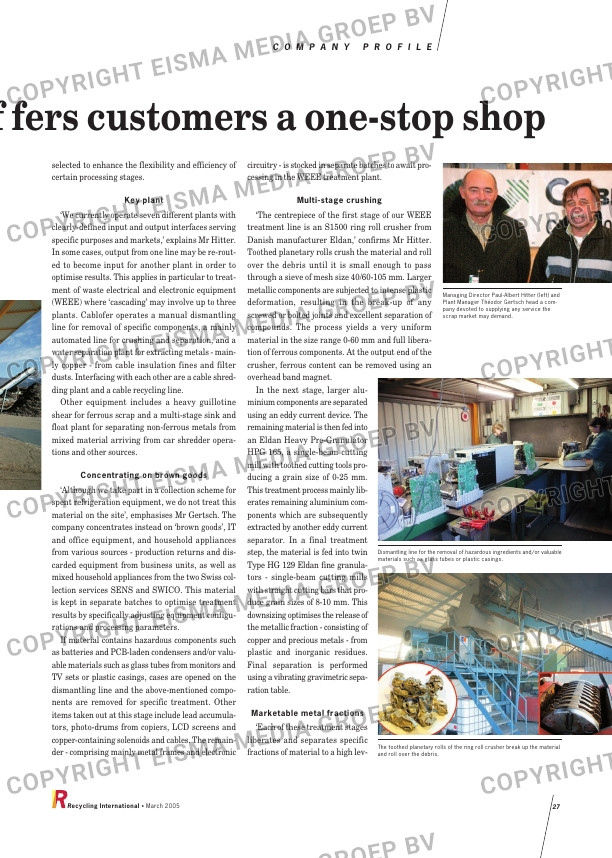 circuitry – is stocked in separate batches to await pro-
cessing in the WEEE treatment plant.
Multi-stage crushing

'The centrepiece of the first stage of our WEEE
treatment line is an S1500 ring roll crusher from
Danish manufacturer Eldan,' confirms Mr Hitter.
Toothed planetary rolls crush the material and roll
over the debris until it is small enough to pass
through a sieve of mesh size 40/60-105 mm. Larger
metallic components are subjected to intense plastic
deformation, resulting in the break-up of any
screwed or bolted joints and excellent separation of
compounds. The process yields a very uniform
material in the size range 0-60 mm and full libera-
tion of ferrous components. At the output end of the
crusher, ferrous content can be removed using an
overhead band magnet.
In the next stage, larger alu-
minium components are separated
using an eddy current device. The
remaining material is then fed into
an Eldan Heavy Pre-Granulator
HPG 165, a single-beam cutting
mill with toothed cutting tools pro-
ducing a grain size of 0-25 mm.
This treatment process mainly lib-
erates remaining aluminium com-
ponents which are subsequently
extracted by another eddy current
separator. In a final treatment
step, the material is fed into twin
Type HG 129 Eldan fine granula-
tors – single-beam cutting mills
with straight cutting bars that pro-
duce grain sizes of 8-10 mm. This
downsizing optimises the release of
the metallic fraction – consisting of
copper and precious metals – from
plastic and inorganic residues.
Final separation is performed
using a vibrating gravimetric sepa-
ration table.
Marketable metal fractions

'Each of these treatment stages
liberates and separates specific
fractions of material to a high lev-
selected to enhance the flexibility and efficiency of
certain processing stages.
Key plant

'We currently operate seven different plants with
clearly-defined input and output interfaces serving
specific purposes and markets,' explains Mr Hitter.
In some cases, output from one line may be re-rout-
ed to become input for another plant in order to
optimise results. This applies in particular to treat-
ment of waste electrical and electronic equipment
(WEEE) where 'cascading' may involve up to three
plants. Cablofer operates a manual dismantling
line for removal of specific components, a mainly
automated line for crushing and separation, and a
water separation plant for extracting metals – main-
ly copper – from cable insulation fines and filter
dusts. Interfacing with each other are a cable shred-
ding plant and a cable recycling line.
Other equipment includes a heavy guillotine
shear for ferrous scrap and a multi-stage sink and
float plant for separating non-ferrous metals from
mixed material arriving from car shredder opera-
tions and other sources.
Concentrating on brown goods

'Although we take part in a collection scheme for
spent refrigeration equipment, we do not treat this
material on the site', emphasises Mr Gertsch. The
company concentrates instead on 'brown goods', IT
and office equipment, and household appliances
from various sources – production returns and dis-
carded equipment from business units, as well as
mixed household appliances from the two Swiss col-
lection services SENS and SWICO. This material
is kept in separate batches to optimise treatment
results by specifically adjusting equipment configu-
rations and processing parameters.
If material contains hazardous components such
as batteries and PCB-laden condensers and/or valu-
able materials such as glass tubes from monitors and
TV sets or plastic casings, cases are opened on the
dismantling line and the above-mentioned compo-
nents are removed for specific treatment. Other
items taken out at this stage include lead accumula-
tors, photo-drums from copiers, LCD screens and
copper-containing solenoids and cables. The remain-
der – comprising mainly metal frames and electronic
f fers customers a one-stop shop

Recycling International • March 2005 27

C O M P A N Y P R O F I L E

Managing Director Paul-Albert Hitter (left) and
Plant Manager Théodor Gertsch head a com-
pany devoted to supplying any service the
scrap market may demand.
Dismantling line for the removal of hazardous ingredients and/or valuable
materials such as glass tubes or plastic casings.
The toothed planetary rolls of the ring roll crusher break up the material
and roll over the debris.