March 2005
Subscribe
recycling sector that has been mainly focusing on the reclamation of copper and precious metals from boards and electronic components. As a result, WEEE recycling is often carried out by individual entrepreneurs using out-of-date technology...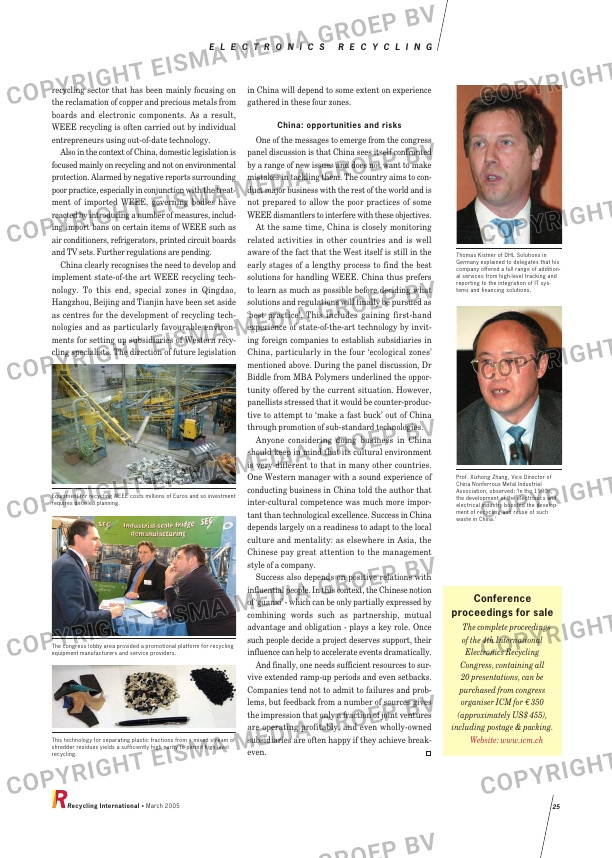 recycling sector that has been mainly focusing on
the reclamation of copper and precious metals from
boards and electronic components. As a result,
WEEE recycling is often carried out by individual
entrepreneurs using out-of-date technology.
Also in the context of China, domestic legislation is
focused mainly on recycling and not on environmental
protection. Alarmed by negative reports surrounding
poor practice, especially in conjunction with the treat-
ment of imported WEEE, governing bodies have
reacted by introducing a number of measures, includ-
ing import bans on certain items of WEEE such as
air conditioners, refrigerators, printed circuit boards
and TV sets. Further regulations are pending.
China clearly recognises the need to develop and
implement state-of-the art WEEE recycling tech-
nology. To this end, special zones in Qingdao,
Hangzhou, Beijing and Tianjin have been set aside
as centres for the development of recycling tech-
nologies and as particularly favourable environ-
ments for setting up subsidiaries of Western recy-
cling specialists. The direction of future legislation
in China will depend to some extent on experience
gathered in these four zones.
China: opportunities and risks

One of the messages to emerge from the congress
panel discussion is that China sees itself confronted
by a range of new issues and does not want to make
mistakes in tackling them. The country aims to con-
duct major business with the rest of the world and is
not prepared to allow the poor practices of some
WEEE dismantlers to interfere with these objectives.
At the same time, China is closely monitoring
related activities in other countries and is well
aware of the fact that the West itself is still in the
early stages of a lengthy process to find the best
solutions for handling WEEE. China thus prefers
to learn as much as possible before deciding what
solutions and regulations will finally be pursued as
'best practice'. This includes gaining first-hand
experience of state-of-the-art technology by invit-
ing foreign companies to establish subsidiaries in
China, particularly in the four 'ecological zones'
mentioned above. During the panel discussion, Dr
Biddle from MBA Polymers underlined the oppor-
tunity offered by the current situation. However,
panellists stressed that it would be counter-produc-
tive to attempt to 'make a fast buck' out of China
through promotion of sub-standard technologies.
Anyone considering doing business in China
should keep in mind that its cultural environment
is very different to that in many other countries.
One Western manager with a sound experience of
conducting business in China told the author that
inter-cultural competence was much more impor-
tant than technological excellence. Success in China
depends largely on a readiness to adapt to the local
culture and mentality: as elsewhere in Asia, the
Chinese pay great attention to the management
style of a company.
Success also depends on positive relations with
influential people. In this context, the Chinese notion
of 'guanxi' – which can be only partially expressed by
combining words such as partnership, mutual
advantage and obligation – plays a key role. Once
such people decide a project deserves support, their
influence can help to accelerate events dramatically.
And finally, one needs sufficient resources to sur-
vive extended ramp-up periods and even setbacks.
Companies tend not to admit to failures and prob-
lems, but feedback from a number of sources gives
the impression that only a fraction of joint ventures
are operating profitably, and even wholly-owned
subsidiaries are often happy if they achieve break-
even.
E L E C T R O N I C S R E C Y C L I N G

Recycling International • March 2005 25

Conference
proceedings for sale

The complete proceedings
of the 4th International
Electronics Recycling

Congress, containing all
20 presentations, can be
purchased from congress
organiser ICM for € 350

(approximately US$ 455),
including postage & packing.

Website: www.icm.ch

Thomas Kistner of DHL Solutions in
Germany explained to delegates that his
company offered a full range of addition-
al services from high-level tracking and
reporting to the integration of IT sys-
tems and financing solutions.
Prof. Xizhong Zhang, Vice Director of
China Nonferrous Metal Industrial
Association, observed: 'In the 1990s,
the development of the electronics and
electrical industry boosted the develop-
ment of recycling and reuse of such
waste in China.'
Equipment for recycling WEEE costs millions of Euros and so investment
requires detailed planning.
The congress lobby area provided a promotional platform for recycling
equipment manufacturers and service providers.
This technology for separating plastic fractions from a mixed stream of
shredder residues yields a sufficiently high purity to permit high-level
recycling.