March 2005
Subscribe
amounting to € 150-250 per tonne - relates to logistics has attracted the attention of DHL, the logistics sub- sidiary of the Deutsche Post. DHL reckons the amount of WEEE arising in the EU each year equates to as many as 750 000 truckloa...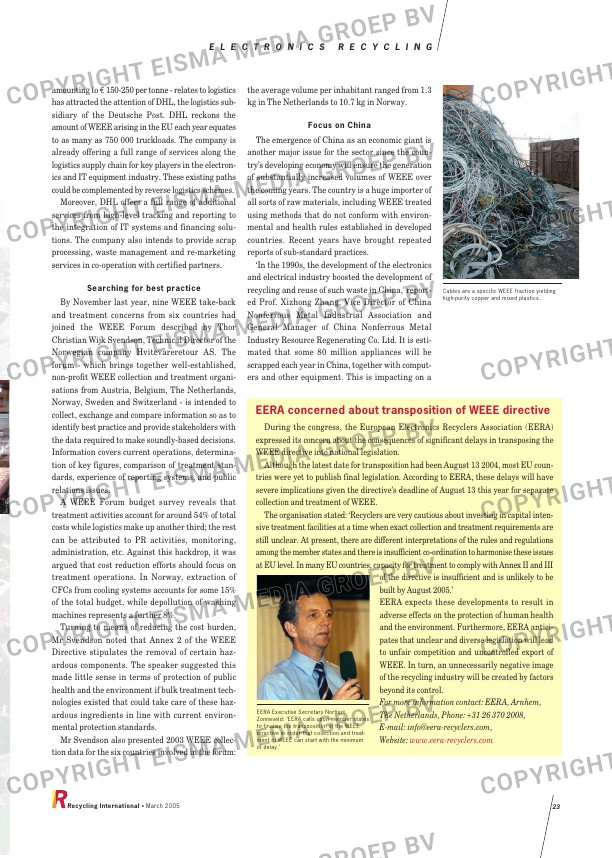 amounting to € 150-250 per tonne – relates to logistics
has attracted the attention of DHL, the logistics sub-
sidiary of the Deutsche Post. DHL reckons the
amount of WEEE arising in the EU each year equates
to as many as 750 000 truckloads. The company is
already offering a full range of services along the
logistics supply chain for key players in the electron-
ics and IT equipment industry. These existing paths
could be complemented by reverse logistics schemes.
Moreover, DHL offers a full range of additional
services from high-level tracking and reporting to
the integration of IT systems and financing solu-
tions. The company also intends to provide scrap
processing, waste management and re-marketing
services in co-operation with certified partners.
Searching for best practice

By November last year, nine WEEE take-back
and treatment concerns from six countries had
joined the WEEE Forum described by Thor
Christian Wijk Svendson, Technical Director of the
Norwegian company Hvitevareretour AS. The
forum – which brings together well-established,
non-profit WEEE collection and treatment organi-
sations from Austria, Belgium, The Netherlands,
Norway, Sweden and Switzerland – is intended to
collect, exchange and compare information so as to
identify best practice and provide stakeholders with
the data required to make soundly-based decisions.
Information covers current operations, determina-
tion of key figures, comparison of treatment stan-
dards, experience of reporting systems, and public
relations issues.
A WEEE Forum budget survey reveals that
treatment activities account for around 54% of total
costs while logistics make up another third; the rest
can be attributed to PR activities, monitoring,
administration, etc. Against this backdrop, it was
argued that cost reduction efforts should focus on
treatment operations. In Norway, extraction of
CFCs from cooling systems accounts for some 15%
of the total budget, while depollution of washing
machines represents a further 8%.
Turning to means of reducing the cost burden,
Mr Svendson noted that Annex 2 of the WEEE
Directive stipulates the removal of certain haz-
ardous components. The speaker suggested this
made little sense in terms of protection of public
health and the environment if bulk treatment tech-
nologies existed that could take care of these haz-
ardous ingredients in line with current environ-
mental protection standards.
Mr Svendson also presented 2003 WEEE collec-
tion data for the six countries involved in the forum:
the average volume per inhabitant ranged from 1.3
kg in The Netherlands to 10.7 kg in Norway.
Focus on China

The emergence of China as an economic giant is
another major issue for the sector since the coun-
try's developing economy will ensure the generation
of substantially increased volumes of WEEE over
the coming years. The country is a huge importer of
all sorts of raw materials, including WEEE treated
using methods that do not conform with environ-
mental and health rules established in developed
countries. Recent years have brought repeated
reports of sub-standard practices.
'In the 1990s, the development of the electronics
and electrical industry boosted the development of
recycling and reuse of such waste in China,' report-
ed Prof. Xizhong Zhang, Vice Director of China
Nonferrous Metal Industrial Association and
General Manager of China Nonferrous Metal
Industry Resource Regenerating Co. Ltd. It is esti-
mated that some 80 million appliances will be
scrapped each year in China, together with comput-
ers and other equipment. This is impacting on a
E L E C T R O N I C S R E C Y C L I N G

Recycling International • March 2005 23

EERA concerned about transposition of WEEE directive
During the congress, the European Electronics Recyclers Association (EERA)
expressed its concern about the consequences of significant delays in transposing the
WEEE directive into national legislation.
Although the latest date for transposition had been August 13 2004, most EU coun-
tries were yet to publish final legislation. According to EERA, these delays will have
severe implications given the directive's deadline of August 13 this year for separate
collection and treatment of WEEE.
The organisation stated: 'Recyclers are very cautious about investing in capital inten-
sive treatment facilities at a time when exact collection and treatment requirements are
still unclear. At present, there are different interpretations of the rules and regulations
among the member states and there is insufficient co-ordination to harmonise these issues
at EU level. In many EU countries, capacity for treatment to comply with Annex II and III
of the directive is insufficient and is unlikely to be
built by August 2005.'
EERA expects these developments to result in
adverse effects on the protection of human health
and the environment. Furthermore, EERA antici-
pates that unclear and diverse legislation will lead
to unfair competition and uncontrolled export of
WEEE. In turn, an unnecessarily negative image
of the recycling industry will be created by factors
beyond its control.
For more information contact: EERA, Arnhem,
The Netherlands, Phone: +31 26 370 2008,
E-mail: [email protected],
Website: www.eera-recyclers.com

EERA Executive Secretary Norbert
Zonneveld: 'EERA calls upon member states
to finalise the transposition of the WEEE
directive in order that collection and treat-
ment of WEEE can start with the minimum
of delay.'
Cables are a specific WEEE fraction yielding
high-purity copper and mixed plastics.