March 2005
Subscribe
P R O D U C T N E W S Recycling International • March 2005 17 Thermo Electron Corporation's new ARL SMS-3000 automation system is designed to run simul- taneously with both its X-ray flu- orescence (XRF) and optical emission spectrom...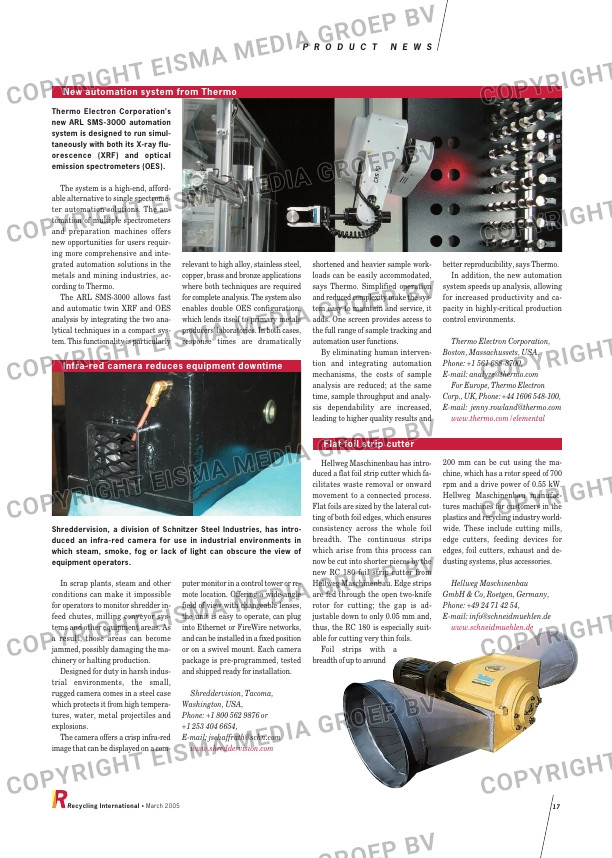 P R O D U C T N E W S

Recycling International • March 2005 17

Thermo Electron Corporation's
new ARL SMS-3000 automation
system is designed to run simul-
taneously with both its X-ray flu-
orescence (XRF) and optical
emission spectrometers (OES).

The system is a high-end, afford-
able alternative to single spectrome-
ter automation solutions. The au-
tomation of multiple spectrometers
and preparation machines offers
new opportunities for users requir-
ing more comprehensive and inte-
grated automation solutions in the
metals and mining industries, ac-
cording to Thermo.
The ARL SMS-3000 allows fast
and automatic twin XRF and OES
analysis by integrating the two ana-
lytical techniques in a compact sys-
tem. This functionality is particularly
relevant to high alloy, stainless steel,
copper, brass and bronze applications
where both techniques are required
for complete analysis. The system also
enables double OES configuration,
which lends itself to primary metals
producers' laboratories. In both cases,
response times are dramatically
shortened and heavier sample work-
loads can be easily accommodated,
says Thermo. Simplified operation
and reduced complexity make the sys-
tem easy to maintain and service, it
adds. One screen provides access to
the full range of sample tracking and
automation user functions.
By eliminating human interven-
tion and integrating automation
mechanisms, the costs of sample
analysis are reduced; at the same
time, sample throughput and analy-
sis dependability are increased,
leading to higher quality results and
In scrap plants, steam and other
conditions can make it impossible
for operators to monitor shredder in-
feed chutes, milling conveyor sys-
tems and other equipment areas. As
a result, those areas can become
jammed, possibly damaging the ma-
chinery or halting production.
Designed for duty in harsh indus-
trial environments, the small,
rugged camera comes in a steel case
which protects it from high tempera-
tures, water, metal projectiles and
explosions.
The camera offers a crisp infra-red
image that can be displayed on a com-
puter monitor in a control tower or re-
mote location. Offering a wide-angle
field of view with changeable lenses,
the unit is easy to operate, can plug
into Ethernet or FireWire networks,
and can be installed in a fixed position
or on a swivel mount. Each camera
package is pre-programmed, tested
and shipped ready for installation.
Shreddervision, Tacoma,
Washington, USA,
Phone: +1 800 562 9876 or
+1 253 404 6654,
E-mail: [email protected]

www.shreddervision.com

Hellweg Maschinenbau has intro-
duced a flat foil strip cutter which fa-
cilitates waste removal or onward
movement to a connected process.
Flat foils are sized by the lateral cut-
ting of both foil edges, which ensures
consistency across the whole foil
breadth. The continuous strips
which arise from this process can
now be cut into shorter pieces by the
new RC 180 foil strip cutter from
Hellweg Maschinenbau. Edge strips
are fed through the open two-knife
rotor for cutting; the gap is ad-
justable down to only 0.05 mm and,
thus, the RC 180 is especially suit-
able for cutting very thin foils.
Foil strips with a
breadth of up to around
200 mm can be cut using the ma-
chine, which has a rotor speed of 700
rpm and a drive power of 0.55 kW.
Hellweg Maschinenbau manufac-
tures machines for customers in the
plastics and recycling industry world-
wide. These include cutting mills,
edge cutters, feeding devices for
edges, foil cutters, exhaust and de-
dusting systems, plus accessories.
Hellweg Maschinenbau
GmbH & Co, Roetgen, Germany,
Phone: +49 24 71 42 54,
E-mail: [email protected]

www.schneidmuehlen.de

better reproducibility, says Thermo.
In addition, the new automation
system speeds up analysis, allowing
for increased productivity and ca-
pacity in highly-critical production
control environments.
Thermo Electron Corporation,
Boston, Massachussets, USA,
Phone: +1 561 688-8700,
E-mail: [email protected]

For Europe, Thermo Electron
Corp., UK, Phone: +44 1606 548-100,
E-mail: [email protected]

www.thermo.com/elemental

Shreddervision, a division of Schnitzer Steel Industries, has intro-
duced an infra-red camera for use in industrial environments in
which steam, smoke, fog or lack of light can obscure the view of
equipment operators.

Infra-red camera reduces equipment downtime

Flat foil strip cutter

New automation system from Thermo