March 2005
Subscribe
N E W S Recycling International • March 2005 10 Textile recyclers discuss levy with European officials Topics covered included: the 'waste' definition and the resultant administrative and financial burden on the secondary textiles...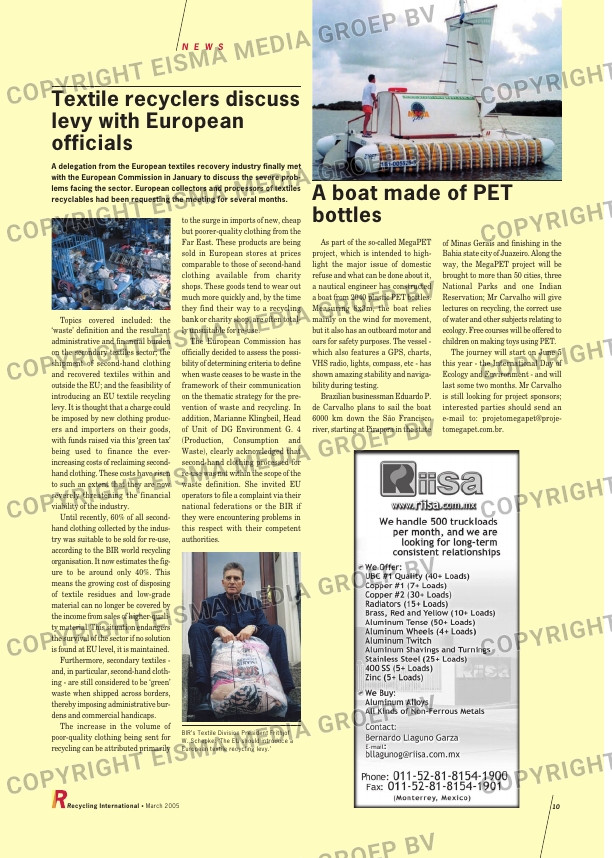 N E W S

Recycling International • March 2005 10

Textile recyclers discuss
levy with European
officials

Topics covered included: the
'waste' definition and the resultant
administrative and financial burden
on the secondary textiles sector; the
shipment of second-hand clothing
and recovered textiles within and
outside the EU; and the feasibility of
introducing an EU textile recycling
levy. It is thought that a charge could
be imposed by new clothing produc-
ers and importers on their goods,
with funds raised via this 'green tax'
being used to finance the ever-
increasing costs of reclaiming second-
hand clothing. These costs have risen
to such an extent that they are now
severely threatening the financial
viability of the industry.
Until recently, 60% of all second-
hand clothing collected by the indus-
try was suitable to be sold for re-use,
according to the BIR world recycling
organisation. It now estimates the fig-
ure to be around only 40%. This
means the growing cost of disposing
of textile residues and low-grade
material can no longer be covered by
the income from sales of higher-quali-
ty material. This situation endangers
the survival of the sector if no solution
is found at EU level, it is maintained.
Furthermore, secondary textiles –
and, in particular, second-hand cloth-
ing – are still considered to be 'green'
waste when shipped across borders,
thereby imposing administrative bur-
dens and commercial handicaps.
The increase in the volume of
poor-quality clothing being sent for
recycling can be attributed primarily
to the surge in imports of new, cheap
but poorer-quality clothing from the
Far East. These products are being
sold in European stores at prices
comparable to those of second-hand
clothing available from charity
shops. These goods tend to wear out
much more quickly and, by the time
they find their way to a recycling
bank or charity shop, are often total-
ly unsuitable for re-use.
The European Commission has
officially decided to assess the possi-
bility of determining criteria to define
when waste ceases to be waste in the
framework of their communication
on the thematic strategy for the pre-
vention of waste and recycling. In
addition, Marianne Klingbeil, Head
of Unit of DG Environment G. 4
(Production, Consumption and
Waste), clearly acknowledged that
second-hand clothing processed for
re-use was not within the scope of the
waste definition. She invited EU
operators to file a complaint via their
national federations or the BIR if
they were encountering problems in
this respect with their competent
authorities.
A delegation from the European textiles recovery industry finally met
with the European Commission in January to discuss the severe prob-
lems facing the sector. European collectors and processors of textiles
recyclables had been requesting the meeting for several months.

BIR's Textile Division President Frithjof
W. Schepke: 'The EU should introduce a
European textile recycling levy.'
of Minas Gerais and finishing in the
Bahia state city of Juazeiro. Along the
way, the MegaPET project will be
brought to more than 50 cities, three
National Parks and one Indian
Reservation; Mr Carvalho will give
lectures on recycling, the correct use
of water and other subjects relating to
ecology. Free courses will be offered to
children on making toys using PET.
The journey will start on June 5
this year – the International Day of
Ecology and Environment – and will
last some two months. Mr Carvalho
is still looking for project sponsors;
interested parties should send an
e-mail to: [email protected]
tomegapet.com.br.
As part of the so-called MegaPET
project, which is intended to high-
light the major issue of domestic
refuse and what can be done about it,
a nautical engineer has constructed
a boat from 2040 plastic PET bottles.
Measuring 8x3m, the boat relies
mainly on the wind for movement,
but it also has an outboard motor and
oars for safety purposes. The vessel –
which also features a GPS, charts,
VHS radio, lights, compass, etc – has
shown amazing stability and naviga-
bility during testing.
Brazilian businessman Eduardo P.
de Carvalho plans to sail the boat
6000 km down the São Francisco
river, starting at Pirapora in the state
A boat made of PET
bottles