January / February 2016
Subscribe
Page 40 from: January / February 2016
38 January/February 2016 M A R K E T A N A L Y S I S Non-Ferrous Closed: January 18, 2016 Scrap markets make a subdued start to 2016 The turn of the year has been a largely disappointing time, with LME and scrap prices at very low l...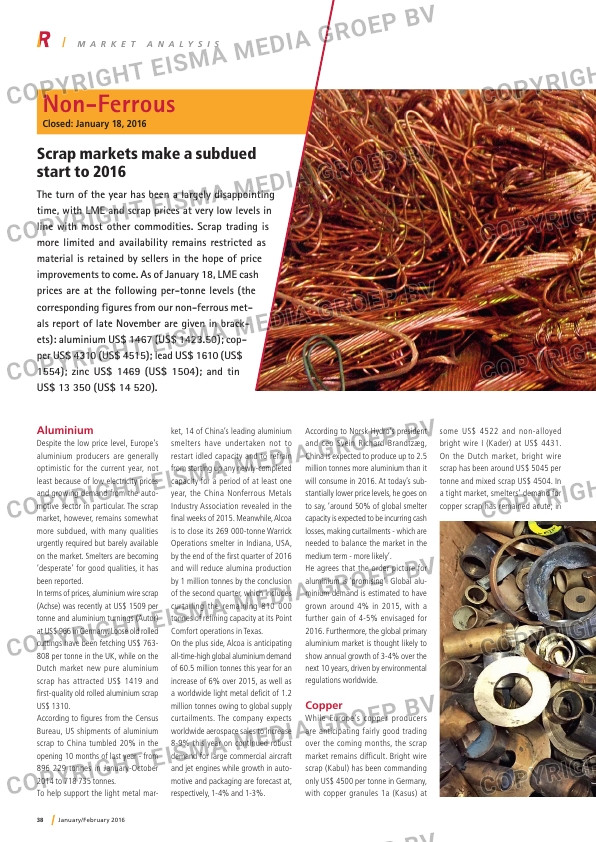 38 January/February 2016
M A R K E T A N A L Y S I S

Non-Ferrous
Closed: January 18, 2016

Scrap markets make a subdued
start to 2016
The turn of the year has been a largely disappointing
time, with LME and scrap prices at very low levels in
line with most other commodities. Scrap trading is
more limited and availability remains restricted as
material is retained by sellers in the hope of price
improvements to come. As of January 18, LME cash
prices are at the following per-tonne levels (the
corresponding figures from our non-ferrous met-
als report of late November are given in brack-
ets): aluminium US$ 1467 (US$ 1423.50); cop-
per US$ 4310 (US$ 4515); lead US$ 1610 (US$
1554); zinc US$ 1469 (US$ 1504); and tin
US$ 13 350 (US$ 14 520).

Aluminium
Despite the low price level, Europe's
aluminium producers are generally
optimistic for the current year, not
least because of low electricity prices
and growing demand from the auto-
motive sector in particular. The scrap
market, however, remains somewhat
more subdued, with many qualities
urgently required but barely available
on the market. Smelters are becoming
'desperate' for good qualities, it has
been reported.
In terms of prices, aluminium wire scrap
(Achse) was recently at US$ 1509 per
tonne and aluminium turnings (Autor)
at US$ 966 in Germany. Loose old rolled
cuttings have been fetching US$ 763-
808 per tonne in the UK, while on the
Dutch market new pure aluminium
scrap has attracted US$ 1419 and
first-quality old rolled aluminium scrap
US$ 1310.
According to figures from the Census
Bureau, US shipments of aluminium
scrap to China tumbled 20% in the
opening 10 months of last year – from
896 229 tonnes in January-October
2014 to 718 735 tonnes.
To help support the light metal mar-
ket, 14 of China's leading aluminium
smelters have undertaken not to
restart idled capacity and to refrain
from starting up any newly-completed
capacity for a period of at least one
year, the China Nonferrous Metals
Industry Association revealed in the
final weeks of 2015. Meanwhile, Alcoa
is to close its 269 000-tonne Warrick
Operations smelter in Indiana, USA,
by the end of the first quarter of 2016
and will reduce alumina production
by 1 million tonnes by the conclusion
of the second quarter, which includes
curtailing the remaining 810 000
tonnes of refining capacity at its Point
Comfort operations in Texas.
On the plus side, Alcoa is anticipating
all-time-high global aluminium demand
of 60.5 million tonnes this year for an
increase of 6% over 2015, as well as
a worldwide light metal deficit of 1.2
million tonnes owing to global supply
curtailments. The company expects
worldwide aerospace sales to increase
8-9% this year on continued robust
demand for large commercial aircraft
and jet engines while growth in auto-
motive and packaging are forecast at,
respectively, 1-4% and 1-3%.
According to Norsk Hydro's president
and ceo Svein Richard Brandtzæg,
China is expected to produce up to 2.5
million tonnes more aluminium than it
will consume in 2016. At today's sub-
stantially lower price levels, he goes on
to say, 'around 50% of global smelter
capacity is expected to be incurring cash
losses, making curtailments – which are
needed to balance the market in the
medium term – more likely'.
He agrees that the order picture for
aluminium is 'promising'. Global alu-
minium demand is estimated to have
grown around 4% in 2015, with a
further gain of 4-5% envisaged for
2016. Furthermore, the global primary
aluminium market is thought likely to
show annual growth of 3-4% over the
next 10 years, driven by environmental
regulations worldwide.
Copper
While Europe's copper producers
are anticipating fairly good trading
over the coming months, the scrap
market remains difficult. Bright wire
scrap (Kabul) has been commanding
only US$ 4500 per tonne in Germany,
with copper granules 1a (Kasus) at
some US$ 4522 and non-alloyed
bright wire I (Kader) at US$ 4431.
On the Dutch market, bright wire
scrap has been around US$ 5045 per
tonne and mixed scrap US$ 4504. In
a tight market, smelters' demand for
copper scrap has remained acute; in