January / February 2016
Subscribe
Page 35 from: January / February 2016
33January/February 2016 Ferrous tonnes in the previous month and 1.167 million tonnes in September, according to latest Department of Commerce figures. In effect, US exports slumped 17.5% from 14.251 million tonnes in January-Novem...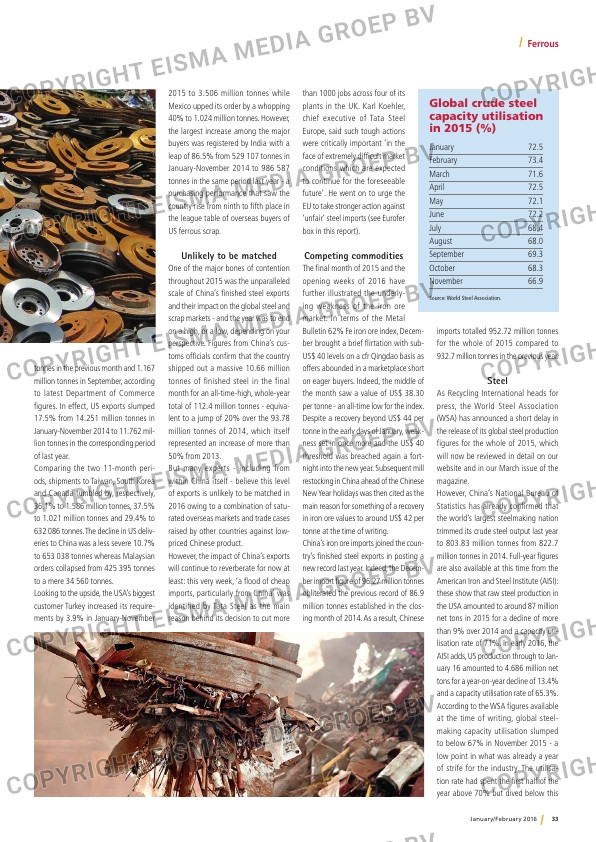 33January/February 2016
Ferrous

tonnes in the previous month and 1.167
million tonnes in September, according
to latest Department of Commerce
figures. In effect, US exports slumped
17.5% from 14.251 million tonnes in
January-November 2014 to 11.762 mil-
lion tonnes in the corresponding period
of last year.
Comparing the two 11-month peri-
ods, shipments to Taiwan, South Korea
and Canada tumbled by, respectively,
36.1% to 1.586 million tonnes, 37.5%
to 1.021 million tonnes and 29.4% to
632 086 tonnes. The decline in US deliv-
eries to China was a less severe 10.7%
to 653 038 tonnes whereas Malaysian
orders collapsed from 425 395 tonnes
to a mere 34 560 tonnes.
Looking to the upside, the USA's biggest
customer Turkey increased its require-
ments by 3.9% in January-November
2015 to 3.506 million tonnes while
Mexico upped its order by a whopping
40% to 1.024 million tonnes. However,
the largest increase among the major
buyers was registered by India with a
leap of 86.5% from 529 107 tonnes in
January-November 2014 to 986 587
tonnes in the same period last year – a
purchasing performance that saw the
country rise from ninth to fifth place in
the league table of overseas buyers of
US ferrous scrap.
Unlikely to be matched
One of the major bones of contention
throughout 2015 was the unparalleled
scale of China's finished steel exports
and their impact on the global steel and
scrap markets – and the year was to end
on a high, or a low, depending on your
perspective. Figures from China's cus-
toms officials confirm that the country
shipped out a massive 10.66 million
tonnes of finished steel in the final
month for an all-time-high, whole-year
total of 112.4 million tonnes – equiva-
lent to a jump of 20% over the 93.78
million tonnes of 2014, which itself
represented an increase of more than
50% from 2013.
But many experts – including from
within China itself – believe this level
of exports is unlikely to be matched in
2016 owing to a combination of satu-
rated overseas markets and trade cases
raised by other countries against low-
priced Chinese product.
However, the impact of China's exports
will continue to reverberate for now at
least: this very week, 'a flood of cheap
imports, particularly from China' was
identified by Tata Steel as the main
reason behind its decision to cut more
than 1000 jobs across four of its
plants in the UK. Karl Koehler,
chief executive of Tata Steel
Europe, said such tough actions
were critically important 'in the
face of extremely difficult market
conditions which are expected
to continue for the foreseeable
future'. He went on to urge the
EU to take stronger action against
'unfair' steel imports (see Eurofer
box in this report).
Competing commodities
The final month of 2015 and the
opening weeks of 2016 have
further illustrated the underly-
ing weakness of the iron ore
market. In terms of the Metal
Bulletin 62% Fe iron ore index, Decem-
ber brought a brief flirtation with sub-
US$ 40 levels on a cfr Qingdao basis as
offers abounded in a marketplace short
on eager buyers. Indeed, the middle of
the month saw a value of US$ 38.30
per tonne – an all-time low for the index.
Despite a recovery beyond US$ 44 per
tonne in the early days of January, weak-
ness set in once more and the US$ 40
threshold was breached again a fort-
night into the new year. Subsequent mill
restocking in China ahead of the Chinese
New Year holidays was then cited as the
main reason for something of a recovery
in iron ore values to around US$ 42 per
tonne at the time of writing.
China's iron ore imports joined the coun-
try's finished steel exports in posting a
new record last year. Indeed, the Decem-
ber import figure of 96.27 million tonnes
obliterated the previous record of 86.9
million tonnes established in the clos-
ing month of 2014. As a result, Chinese
imports totalled 952.72 million tonnes
for the whole of 2015 compared to
932.7 million tonnes in the previous year.
Steel
As Recycling International heads for
press, the World Steel Association
(WSA) has announced a short delay in
the release of its global steel production
figures for the whole of 2015, which
will now be reviewed in detail on our
website and in our March issue of the
magazine.
However, China's National Bureau of
Statistics has already confirmed that
the world's largest steelmaking nation
trimmed its crude steel output last year
to 803.83 million tonnes from 822.7
million tonnes in 2014. Full-year figures
are also available at this time from the
American Iron and Steel Institute (AISI):
these show that raw steel production in
the USA amounted to around 87 million
net tons in 2015 for a decline of more
than 9% over 2014 and a capacity uti-
lisation rate of 71%. In early 2016, the
AISI adds, US production through to Jan-
uary 16 amounted to 4.686 million net
tons for a year-on-year decline of 13.4%
and a capacity utilisation rate of 65.3%.
According to the WSA figures available
at the time of writing, global steel-
making capacity utilisation slumped
to below 67% in November 2015 – a
low point in what was already a year
of strife for the industry. The utilisa-
tion rate had spent the first half of the
year above 70% but dived below this
Global crude steel
capacity utilisation
in 2015 (%)
January 72.5
February 73.4
March 71.6
April 72.5
May 72.1
June 72.2
July 68.4
August 68.0
September 69.3
October 68.3
November 66.9
Source: World Steel Association.