January / February 2016
Subscribe
Page 33 from: January / February 2016
31January/February 2016 I N T H E L A B O R A T O R Y . . . Plastics like polyethylene and poly-styrene rule the market for synthetic polymers and yet have come under fire for piling up in landfills, according to academics at Color...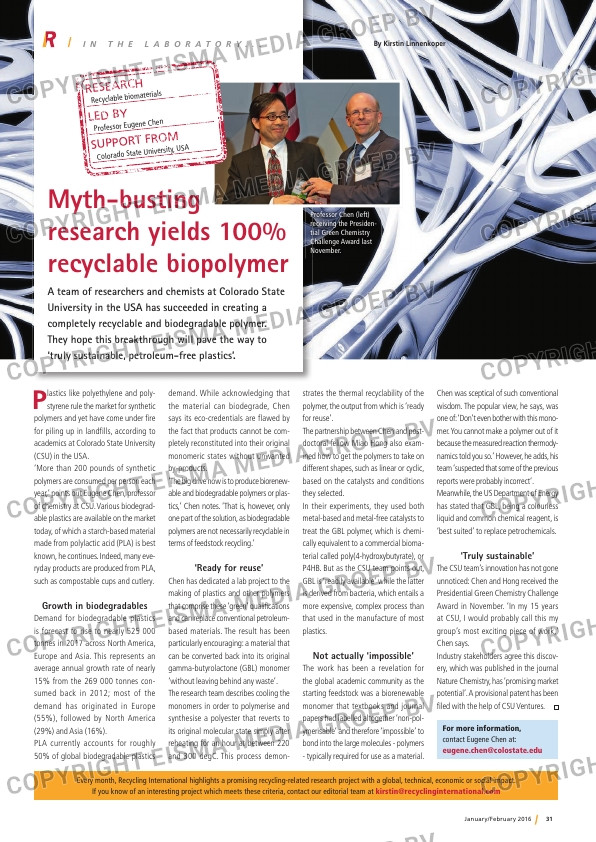 31January/February 2016
I N T H E L A B O R A T O R Y . . .

Plastics like polyethylene and poly-styrene rule the market for synthetic
polymers and yet have come under fire
for piling up in landfills, according to
academics at Colorado State University
(CSU) in the USA.
'More than 200 pounds of synthetic
polymers are consumed per person each
year,' points out Eugene Chen, professor
of chemistry at CSU. Various biodegrad-
able plastics are available on the market
today, of which a starch-based material
made from polylactic acid (PLA) is best
known, he continues. Indeed, many eve-
ryday products are produced from PLA,
such as compostable cups and cutlery.
Growth in biodegradables
Demand for biodegradable plastics
is forecast to rise to nearly 525 000
tonnes in 2017 across North America,
Europe and Asia. This represents an
average annual growth rate of nearly
15% from the 269 000 tonnes con-
sumed back in 2012; most of the
demand has originated in Europe
(55%), followed by North America
(29%) and Asia (16%).
PLA currently accounts for roughly
50% of global biodegradable plastics
demand. While acknowledging that
the material can biodegrade, Chen
says its eco-credentials are flawed by
the fact that products cannot be com-
pletely reconstituted into their original
monomeric states without unwanted
by-products.
'The big drive now is to produce biorenew-
able and biodegradable polymers or plas-
tics,' Chen notes. 'That is, however, only
one part of the solution, as biodegradable
polymers are not necessarily recyclable in
terms of feedstock recycling.'
'Ready for reuse'
Chen has dedicated a lab project to the
making of plastics and other polymers
that comprise these 'green' qualifications
and can replace conventional petroleum-
based materials. The result has been
particularly encouraging: a material that
can be converted back into its original
gamma-butyrolactone (GBL) monomer
'without leaving behind any waste'.
The research team describes cooling the
monomers in order to polymerise and
synthesise a polyester that reverts to
its original molecular state simply after
reheating for an hour at between 220
and 300 degC. This process demon-
strates the thermal recyclability of the
polymer, the output from which is 'ready
for reuse'.
The partnership between Chen and post-
doctoral fellow Miao Hong also exam-
ined how to get the polymers to take on
different shapes, such as linear or cyclic,
based on the catalysts and conditions
they selected.
In their experiments, they used both
metal-based and metal-free catalysts to
treat the GBL polymer, which is chemi-
cally equivalent to a commercial bioma-
terial called poly(4-hydroxybutyrate), or
P4HB. But as the CSU team points out,
GBL is 'readily available' while the latter
is derived from bacteria, which entails a
more expensive, complex process than
that used in the manufacture of most
plastics.
Not actually 'impossible'
The work has been a revelation for
the global academic community as the
starting feedstock was a biorenewable
monomer that textbooks and journal
papers had labelled altogether 'non-pol-
ymerisable' and therefore 'impossible' to
bond into the large molecules – polymers
– typically required for use as a material.
Chen was sceptical of such conventional
wisdom. The popular view, he says, was
one of: 'Don't even bother with this mono-
mer. You cannot make a polymer out of it
because the measured reaction thermody-
namics told you so.' However, he adds, his
team 'suspected that some of the previous
reports were probably incorrect'.
Meanwhile, the US Department of Energy
has stated that GBL, being a colourless
liquid and common chemical reagent, is
'best suited' to replace petrochemicals.
'Truly sustainable'
The CSU team's innovation has not gone
unnoticed: Chen and Hong received the
Presidential Green Chemistry Challenge
Award in November. 'In my 15 years
at CSU, I would probably call this my
group's most exciting piece of work,'
Chen says.
Industry stakeholders agree this discov-
ery, which was published in the journal
Nature Chemistry, has 'promising market
potential'. A provisional patent has been
filed with the help of CSU Ventures.
Myth-busting
research yields 100%
recyclable biopolymer
A team of researchers and chemists at Colorado State
University in the USA has succeeded in creating a
completely recyclable and biodegradable polymer.
They hope this breakthrough will pave the way to
'truly sustainable, petroleum-free plastics'.

By Kirstin Linnenkoper

Every month, Recycling International highlights a promising recycling-related research project with a global, technical, economic or social impact.
If you know of an interesting project which meets these criteria, contact our editorial team at [email protected]
For more information,
contact Eugene Chen at:
[email protected]
RESEARCH
LED BY
SUPPORT FR
OM
Recyclable bio
materials
Professor Eug
ene Chen
Colorado Stat
e University, U
SA
Professor Chen (left)
receiving the Presiden-
tial Green Chemistry
Challenge Award last
November.