January / February 2016
Subscribe
Page 30 from: January / February 2016
28 Februar 2016 K E Y W O R D By Author A N N I V E R s A r Y 1 0 y e a r s Looking ahead, how will BB Italia operate on the Italian market? The market will continue to consolidate with the current market pla- y...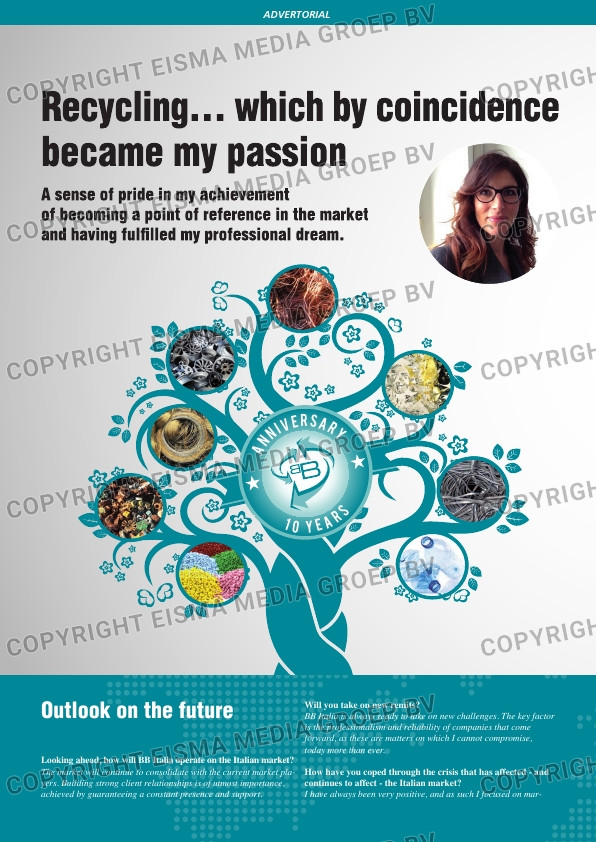 28 Februar 2016
K E Y W O R D By Author
A
N N
I V E R s A r Y
1 0 y e a
r s
Looking ahead, how will BB Italia operate on the Italian market?
The market will continue to consolidate with the current market pla-
yers. Building strong client relationships is of utmost importance,
achieved by guaranteeing a constant presence and support.

Will you take on new remits?
BB Italia is always ready to take on new challenges. The key factor
is the professionalism and reliability of companies that come
forward, as these are matters on which I cannot compromise,
today more than ever.

How have you coped through the crisis that has affected – and
continues to affect – the Italian market?
I have always been very positive, and as such I focused on mar-

Recycling… which by coincidence
became my passion
A sense of pride in my achievement
of becoming a point of reference in the market
and having fulfilled my professional dream.
Outlook on the future
ADVERTORIAL

What do you see in the near future for scrap, and in particular
metals?
It is hard to predict which way the market will go, but one thing is
for sure – current economic trends are having a significant influence
on raw materials. We will no doubt see some rises in prices, but
stability is still a long way away.

keting and constant contact with my clients even when times were
tough so that, when business picked up again, BB Italia was there.

How have Italian clients reacted to the economic crisis that has
hit the steel sector?
Italians are dynamic and resourceful. Many sites have diversified
their processing capabilities and those that have continued to invest
have suffered a lot less during the crisis.

Anumber of years have pas-sed since I was looking for
an interesting job and went to
work for a multinational com-
pany specialized in the recycling
sector. Years of experience and
good training led to me deci-
ding to spread my wings and
go freelance. The freedom of
going freelance is priceless from
both a personal and professional
perspective. When I started my
business in 2006, I could never
have imagined the number of
sacrifices I would have to make
and the difficult times I would go
through. But without a doubt,
it has all been worth it when I
look at the success, satisfaction
and personal and professional
growth that I have achieved.
My skills in interpersonal rela-
tionships and being open to the
world beyond the Italian borders
have allowed me to meet new
clients, new businesses and in-
vest in new friendships, as a lot
of my clients have become some
of my closest friends!
Learning by doing

My business has always been
centred on promoting and sel-
ling machinery for processing
scrap, such as shears, balers,
shredders and pre-shredders, as
well as wear and spare parts for
this machinery.
The multinational company that
I worked for over a 9-year pe-
riod, global leader at the time,
allowed me to develop signifi-
cant experience in this sector,
oriented", which has allowed me
to extend my coverage to market
participants active in the sor-
ting of waste, packaging, glass,
wood and all types of slag.
My greatest satisfaction is to
give value to the waste, whate-
ver it may be, making it as cle-
an as possible so that it can be
reused.
The sorting machines are high
performance and reliable, and a
lot of clients in Italy have cho-
sen this technology.
Another important part of the
remit for BB Italia Srl is re-
presenting a German foundry
renowned for the quality of its
alloy castings. A significant
number of scrap dealers in Italy
have chosen to use these wear
parts, such as hammers, grids,
anvils, caps, segments and all
other shredder components con-
stantly subjected to wear. These
are high-performance wear parts
made of innovative materials
and of a refined design which
optimise the efficiency and
working life of machinery, with
maintenance being required less
frequently.
Thanks to innovative manufac-
turing processes, we guarantee
higher and more reliable levels
of quality.
BB Italia Srl also markets used
machinery and quality blades
for all kinds of fixed and mobile
shears.
Ferrous and non-ferrous

Intermediating sales of ferrous
and non-ferrous scrap is outside
the scope of marketing machine-
ry, but is nonetheless interesting
and full of challenges.
This business lets me see the
scrap yard from a different per-
spective. With my knowledge
of all the methods of processing
and sorting scrap, and taking
into account the environmental
issues connected to disposal,
giving value to refuse is the pri-
mary goal.
BB Italia Srl can play a part at
all stages in the process of waste
treatment, from collection and
processing through to the sale of
materials that have been cleaned
and selected ready for melting.
www.bbrecycling.it

leading to my training having a
strong German influence both
in terms of technology and the
professionalism that surrounded
me. My motto has always been
"learning by doing" and this has
enabled me to develop my tech-
nical skills and become a profes-
sional.
This independence gave me
unlimited energy and drive,
knowing that I would be able to
achieve everything that I wanted
and the way I wanted it.
The choice of brands that I now
represent exclusively in Italy
was critical. They are busines-
ses that I respect and hold in high
esteem for the quality of their
products and their professionali-
sm, allowing me to associate my
name with the most advanced
technology in the field.
Making a big difference to my
customers

BB Italia Srl is active in the Ita-
lian market with a German com-
pany of worldwide renown. In
addition to the traditional sepa-
ration of ferrous and non-ferrous
scrap, we offer induction and 3D
technology for stainless steel
and cable sorting, including the
X-ray transmission and fluore-
scence system which reaches the
highest levels of sophistication,
satisfying clients' needs.
Thanks to the new Hyper Spec-
tral Imaging (HSI) technology,
we are able to separate all pla-
stics both by polymer and by co-
lour. This company is "market
" Creativity and Innovation "

ADVERTORIAL

Barbara Belletti