January / February 2016
Subscribe
Page 29 from: January / February 2016
27January/February 2016 Goodbye to stockpiles, hello to sophisticated applications Where do you see room for improvement? 'Unfortunately, the EU government has not followed through on its intentions by offer- ing financial incentive...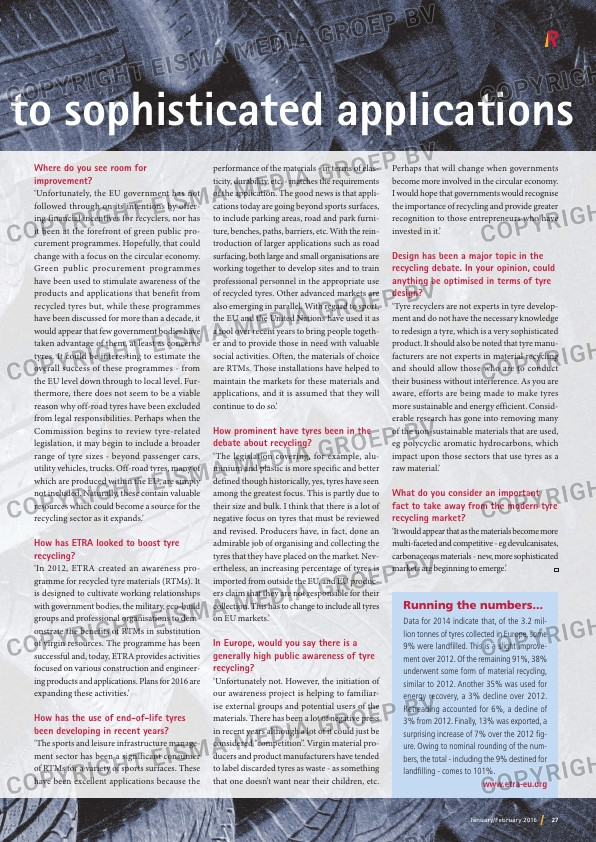 27January/February 2016
Goodbye to stockpiles, hello to sophisticated applications
Where do you see room for
improvement?
'Unfortunately, the EU government has not
followed through on its intentions by offer-
ing financial incentives for recyclers, nor has
it been at the forefront of green public pro-
curement programmes. Hopefully, that could
change with a focus on the circular economy.
Green public procurement programmes
have been used to stimulate awareness of the
products and applications that benefit from
recycled tyres but, while these programmes
have been discussed for more than a decade, it
would appear that few government bodies have
taken advantage of them, at least as concerns
tyres. It could be interesting to estimate the
overall success of these programmes – from
the EU level down through to local level. Fur-
thermore, there does not seem to be a viable
reason why off-road tyres have been excluded
from legal responsibilities. Perhaps when the
Commission begins to review tyre-related
legislation, it may begin to include a broader
range of tyre sizes – beyond passenger cars,
utility vehicles, trucks. Off-road tyres, many of
which are produced within the EU, are simply
not included. Naturally, these contain valuable
resources which could become a source for the
recycling sector as it expands.'
How has ETRA looked to boost tyre
recycling?
'In 2012, ETRA created an awareness pro-
gramme for recycled tyre materials (RTMs). It
is designed to cultivate working relationships
with government bodies, the military, eco-build
groups and professional organisations to dem-
onstrate the benefits of RTMs in substitution
of virgin resources. The programme has been
successful and, today, ETRA provides activities
focused on various construction and engineer-
ing products and applications. Plans for 2016 are
expanding these activities.'
How has the use of end-of-life tyres
been developing in recent years?
'The sports and leisure infrastructure manage-
ment sector has been a significant consumer
of RTMs for a variety of sports surfaces. These
have been excellent applications because the
performance of the materials – in terms of elas-
ticity, durability, etc. – matches the requirements
of the application. The good news is that appli-
cations today are going beyond sports surfaces,
to include parking areas, road and park furni-
ture, benches, paths, barriers, etc. With the rein-
troduction of larger applications such as road
surfacing, both large and small organisations are
working together to develop sites and to train
professional personnel in the appropriate use
of recycled tyres. Other advanced markets are
also emerging in parallel. With regard to sport,
the EU and the United Nations have used it as
a tool over recent years to bring people togeth-
er and to provide those in need with valuable
social activities. Often, the materials of choice
are RTMs. Those installations have helped to
maintain the markets for these materials and
applications, and it is assumed that they will
continue to do so.'
How prominent have tyres been in the
debate about recycling?
'The legislation covering, for example, alu-
minium and plastic is more specific and better
defined though historically, yes, tyres have seen
among the greatest focus. This is partly due to
their size and bulk. I think that there is a lot of
negative focus on tyres that must be reviewed
and revised. Producers have, in fact, done an
admirable job of organising and collecting the
tyres that they have placed on the market. Nev-
ertheless, an increasing percentage of tyres is
imported from outside the EU, and EU produc-
ers claim that they are not responsible for their
collection. This has to change to include all tyres
on EU markets.'
In Europe, would you say there is a
generally high public awareness of tyre
recycling?
'Unfortunately not. However, the initiation of
our awareness project is helping to familiar-
ise external groups and potential users of the
materials. There has been a lot of negative press
in recent years although a lot of it could just be
considered "competition". Virgin material pro-
ducers and product manufacturers have tended
to label discarded tyres as waste – as something
that one doesn't want near their children, etc.
Perhaps that will change when governments
become more involved in the circular economy.
I would hope that governments would recognise
the importance of recycling and provide greater
recognition to those entrepreneurs who have
invested in it.'
Design has been a major topic in the
recycling debate. In your opinion, could
anything be optimised in terms of tyre
design?
'Tyre recyclers are not experts in tyre develop-
ment and do not have the necessary knowledge
to redesign a tyre, which is a very sophisticated
product. It should also be noted that tyre manu-
facturers are not experts in material recycling
and should allow those who are to conduct
their business without interference. As you are
aware, efforts are being made to make tyres
more sustainable and energy efficient. Consid-
erable research has gone into removing many
of the non-sustainable materials that are used,
eg polycyclic aromatic hydrocarbons, which
impact upon those sectors that use tyres as a
raw material.'
What do you consider an important
fact to take away from the modern tyre
recycling market?
'It would appear that as the materials become more
multi-faceted and competitive – eg devulcanisates,
carbonaceous materials – new, more sophisticated
markets are beginning to emerge.'
Running the numbers…
Data for 2014 indicate that, of the 3.2 mil-
lion tonnes of tyres collected in Europe, some
9% were landfilled. This is a slight improve-
ment over 2012. Of the remaining 91%, 38%
underwent some form of material recycling,
similar to 2012. Another 35% was used for
energy recovery, a 3% decline over 2012.
Retreading accounted for 6%, a decline of
3% from 2012. Finally, 13% was exported, a
surprising increase of 7% over the 2012 fig-
ure. Owing to nominal rounding of the num-
bers, the total – including the 9% destined for
landfilling – comes to 101%.
www.etra-eu.org