January / February 2016
Subscribe
Page 28 from: January / February 2016
I N T E R V I E W By Kirstin Linnenkoper Goodbye to stockpiles, hello to sophisticated applications An obstacle to the further development of Europe's tyre recycling sector is the lack of support from EU member states and l...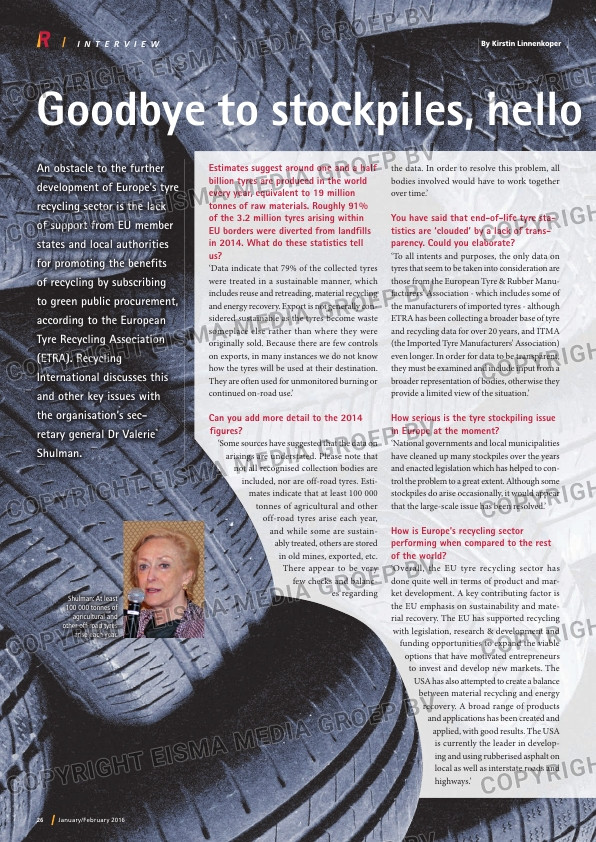 I N T E R V I E W By Kirstin Linnenkoper
Goodbye to stockpiles, hello to sophisticated applications
An obstacle to the further

development of Europe's tyre

recycling sector is the lack

of support from EU member

states and local authorities

for promoting the benefits

of recycling by subscribing

to green public procurement,

according to the European

Tyre Recycling Association

(ETRA). Recycling

International discusses this

and other key issues with

the organisation's sec-

retary general Dr Valerie

Shulman.

Estimates suggest around one and a half
billion tyres are produced in the world
every year, equivalent to 19 million
tonnes of raw materials. Roughly 91%
of the 3.2 million tyres arising within
EU borders were diverted from landfills
in 2014. What do these statistics tell
us?
'Data indicate that 79% of the collected tyres
were treated in a sustainable manner, which
includes reuse and retreading, material recycling
and energy recovery. Export is not generally con-
sidered sustainable as the tyres become waste
someplace else rather than where they were
originally sold. Because there are few controls
on exports, in many instances we do not know
how the tyres will be used at their destination.
They are often used for unmonitored burning or
continued on-road use.'
Can you add more detail to the 2014
figures?

'Some sources have suggested that the data on
arisings are understated. Please note that
not all recognised collection bodies are
included, nor are off-road tyres. Esti-
mates indicate that at least 100 000
tonnes of agricultural and other
off-road tyres arise each year,
and while some are sustain-
ably treated, others are stored
in old mines, exported, etc.
There appear to be very
few checks and balanc-
es regarding
the data. In order to resolve this problem, all
bodies involved would have to work together
over time.'
You have said that end-of-life tyre sta-
tistics are 'clouded' by a lack of trans-
parency. Could you elaborate?
'To all intents and purposes, the only data on
tyres that seem to be taken into consideration are
those from the European Tyre & Rubber Manu-
facturers' Association – which includes some of
the manufacturers of imported tyres – although
ETRA has been collecting a broader base of tyre
and recycling data for over 20 years, and ITMA
(the Imported Tyre Manufacturers' Association)
even longer. In order for data to be transparent,
they must be examined and include input from a
broader representation of bodies, otherwise they
provide a limited view of the situation.'
How serious is the tyre stockpiling issue
in Europe at the moment?
'National governments and local municipalities
have cleaned up many stockpiles over the years
and enacted legislation which has helped to con-
trol the problem to a great extent. Although some
stockpiles do arise occasionally, it would appear
that the large-scale issue has been resolved.'
How is Europe's recycling sector
performing when compared to the rest
of the world?
'Overall, the EU tyre recycling sector has
done quite well in terms of product and mar-
ket development. A key contributing factor is
the EU emphasis on sustainability and mate-
rial recovery. The EU has supported recycling
with legislation, research & development and
funding opportunities to expand the viable
options that have motivated entrepreneurs
to invest and develop new markets. The
USA has also attempted to create a balance
between material recycling and energy
recovery. A broad range of products
and applications has been created and
applied, with good results. The USA
is currently the leader in develop-
ing and using rubberised asphalt on
local as well as interstate roads and
highways.'
26 January/February 2016
Shulman: At least
100 000 tonnes of
agricultural and
other off-road tyres
arise each year.