January / February 2016
Subscribe
Page 27 from: January / February 2016
25January/February 2016 Feedback from the industry Peter Clayson, business development and external affairs manager at major paper pro- ducer and recycler DS Smith: 'We welcome the proposal to differentiate financial contributions paid b...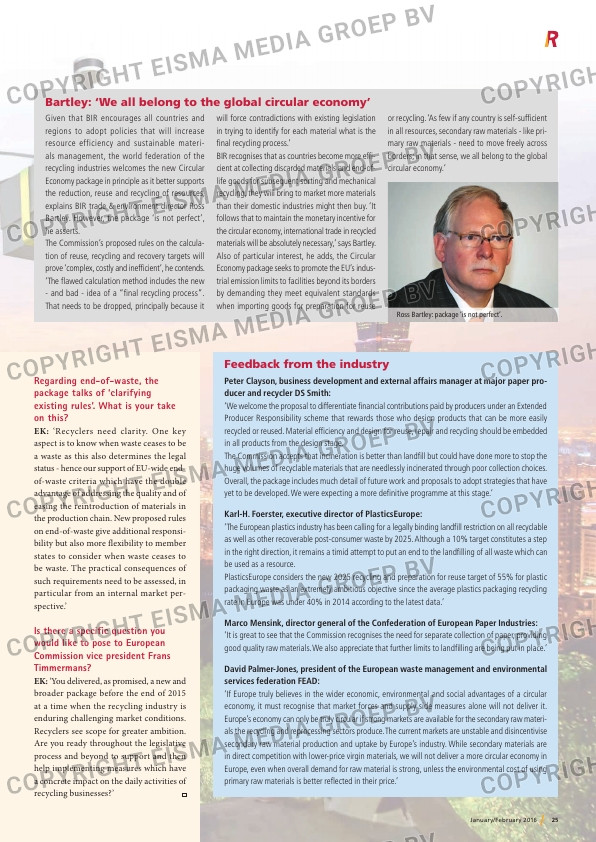 25January/February 2016
Feedback from the industry
Peter Clayson, business development and external affairs manager at major paper pro-
ducer and recycler DS Smith:
'We welcome the proposal to differentiate financial contributions paid by producers under an Extended
Producer Responsibility scheme that rewards those who design products that can be more easily
recycled or reused. Material efficiency and design for reuse, repair and recycling should be embedded
in all products from the design stage.
The Commission accepts that incineration is better than landfill but could have done more to stop the
huge volumes of recyclable materials that are needlessly incinerated through poor collection choices.
Overall, the package includes much detail of future work and proposals to adopt strategies that have
yet to be developed. We were expecting a more definitive programme at this stage.'
Karl-H. Foerster, executive director of PlasticsEurope:
'The European plastics industry has been calling for a legally binding landfill restriction on all recyclable
as well as other recoverable post-consumer waste by 2025. Although a 10% target constitutes a step
in the right direction, it remains a timid attempt to put an end to the landfilling of all waste which can
be used as a resource.
PlasticsEurope considers the new 2025 recycling and preparation for reuse target of 55% for plastic
packaging waste as an extremely ambitious objective since the average plastics packaging recycling
rate in Europe was under 40% in 2014 according to the latest data.'
Marco Mensink, director general of the Confederation of European Paper Industries:
'It is great to see that the Commission recognises the need for separate collection of paper, providing
good quality raw materials. We also appreciate that further limits to landfilling are being put in place.'
David Palmer-Jones, president of the European waste management and environmental
services federation FEAD:
'If Europe truly believes in the wider economic, environmental and social advantages of a circular
economy, it must recognise that market forces and supply side measures alone will not deliver it.
Europe's economy can only be truly circular if strong markets are available for the secondary raw materi-
als the recycling and reprocessing sectors produce. The current markets are unstable and disincentivise
secondary raw material production and uptake by Europe's industry. While secondary materials are
in direct competition with lower-price virgin materials, we will not deliver a more circular economy in
Europe, even when overall demand for raw material is strong, unless the environmental cost of using
primary raw materials is better reflected in their price.'
Regarding end-of-waste, the
package talks of 'clarifying
existing rules'. What is your take
on this?
EK: 'Recyclers need clarity. One key
aspect is to know when waste ceases to be
a waste as this also determines the legal
status – hence our support of EU-wide end-
of-waste criteria which have the double
advantage of addressing the quality and of
easing the reintroduction of materials in
the production chain. New proposed rules
on end-of-waste give additional responsi-
bility but also more flexibility to member
states to consider when waste ceases to
be waste. The practical consequences of
such requirements need to be assessed, in
particular from an internal market per-
spective.'
Is there a specific question you
would like to pose to European
Commission vice president Frans
Timmermans?
EK: 'You delivered, as promised, a new and
broader package before the end of 2015
at a time when the recycling industry is
enduring challenging market conditions.
Recyclers see scope for greater ambition.
Are you ready throughout the legislative
process and beyond to support and then
help implementing measures which have
a concrete impact on the daily activities of
recycling businesses?'
Bartley: 'We all belong to the global circular economy'
Given that BIR encourages all countries and
regions to adopt policies that will increase
resource efficiency and sustainable materi-
als management, the world federation of the
recycling industries welcomes the new Circular
Economy package in principle as it better supports
the reduction, reuse and recycling of resources,
explains BIR trade & environment director Ross
Bartley. However, the package 'is not perfect',
he asserts.
The Commission's proposed rules on the calcula-
tion of reuse, recycling and recovery targets will
prove 'complex, costly and inefficient', he contends.
'The flawed calculation method includes the new
– and bad – idea of a "final recycling process".
That needs to be dropped, principally because it
will force contradictions with existing legislation
in trying to identify for each material what is the
final recycling process.'
BIR recognises that as countries become more effi-
cient at collecting discarded materials and end-of-
life goods for subsequent sorting and mechanical
recycling, they will bring to market more materials
than their domestic industries might then buy. 'It
follows that to maintain the monetary incentive for
the circular economy, international trade in recycled
materials will be absolutely necessary,' says Bartley.
Also of particular interest, he adds, the Circular
Economy package seeks to promote the EU's indus-
trial emission limits to facilities beyond its borders
by demanding they meet equivalent standards
when importing goods for preparation for reuse
or recycling. 'As few if any country is self-sufficient
in all resources, secondary raw materials – like pri-
mary raw materials – need to move freely across
borders; in that sense, we all belong to the global
circular economy.'
Ross Bartley: package 'is not perfect'.