January / February 2016
Subscribe
Page 26 from: January / February 2016
24 January/February 2016 C I R C U L A R E C O N O M Y Specifics of the package Katrakis also responded to questions about specific elements of the EC Circular Economy package: EuRIC has picked out 'market-driven initiatives' ...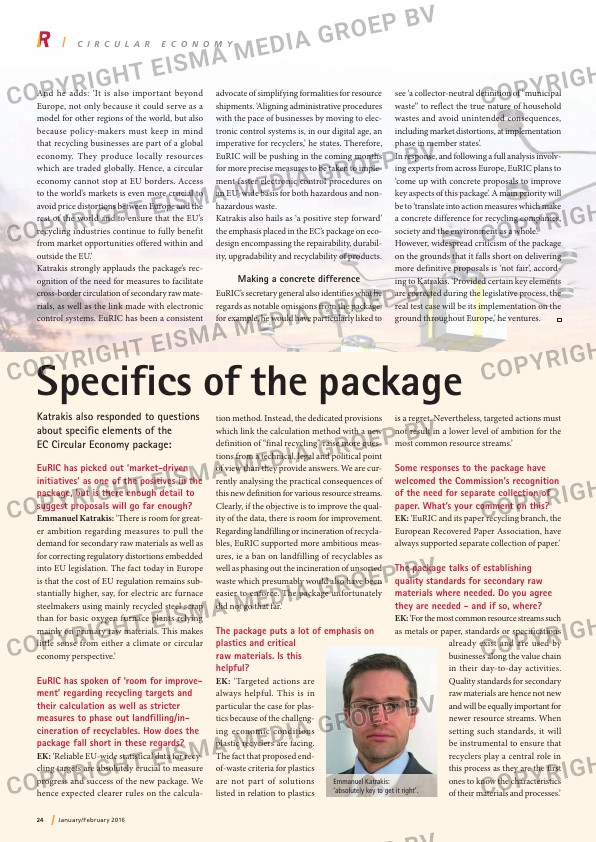 24 January/February 2016
C I R C U L A R E C O N O M Y

Specifics of the package
Katrakis also responded to questions
about specific elements of the
EC Circular Economy package:

EuRIC has picked out 'market-driven
initiatives' as one of the positives in the
package, but is there enough detail to
suggest proposals will go far enough?
Emmanuel Katrakis: 'There is room for great-
er ambition regarding measures to pull the
demand for secondary raw materials as well as
for correcting regulatory distortions embedded
into EU legislation. The fact today in Europe
is that the cost of EU regulation remains sub-
stantially higher, say, for electric arc furnace
steelmakers using mainly recycled steel scrap
than for basic oxygen furnace plants relying
mainly on primary raw materials. This makes
little sense from either a climate or circular
economy perspective.'
EuRIC has spoken of 'room for improve-
ment' regarding recycling targets and
their calculation as well as stricter
measures to phase out landfilling/in-
cineration of recyclables. How does the
package fall short in these regards?
EK: 'Reliable EU-wide statistical data for recy-
cling targets are absolutely crucial to measure
progress and success of the new package. We
hence expected clearer rules on the calcula-
tion method. Instead, the dedicated provisions
which link the calculation method with a new
definition of "final recycling" raise more ques-
tions from a technical, legal and political point
of view than they provide answers. We are cur-
rently analysing the practical consequences of
this new definition for various resource streams.
Clearly, if the objective is to improve the qual-
ity of the data, there is room for improvement.
Regarding landfilling or incineration of recycla-
bles, EuRIC supported more ambitious meas-
ures, ie a ban on landfilling of recyclables as
well as phasing out the incineration of unsorted
waste which presumably would also have been
easier to enforce. The package unfortunately
did not go that far.'
The package puts a lot of emphasis on
plastics and critical
raw materials. Is this
helpful?
EK: 'Targeted actions are
always helpful. This is in
particular the case for plas-
tics because of the challeng-
ing economic conditions
plastic recyclers are facing.
The fact that proposed end-
of-waste criteria for plastics
are not part of solutions
listed in relation to plastics
is a regret. Nevertheless, targeted actions must
not result in a lower level of ambition for the
most common resource streams.'
Some responses to the package have
welcomed the Commission's recognition
of the need for separate collection of
paper. What's your comment on this?
EK: 'EuRIC and its paper recycling branch, the
European Recovered Paper Association, have
always supported separate collection of paper.'
The package talks of establishing
quality standards for secondary raw
materials where needed. Do you agree
they are needed – and if so, where?
EK: 'For the most common resource streams such
as metals or paper, standards or specifications
already exist and are used by
businesses along the value chain
in their day-to-day activities.
Quality standards for secondary
raw materials are hence not new
and will be equally important for
newer resource streams. When
setting such standards, it will
be instrumental to ensure that
recyclers play a central role in
this process as they are the first
ones to know the characteristics
of their materials and processes.'
And he adds: 'It is also important beyond
Europe, not only because it could serve as a
model for other regions of the world, but also
because policy-makers must keep in mind
that recycling businesses are part of a global
economy. They produce locally resources
which are traded globally. Hence, a circular
economy cannot stop at EU borders. Access
to the world's markets is even more crucial to
avoid price distortions between Europe and the
rest of the world and to ensure that the EU's
recycling industries continue to fully benefit
from market opportunities offered within and
outside the EU.'
Katrakis strongly applauds the package's rec-
ognition of the need for measures to facilitate
cross-border circulation of secondary raw mate-
rials, as well as the link made with electronic
control systems. EuRIC has been a consistent
advocate of simplifying formalities for resource
shipments. 'Aligning administrative procedures
with the pace of businesses by moving to elec-
tronic control systems is, in our digital age, an
imperative for recyclers,' he states. Therefore,
EuRIC will be pushing in the coming months
for more precise measures to be taken to imple-
ment faster electronic control procedures on
an EU-wide basis for both hazardous and non-
hazardous waste.
Katrakis also hails as 'a positive step forward'
the emphasis placed in the EC's package on eco-
design encompassing the repairability, durabil-
ity, upgradability and recyclability of products.
Making a concrete difference
EuRIC's secretary general also identifies what he
regards as notable omissions from the package:
for example, he would have particularly liked to
see 'a collector-neutral definition of "municipal
waste" to reflect the true nature of household
wastes and avoid unintended consequences,
including market distortions, at implementation
phase in member states'.
In response, and following a full analysis involv-
ing experts from across Europe, EuRIC plans to
'come up with concrete proposals to improve
key aspects of this package'. A main priority will
be to 'translate into action measures which make
a concrete difference for recycling companies,
society and the environment as a whole'.
However, widespread criticism of the package
on the grounds that it falls short on delivering
more definitive proposals is 'not fair', accord-
ing to Katrakis. 'Provided certain key elements
are corrected during the legislative process, the
real test case will be its implementation on the
ground throughout Europe,' he ventures.
Emmanuel Katrakis:
'absolutely key to get it right'.