January / February 2016
Subscribe
Page 23 from: January / February 2016
'In order to be capable of producing the alloys which our customers need, we have to have full control over the composition of the input mate- rials which we feed to the melting furnaces,' he explains. For this reason, the developme...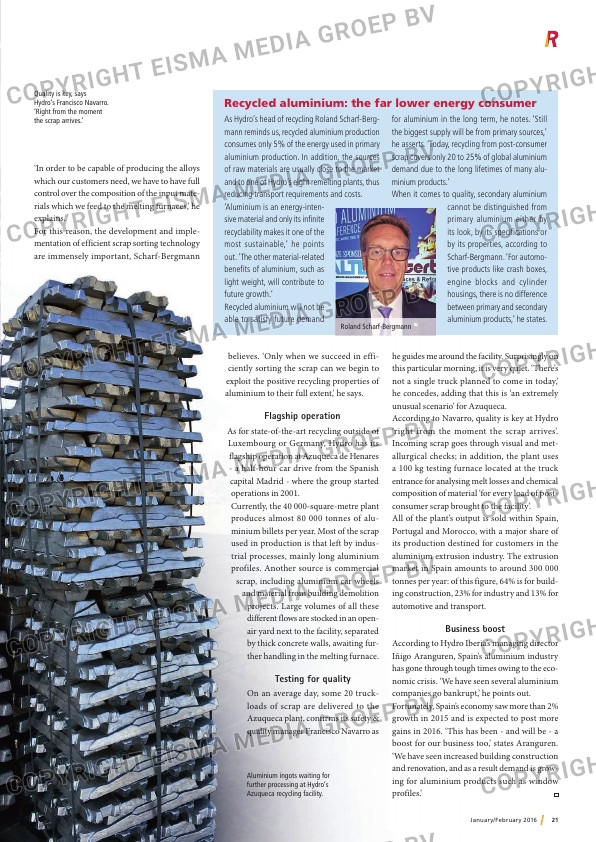 'In order to be capable of producing the alloys
which our customers need, we have to have full
control over the composition of the input mate-
rials which we feed to the melting furnaces,' he
explains.
For this reason, the development and imple-
mentation of efficient scrap sorting technology
are immensely important, Scharf-Bergmann
believes. 'Only when we succeed in effi-
ciently sorting the scrap can we begin to
exploit the positive recycling properties of
aluminium to their full extent,' he says.
Flagship operation
As for state-of-the-art recycling outside of
Luxembourg or Germany, Hydro has its
flagship operation at Azuqueca de Henares
– a half-hour car drive from the Spanish
capital Madrid – where the group started
operations in 2001.
Currently, the 40 000-square-metre plant
produces almost 80 000 tonnes of alu-
minium billets per year. Most of the scrap
used in production is that left by indus-
trial processes, mainly long aluminium
profiles. Another source is commercial
scrap, including aluminium car wheels
and material from building demolition
projects. Large volumes of all these
different flows are stocked in an open-
air yard next to the facility, separated
by thick concrete walls, awaiting fur-
ther handling in the melting furnace.
Testing for quality
On an average day, some 20 truck-
loads of scrap are delivered to the
Azuqueca plant, confirms its safety &
quality manager Francisco Navarro as
he guides me around the facility. Surprisingly on
this particular morning, it is very quiet. 'There's
not a single truck planned to come in today,'
he concedes, adding that this is 'an extremely
unusual scenario' for Azuqueca.
According to Navarro, quality is key at Hydro
'right from the moment the scrap arrives'.
Incoming scrap goes through visual and met-
allurgical checks; in addition, the plant uses
a 100 kg testing furnace located at the truck
entrance for analysing melt losses and chemical
composition of material 'for every load of post-
consumer scrap brought to the facility'.
All of the plant's output is sold within Spain,
Portugal and Morocco, with a major share of
its production destined for customers in the
aluminium extrusion industry. The extrusion
market in Spain amounts to around 300 000
tonnes per year: of this figure, 64% is for build-
ing construction, 23% for industry and 13% for
automotive and transport.
Business boost
According to Hydro Iberia's managing director
Iñigo Aranguren, Spain's aluminium industry
has gone through tough times owing to the eco-
nomic crisis. 'We have seen several aluminium
companies go bankrupt,' he points out.
Fortunately, Spain's economy saw more than 2%
growth in 2015 and is expected to post more
gains in 2016. 'This has been – and will be – a
boost for our business too,' states Aranguren.
'We have seen increased building construction
and renovation, and as a result demand is grow-
ing for aluminium products such as window
profiles.'
Recycled aluminium: the far lower energy consumer
As Hydro's head of recycling Roland Scharf-Berg-
mann reminds us, recycled aluminium production
consumes only 5% of the energy used in primary
aluminium production. In addition, the sources
of raw materials are usually close to the market
and to one of Hydro's eight remelting plants, thus
reducing transport requirements and costs.
'Aluminium is an energy-inten-
sive material and only its infinite
recyclability makes it one of the
most sustainable,' he points
out. 'The other material-related
benefits of aluminium, such as
light weight, will contribute to
future growth.'
Recycled aluminium will not be
able to satisfy future demand
for aluminium in the long term, he notes. 'Still
the biggest supply will be from primary sources,'
he asserts. 'Today, recycling from post-consumer
scrap covers only 20 to 25% of global aluminium
demand due to the long lifetimes of many alu-
minium products.'
When it comes to quality, secondary aluminium
cannot be distinguished from
primary aluminium either by
its look, by its specifications or
by its properties, according to
Scharf-Bergmann. 'For automo-
tive products like crash boxes,
engine blocks and cylinder
housings, there is no difference
between primary and secondary
aluminium products,' he states.
Aluminium ingots waiting for
further processing at Hydro's
Azuqueca recycling facility.
Quality is key, says
Hydro's Francisco Navarro.
'Right from the moment
the scrap arrives.'
Roland Scharf-Bergmann
21January/February 2016