January / February 2016
Subscribe
Page 17 from: January / February 2016
15January/February 2016 Caterpillar refines fleet with hand/foot controls For the first time, Caterpillar is offering the 'full suite' of hand and foot controls on its Cat skid steer, multi-terrain and compact track loader model...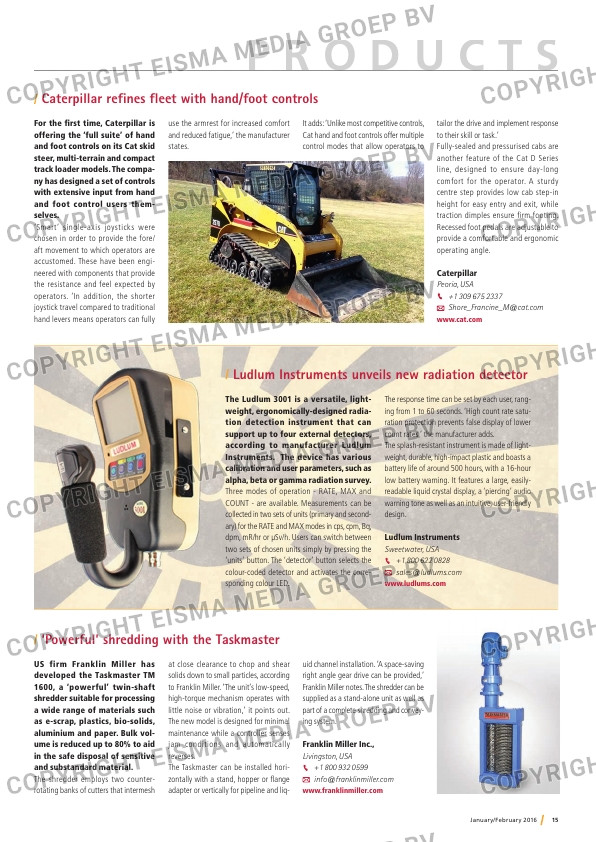 15January/February 2016
Caterpillar refines fleet with hand/foot controls

For the first time, Caterpillar is
offering the 'full suite' of hand
and foot controls on its Cat skid
steer, multi-terrain and compact
track loader models. The compa-
ny has designed a set of controls
with extensive input from hand
and foot control users them-
selves.
'Smart' single-axis joysticks were
chosen in order to provide the fore/
aft movement to which operators are
accustomed. These have been engi-
neered with components that provide
the resistance and feel expected by
operators. 'In addition, the shorter
joystick travel compared to traditional
hand levers means operators can fully
use the armrest for increased comfort
and reduced fatigue,' the manufacturer
states.
It adds: 'Unlike most competitive controls,
Cat hand and foot controls offer multiple
control modes that allow operators to
tailor the drive and implement response
to their skill or task.'
Fully-sealed and pressurised cabs are
another feature of the Cat D Series
line, designed to ensure day-long
comfort for the operator. A sturdy
centre step provides low cab step-in
height for easy entry and exit, while
traction dimples ensure firm footing.
Recessed foot pedals are adjustable to
provide a comfortable and ergonomic
operating angle.
Caterpillar
Peoria, USA
+1 309 675 2337

[email protected]
www.cat.com
Ludlum Instruments unveils new radiation detector

The Ludlum 3001 is a versatile, light-
weight, ergonomically-designed radia-
tion detection instrument that can
support up to four external detectors,
according to manufacturer Ludlum
Instruments. The device has various
calibration and user parameters, such as
alpha, beta or gamma radiation survey.
Three modes of operation – RATE, MAX and
COUNT – are available. Measurements can be
collected in two sets of units (primary and second-
ary) for the RATE and MAX modes in cps, cpm, Bq,
dpm, mR/hr or μSv/h. Users can switch between
two sets of chosen units simply by pressing the
'units' button. The 'detector' button selects the
colour-coded detector and activates the corre-
sponding colour LED.
The response time can be set by each user, rang-
ing from 1 to 60 seconds. 'High count rate satu-
ration protection prevents false display of lower
count rates,' the manufacturer adds.
The splash-resistant instrument is made of light-
weight, durable, high-impact plastic and boasts a
battery life of around 500 hours, with a 16-hour
low battery warning. It features a large, easily-
readable liquid crystal display, a 'piercing' audio
warning tone as well as an intuitive, user-friendly
design.
Ludlum Instruments
Sweetwater, USA
+1 800 622 0828

[email protected]
www.ludlums.com
'Powerful' shredding with the Taskmaster

US firm Franklin Miller has
developed the Taskmaster TM
1600, a 'powerful' twin-shaft
shredder suitable for processing
a wide range of materials such
as e-scrap, plastics, bio-solids,
aluminium and paper. Bulk vol-
ume is reduced up to 80% to aid
in the safe disposal of sensitive
and substandard material.
The shredder employs two counter-
rotating banks of cutters that intermesh
at close clearance to chop and shear
solids down to small particles, according
to Franklin Miller. 'The unit's low-speed,
high-torque mechanism operates with
little noise or vibration,' it points out.
The new model is designed for minimal
maintenance while a controller senses
jam conditions and automatically
reverses.
The Taskmaster can be installed hori-
zontally with a stand, hopper or flange
adapter or vertically for pipeline and liq-
uid channel installation. 'A space-saving
right angle gear drive can be provided,'
Franklin Miller notes. The shredder can be
supplied as a stand-alone unit as well as
part of a complete shredding and convey-
ing system.
Franklin Miller Inc.,
Livingston, USA
+1 800 932 0599

[email protected]
www.franklinmiller.com
P R O D U C T S