January / February 2016
Subscribe
Page 15 from: January / February 2016
N E W S 13January/February 2016 For more daily free global recycling news, visit www.recyclinginternational.com Market Intelligence for Buyers and Suppliers       Safer aircraft landings - thanks to recycled g...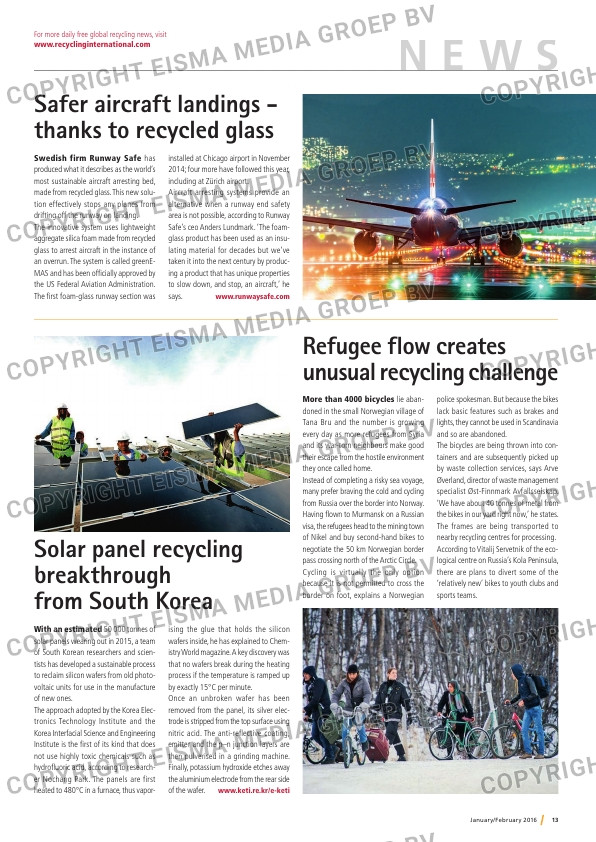 N E W S

13January/February 2016
For more daily free global recycling news, visit
www.recyclinginternational.com
Market Intelligence for Buyers and Suppliers






Safer aircraft landings –
thanks to recycled glass
Swedish firm Runway Safe has
produced what it describes as the world's
most sustainable aircraft arresting bed,
made from recycled glass. This new solu-
tion effectively stops any planes from
drifting off the runway on landing.
The innovative system uses lightweight
aggregate silica foam made from recycled
glass to arrest aircraft in the instance of
an overrun. The system is called greenE-
MAS and has been officially approved by
the US Federal Aviation Administration.
The first foam-glass runway section was
installed at Chicago airport in November
2014; four more have followed this year,
including at Zürich airport.
Aircraft arresting systems provide an
alternative when a runway end safety
area is not possible, according to Runway
Safe's ceo Anders Lundmark. 'The foam-
glass product has been used as an insu-
lating material for decades but we've
taken it into the next century by produc-
ing a product that has unique properties
to slow down, and stop, an aircraft,' he
says. www.runwaysafe.com
Solar panel recycling
breakthrough
from South Korea
With an estimated 50 000 tonnes of
solar panels wearing out in 2015, a team
of South Korean researchers and scien-
tists has developed a sustainable process
to reclaim silicon wafers from old photo-
voltaic units for use in the manufacture
of new ones.
The approach adopted by the Korea Elec-
tronics Technology Institute and the
Korea Interfacial Science and Engineering
Institute is the first of its kind that does
not use highly toxic chemicals such as
hydrofluoric acid, according to research-
er Nochang Park. The panels are first
heated to 480°C in a furnace, thus vapor-
ising the glue that holds the silicon
wafers inside, he has explained to Chem-
istry World magazine. A key discovery was
that no wafers break during the heating
process if the temperature is ramped up
by exactly 15°C per minute.
Once an unbroken wafer has been
removed from the panel, its silver elec-
trode is stripped from the top surface using
nitric acid. The anti-reflective coating,
emitter and the p–n junction layers are
then pulverised in a grinding machine.
Finally, potassium hydroxide etches away
the aluminium electrode from the rear side
of the wafer. www.keti.re.kr/e-keti
Refugee flow creates
unusual recycling challenge
More than 4000 bicycles lie aban-
doned in the small Norwegian village of
Tana Bru and the number is growing
every day as more refugees from Syria
and its war-torn neighbours make good
their escape from the hostile environment
they once called home.
Instead of completing a risky sea voyage,
many prefer braving the cold and cycling
from Russia over the border into Norway.
Having flown to Murmansk on a Russian
visa, the refugees head to the mining town
of Nikel and buy second-hand bikes to
negotiate the 50 km Norwegian border
pass crossing north of the Arctic Circle.
Cycling is virtually the only option
because it is not permitted to cross the
border on foot, explains a Norwegian
police spokesman. But because the bikes
lack basic features such as brakes and
lights, they cannot be used in Scandinavia
and so are abandoned.
The bicycles are being thrown into con-
tainers and are subsequently picked up
by waste collection services, says Arve
Øverland, director of waste management
specialist Øst-Finnmark Avfallsselskap.
'We have about 40 tonnes of metal from
the bikes in our yard right now,' he states.
The frames are being transported to
nearby recycling centres for processing.
According to Vitalij Servetnik of the eco-
logical centre on Russia's Kola Peninsula,
there are plans to divert some of the
'relatively new' bikes to youth clubs and
sports teams.