January / February 2016
Subscribe
Page 11 from: January / February 2016
9January/February 2016 For more daily free global recycling news, visit www.recyclinginternational.com N E W S Ocean Cleanup The Ocean Cleanup initiative pioneered by Boyan Slat will be placing a 100-metre- long barrier in the North Sea...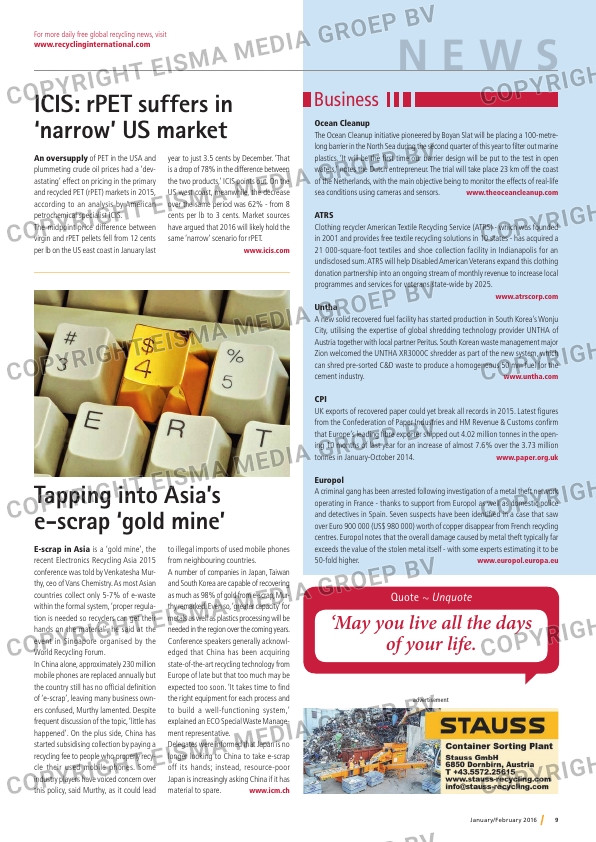 9January/February 2016
For more daily free global recycling news, visit
www.recyclinginternational.com N E W S

Ocean Cleanup
The Ocean Cleanup initiative pioneered by Boyan Slat will be placing a 100-metre-
long barrier in the North Sea during the second quarter of this year to filter out marine
plastics. 'It will be the first time our barrier design will be put to the test in open
waters,' notes the Dutch entrepreneur. The trial will take place 23 km off the coast
of the Netherlands, with the main objective being to monitor the effects of real-life
sea conditions using cameras and sensors. www.theoceancleanup.com
ATRS
Clothing recycler American Textile Recycling Service (ATRS) – which was founded
in 2001 and provides free textile recycling solutions in 10 states – has acquired a
21 000-square-foot textiles and shoe collection facility in Indianapolis for an
undisclosed sum. ATRS will help Disabled American Veterans expand this clothing
donation partnership into an ongoing stream of monthly revenue to increase local
programmes and services for veterans state-wide by 2025.
www.atrscorp.com
Untha
A new solid recovered fuel facility has started production in South Korea's Wonju
City, utilising the expertise of global shredding technology provider UNTHA of
Austria together with local partner Peritus. South Korean waste management major
Zion welcomed the UNTHA XR3000C shredder as part of the new system, which
can shred pre-sorted C&D waste to produce a homogeneous 50 mm fuel for the
cement industry. www.untha.com
CPI
UK exports of recovered paper could yet break all records in 2015. Latest figures
from the Confederation of Paper Industries and HM Revenue & Customs confirm
that Europe's leading fibre exporter shipped out 4.02 million tonnes in the open-
ing 10 months of last year for an increase of almost 7.6% over the 3.73 million
tonnes in January-October 2014. www.paper.org.uk
Europol
A criminal gang has been arrested following investigation of a metal theft network
operating in France – thanks to support from Europol as well as domestic police
and detectives in Spain. Seven suspects have been identified in a case that saw
over Euro 900 000 (US$ 980 000) worth of copper disappear from French recycling
centres. Europol notes that the overall damage caused by metal theft typically far
exceeds the value of the stolen metal itself – with some experts estimating it to be
50-fold higher. www.europol.europa.eu
Business
Quote ~ Unquote

'May you live all the days
of your life.

Tapping into Asia's
e-scrap 'gold mine'
E-scrap in Asia is a 'gold mine', the
recent Electronics Recycling Asia 2015
conference was told by Venkatesha Mur-
thy, ceo of Vans Chemistry. As most Asian
countries collect only 5-7% of e-waste
within the formal system, 'proper regula-
tion is needed so recyclers can get their
hands on the material', he said at the
event in Singapore organised by the
World Recycling Forum.
In China alone, approximately 230 million
mobile phones are replaced annually but
the country still has no official definition
of 'e-scrap', leaving many business own-
ers confused, Murthy lamented. Despite
frequent discussion of the topic, 'little has
happened'. On the plus side, China has
started subsidising collection by paying a
recycling fee to people who properly recy-
cle their used mobile phones. Some
industry players have voiced concern over
this policy, said Murthy, as it could lead
to illegal imports of used mobile phones
from neighbouring countries.
A number of companies in Japan, Taiwan
and South Korea are capable of recovering
as much as 98% of gold from e-scrap, Mur-
thy remarked. Even so, 'greater capacity' for
metals as well as plastics processing will be
needed in the region over the coming years.
Conference speakers generally acknowl-
edged that China has been acquiring
state-of-the-art recycling technology from
Europe of late but that too much may be
expected too soon. 'It takes time to find
the right equipment for each process and
to build a well-functioning system,'
explained an ECO Special Waste Manage-
ment representative.
Delegates were informed that Japan is no
longer looking to China to take e-scrap
off its hands; instead, resource-poor
Japan is increasingly asking China if it has
material to spare. www.icm.ch
ICIS: rPET suffers in
'narrow' US market
An oversupply of PET in the USA and
plummeting crude oil prices had a 'dev-
astating' effect on pricing in the primary
and recycled PET (rPET) markets in 2015,
according to an analysis by American
petrochemical specialist ICIS.
The midpoint price difference between
virgin and rPET pellets fell from 12 cents
per lb on the US east coast in January last
year to just 3.5 cents by December. 'That
is a drop of 78% in the difference between
the two products,' ICIS points out. On the
US west coast, meanwhile, the decrease
over the same period was 62% – from 8
cents per lb to 3 cents. Market sources
have argued that 2016 will likely hold the
same 'narrow' scenario for rPET.
www.icis.com
advertisement