January / February 2012
Subscribe
Page 23 from: January / February 2012
23January/February 2012 O R G A N I S A T I O N S Meeting at least twice a year in Brussels, or more often if there is a specific requirement, ERPA strong- ly supports the principle of free and fair trade in this valuable secondary raw ...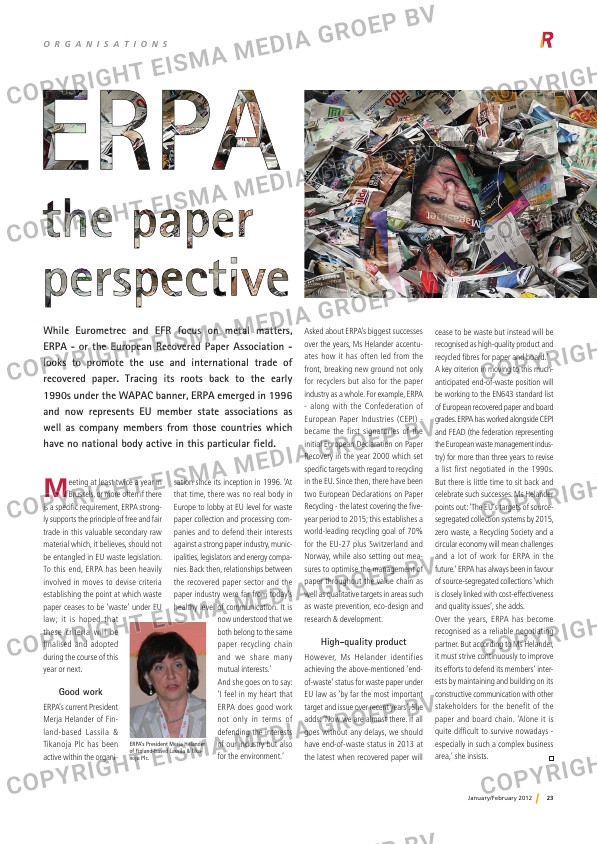 23January/February 2012
O R G A N I S A T I O N S

Meeting at least twice a year in Brussels, or more often if there
is a specific requirement, ERPA strong-
ly supports the principle of free and fair
trade in this valuable secondary raw
material which, it believes, should not
be entangled in EU waste legislation.
To this end, ERPA has been heavily
involved in moves to devise criteria
establishing the point at which waste
paper ceases to be 'waste' under EU
law; it is hoped that
these criteria will be
finalised and adopted
during the course of this
year or next.
Good work
ERPA's current President
Merja Helander of Fin-
land-based Lassila &
Tikanoja Plc has been
active within the organi-
sation since its inception in 1996. 'At
that time, there was no real body in
Europe to lobby at EU level for waste
paper collection and processing com-
panies and to defend their interests
against a strong paper industry, munic-
ipalities, legislators and energy compa-
nies. Back then, relationships between
the recovered paper sector and the
paper industry were far from today's
healthy level of communication. It is
now understood that we
both belong to the same
paper recycling chain
and we share many
mutual interests.'
And she goes on to say:
'I feel in my heart that
ERPA does good work
not only in terms of
defending the interests
of our industry but also
for the environment.'
Asked about ERPA's biggest successes
over the years, Ms Helander accentu-
ates how it has often led from the
front, breaking new ground not only
for recyclers but also for the paper
industry as a whole. For example, ERPA
– along with the Confederation of
European Paper Industries (CEPI) –
became the first signatories of the
initial European Declaration on Paper
Recovery in the year 2000 which set
specific targets with regard to recycling
in the EU. Since then, there have been
two European Declarations on Paper
Recycling – the latest covering the five-
year period to 2015; this establishes a
world-leading recycling goal of 70%
for the EU-27 plus Switzerland and
Norway, while also setting out mea-
sures to optimise the management of
paper throughout the value chain as
well as qualitative targets in areas such
as waste prevention, eco-design and
research & development.
High-quality product
However, Ms Helander identifies
achieving the above-mentioned 'end-
of-waste' status for waste paper under
EU law as 'by far the most important
target and issue over recent years'. She
adds: 'Now we are almost there. If all
goes without any delays, we should
have end-of-waste status in 2013 at
the latest when recovered paper will
cease to be waste but instead will be
recognised as high-quality product and
recycled fibres for paper and board.'
A key criterion in moving to this much-
anticipated end-of-waste position will
be working to the EN643 standard list
of European recovered paper and board
grades. ERPA has worked alongside CEPI
and FEAD (the federation representing
the European waste management indus-
try) for more than three years to revise
a list first negotiated in the 1990s.
But there is little time to sit back and
celebrate such successes. Ms Helander
points out: 'The EU's targets of source-
segregated collection systems by 2015,
zero waste, a Recycling Society and a
circular economy will mean challenges
and a lot of work for ERPA in the
future.' ERPA has always been in favour
of source-segregated collections 'which
is closely linked with cost-effectiveness
and quality issues', she adds.
Over the years, ERPA has become
recognised as a reliable negotiating
partner. But according to Ms Helander,
it must strive continuously to improve
its efforts to defend its members' inter-
ests by maintaining and building on its
constructive communication with other
stakeholders for the benefit of the
paper and board chain. 'Alone it is
quite difficult to survive nowadays –
especially in such a complex business
area,' she insists.
While Eurometrec and EFR focus on metal matters,
ERPA – or the European Recovered Paper Association –
looks to promote the use and international trade of
recovered paper. Tracing its roots back to the early
1990s under the WAPAC banner, ERPA emerged in 1996
and now represents EU member state associations as
well as company members from those countries which
have no national body active in this particular field.

ERPA's President Merja Helander
of Finland-based Lassila & Tika-
noja Plc.
p1 _ – – ro e re .indd 23 23-01-12 0 : 0