January / February 2012
Subscribe
Page 19 from: January / February 2012
19January/February 2012 lems faced are generally similar, but interpreta- tions and opinions can often differ. 'These have to be ironed out so that when we go to the Euro- pean Commission, we speak with one voice,' com- ments Mr V...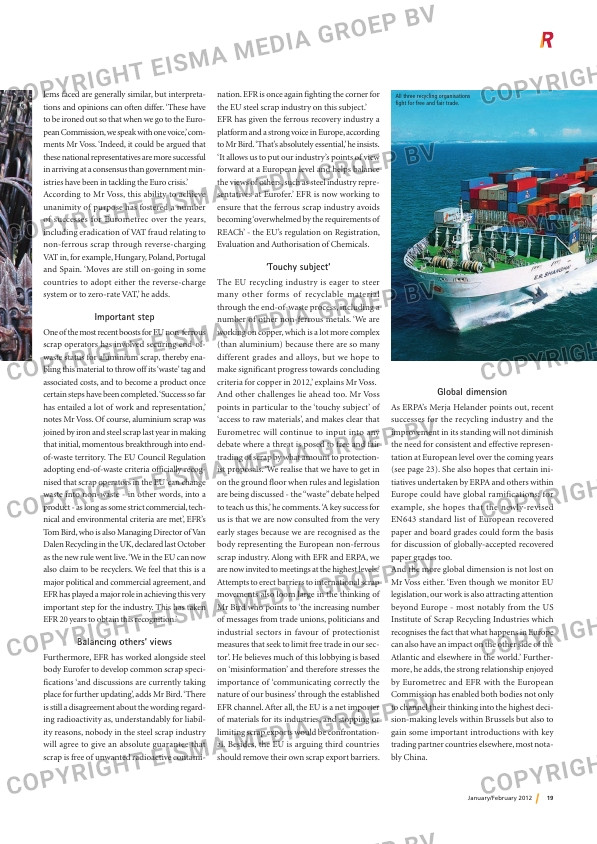 19January/February 2012
lems faced are generally similar, but interpreta-
tions and opinions can often differ. 'These have
to be ironed out so that when we go to the Euro-
pean Commission, we speak with one voice,' com-
ments Mr Voss. 'Indeed, it could be argued that
these national representatives are more successful
in arriving at a consensus than government min-
istries have been in tackling the Euro crisis.'
According to Mr Voss, this ability to achieve
unanimity of purpose has fostered a number
of successes for Eurometrec over the years,
including eradication of VAT fraud relating to
non-ferrous scrap through reverse-charging
VAT in, for example, Hungary, Poland, Portugal
and Spain. 'Moves are still on-going in some
countries to adopt either the reverse-charge
system or to zero-rate VAT,' he adds.
Important step
One of the most recent boosts for EU non-ferrous
scrap operators has involved securing end-of-
waste status for aluminium scrap, thereby ena-
bling this material to throw off its 'waste' tag and
associated costs, and to become a product once
certain steps have been completed. 'Success so far
has entailed a lot of work and representation,'
notes Mr Voss. Of course, aluminium scrap was
joined by iron and steel scrap last year in making
that initial, momentous breakthrough into end-
of-waste territory. The EU Council Regulation
adopting end-of-waste criteria officially recog-
nised that scrap operators in the EU 'can change
waste into non-waste – in other words, into a
product – as long as some strict commercial, tech-
nical and environmental criteria are met', EFR's
Tom Bird, who is also Managing Director of Van
Dalen Recycling in the UK, declared last October
as the new rule went live. 'We in the EU can now
also claim to be recyclers. We feel that this is a
major political and commercial agreement, and
EFR has played a major role in achieving this very
important step for the industry. This has taken
EFR 20 years to obtain this recognition.'
Balancing others' views
Furthermore, EFR has worked alongside steel
body Eurofer to develop common scrap speci-
fications 'and discussions are currently taking
place for further updating', adds Mr Bird. 'There
is still a disagreement about the wording regard-
ing radioactivity as, understandably for liabil-
ity reasons, nobody in the steel scrap industry
will agree to give an absolute guarantee that
scrap is free of unwanted radioactive contami-
nation. EFR is once again fighting the corner for
the EU steel scrap industry on this subject.'
EFR has given the ferrous recovery industry a
platform and a strong voice in Europe, according
to Mr Bird. 'That's absolutely essential,' he insists.
'It allows us to put our industry's points of view
forward at a European level and helps balance
the views of others, such as steel industry repre-
sentatives at Eurofer.' EFR is now working to
ensure that the ferrous scrap industry avoids
becoming 'overwhelmed by the requirements of
REACh' – the EU's regulation on Registration,
Evaluation and Authorisation of Chemicals.
'Touchy subject'
The EU recycling industry is eager to steer
many other forms of recyclable material
through the end-of-waste process, including a
number of other non-ferrous metals. 'We are
working on copper, which is a lot more complex
(than aluminium) because there are so many
different grades and alloys, but we hope to
make significant progress towards concluding
criteria for copper in 2012,' explains Mr Voss.
And other challenges lie ahead too. Mr Voss
points in particular to the 'touchy subject' of
'access to raw materials', and makes clear that
Eurometrec will continue to input into any
debate where a threat is posed to free and fair
trading of scrap by what amount to protection-
ist proposals. 'We realise that we have to get in
on the ground floor when rules and legislation
are being discussed – the "waste" debate helped
to teach us this,' he comments. 'A key success for
us is that we are now consulted from the very
early stages because we are recognised as the
body representing the European non-ferrous
scrap industry. Along with EFR and ERPA, we
are now invited to meetings at the highest levels.'
Attempts to erect barriers to international scrap
movements also loom large in the thinking of
Mr Bird who points to 'the increasing number
of messages from trade unions, politicians and
industrial sectors in favour of protectionist
measures that seek to limit free trade in our sec-
tor'. He believes much of this lobbying is based
on 'misinformation' and therefore stresses the
importance of 'communicating correctly the
nature of our business' through the established
EFR channel. After all, the EU is a net importer
of materials for its industries, and stopping or
limiting scrap exports would be confrontation-
al. Besides, the EU is arguing third countries
should remove their own scrap export barriers.
All three recycling organisations
fight for free and fair trade.
Global dimension
As ERPA's Merja Helander points out, recent
successes for the recycling industry and the
improvement in its standing will not diminish
the need for consistent and effective represen-
tation at European level over the coming years
(see page 23). She also hopes that certain ini-
tiatives undertaken by ERPA and others within
Europe could have global ramifications: for
example, she hopes that the newly-revised
EN643 standard list of European recovered
paper and board grades could form the basis
for discussion of globally-accepted recovered
paper grades too.
And the more global dimension is not lost on
Mr Voss either. 'Even though we monitor EU
legislation, our work is also attracting attention
beyond Europe – most notably from the US
Institute of Scrap Recycling Industries which
recognises the fact that what happens in Europe
can also have an impact on the other side of the
Atlantic and elsewhere in the world.' Further-
more, he adds, the strong relationship enjoyed
by Eurometrec and EFR with the European
Commission has enabled both bodies not only
to channel their thinking into the highest deci-
sion-making levels within Brussels but also to
gain some important introductions with key
trading partner countries elsewhere, most nota-
bly China.
p1 _ – – ro e re .indd 1 23-01-12 0 : 0