January / February 2012
Subscribe
Page 17 from: January / February 2012
17January/February 2012 favouring more action than regulation. Regula- tions are the preferred approach of the govern- ments themselves because, in some circum- stances, it is straight-forward to determine who is responsible for waste...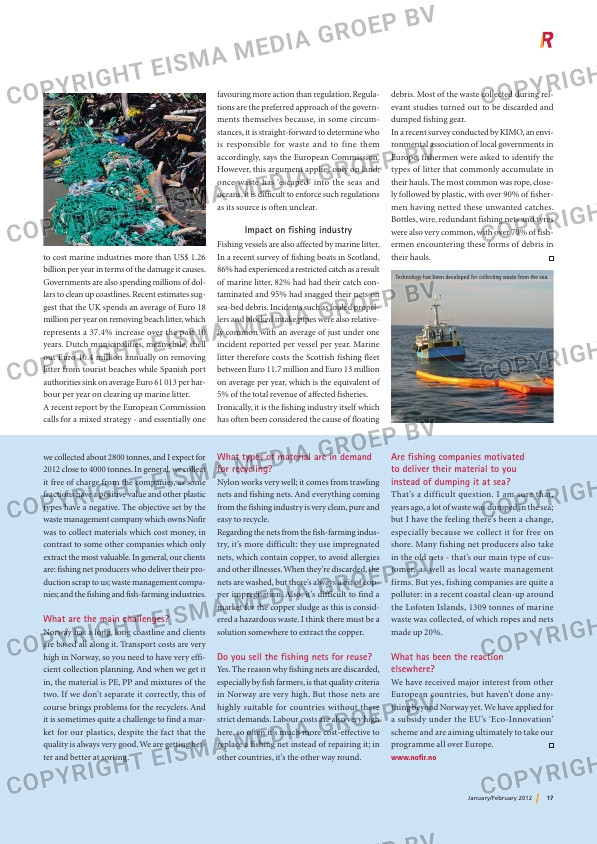 17January/February 2012
favouring more action than regulation. Regula-
tions are the preferred approach of the govern-
ments themselves because, in some circum-
stances, it is straight-forward to determine who
is responsible for waste and to fine them
accordingly, says the European Commission.
However, this argument applies only on land;
once waste has 'escaped' into the seas and
oceans, it is difficult to enforce such regulations
as its source is often unclear.
Impact on fishing industry
Fishing vessels are also affected by marine litter.
In a recent survey of fishing boats in Scotland,
86% had experienced a restricted catch as a result
of marine litter, 82% had had their catch con-
taminated and 95% had snagged their nets on
sea-bed debris. Incidents such as fouled propel-
lers and blocked intake pipes were also relative-
ly common with an average of just under one
incident reported per vessel per year. Marine
litter therefore costs the Scottish fishing fleet
between Euro 11.7 million and Euro 13 million
on average per year, which is the equivalent of
5% of the total revenue of affected fisheries.
Ironically, it is the fishing industry itself which
has often been considered the cause of floating
debris. Most of the waste collected during rel-
evant studies turned out to be discarded and
dumped fishing gear.
In a recent survey conducted by KIMO, an envi-
ronmental association of local governments in
Europe, fishermen were asked to identify the
types of litter that commonly accumulate in
their hauls. The most common was rope, close-
ly followed by plastic, with over 90% of fisher-
men having netted these unwanted catches.
Bottles, wire, redundant fishing nets and tyres
were also very common, with over 70% of fish-
ermen encountering these forms of debris in
their hauls.
we collected about 2800 tonnes, and I expect for
2012 close to 4000 tonnes. In general, we collect
it free of charge from the companies, as some
fractions have a positive value and other plastic
types have a negative. The objective set by the
waste management company which owns Nofir
was to collect materials which cost money, in
contrast to some other companies which only
extract the most valuable. In general, our clients
are: fishing net producers who deliver their pro-
duction scrap to us; waste management compa-
nies; and the fishing and fish-farming industries.
What are the main challenges?
Norway has a long, long coastline and clients
are based all along it. Transport costs are very
high in Norway, so you need to have very effi-
cient collection planning. And when we get it
in, the material is PE, PP and mixtures of the
two. If we don't separate it correctly, this of
course brings problems for the recyclers. And
it is sometimes quite a challenge to find a mar-
ket for our plastics, despite the fact that the
quality is always very good. We are getting bet-
ter and better at sorting.
What types of material are in demand
for recycling?
Nylon works very well; it comes from trawling
nets and fishing nets. And everything coming
from the fishing industry is very clean, pure and
easy to recycle.
Regarding the nets from the fish-farming indus-
try, it's more difficult: they use impregnated
nets, which contain copper, to avoid allergies
and other illnesses. When they're discarded, the
nets are washed, but there's always a bit of cop-
per impregnation. Also, it's difficult to find a
market for the copper sludge as this is consid-
ered a hazardous waste. I think there must be a
solution somewhere to extract the copper.
Do you sell the fishing nets for reuse?
Yes. The reason why fishing nets are discarded,
especially by fish farmers, is that quality criteria
in Norway are very high. But those nets are
highly suitable for countries without these
strict demands. Labour costs are also very high
here, so often it's much more cost-effective to
replace a fishing net instead of repairing it; in
other countries, it's the other way round.
Are fishing companies motivated
to deliver their material to you
instead of dumping it at sea?
That's a difficult question. I am sure that,
years ago, a lot of waste was dumped in the sea;
but I have the feeling there's been a change,
especially because we collect it for free on
shore. Many fishing net producers also take
in the old nets – that's our main type of cus-
tomer, as well as local waste management
firms. But yes, fishing companies are quite a
polluter: in a recent coastal clean-up around
the Lofoten Islands, 1309 tonnes of marine
waste was collected, of which ropes and nets
made up 20%.
What has been the reaction
elsewhere?
We have received major interest from other
European countries, but haven't done any-
thing beyond Norway yet. We have applied for
a subsidy under the EU's 'Eco-Innovation'
scheme and are aiming ultimately to take our
programme all over Europe.
www.nofir.no
to cost marine industries more than US$ 1.26
billion per year in terms of the damage it causes.
Governments are also spending millions of dol-
lars to clean up coastlines. Recent estimates sug-
gest that the UK spends an average of Euro 18
million per year on removing beach litter, which
represents a 37.4% increase over the past 10
years. Dutch municipalities, meanwhile, shell
out Euro 10.4 million annually on removing
litter from tourist beaches while Spanish port
authorities sink on average Euro 61 013 per har-
bour per year on clearing up marine litter.
A recent report by the European Commission
calls for a mixed strategy – and essentially one
Technology has been developed for collecting waste from the sea.
p1 _ i ne re in .indd 1 23-01-12 0 : 1