January / February 2005
Subscribe
Page 45 from: January / February 2005
Closed: January 17, 2005 M A R K E T A N A L Y S I S Textiles Europe Owing to the so far very mild win- ter conditions in Europe, there has been barely any decline in the gener- ation of original material. As previ- ously, there is mor...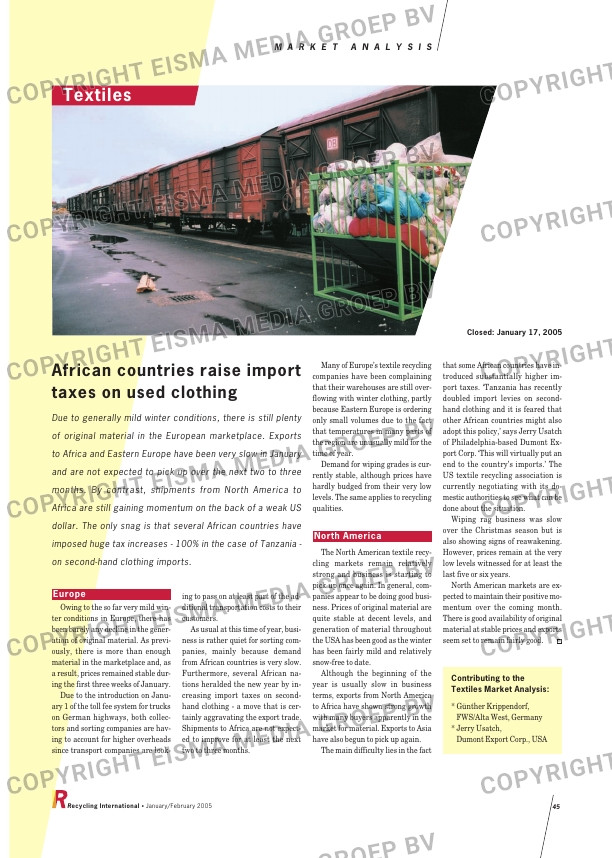 Closed: January 17, 2005

M A R K E T A N A L Y S I S

Textiles

Europe
Owing to the so far very mild win-
ter conditions in Europe, there has
been barely any decline in the gener-
ation of original material. As previ-
ously, there is more than enough
material in the marketplace and, as
a result, prices remained stable dur-
ing the first three weeks of January.
Due to the introduction on Janu-
ary 1 of the toll fee system for trucks
on German highways, both collec-
tors and sorting companies are hav-
ing to account for higher overheads
since transport companies are look-
ing to pass on at least part of the ad-
ditional transportation costs to their
customers.
As usual at this time of year, busi-
ness is rather quiet for sorting com-
panies, mainly because demand
from African countries is very slow.
Furthermore, several African na-
tions heralded the new year by in-
creasing import taxes on second-
hand clothing – a move that is cer-
tainly aggravating the export trade.
Shipments to Africa are not expect-
ed to improve for at least the next
two to three months.
Many of Europe's textile recycling
companies have been complaining
that their warehouses are still over-
flowing with winter clothing, partly
because Eastern Europe is ordering
only small volumes due to the fact
that temperatures in many parts of
the region are unusually mild for the
time of year.
Demand for wiping grades is cur-
rently stable, although prices have
hardly budged from their very low
levels. The same applies to recycling
qualities.
North America

The North American textile recy-
cling markets remain relatively
strong and business is starting to
pick up once again. In general, com-
panies appear to be doing good busi-
ness. Prices of original material are
quite stable at decent levels, and
generation of material throughout
the USA has been good as the winter
has been fairly mild and relatively
snow-free to date.
Although the beginning of the
year is usually slow in business
terms, exports from North America
to Africa have shown strong growth
with many buyers apparently in the
market for material. Exports to Asia
have also begun to pick up again.
The main difficulty lies in the fact
that some African countries have in-
troduced substantially higher im-
port taxes. 'Tanzania has recently
doubled import levies on second-
hand clothing and it is feared that
other African countries might also
adopt this policy,' says Jerry Usatch
of Philadelphia-based Dumont Ex-
port Corp. 'This will virtually put an
end to the country's imports.' The
US textile recycling association is
currently negotiating with its do-
mestic authorities to see what can be
done about the situation.
Wiping rag business was slow
over the Christmas season but is
also showing signs of reawakening.
However, prices remain at the very
low levels witnessed for at least the
last five or six years.
North American markets are ex-
pected to maintain their positive mo-
mentum over the coming month.
There is good availability of original
material at stable prices and exports
seem set to remain fairly good.
Contributing to the
Textiles Market Analysis:

* Günther Krippendorf,
FWS/Alta West, Germany
* Jerry Usatch,
Dumont Export Corp., USA
Due to generally mild winter conditions, there is still plenty

of original material in the European marketplace. Exports

to Africa and Eastern Europe have been very slow in January

and are not expected to pick up over the next two to three

months. By contrast, shipments from North America to

Africa are still gaining momentum on the back of a weak US

dollar. The only snag is that several African countries have

imposed huge tax increases – 100% in the case of Tanzania –

on second-hand clothing imports.

African countries raise import
taxes on used clothing

Recycling International • January/February 2005 45