January / February 2005
Subscribe
Page 37 from: January / February 2005
The words 'volati le' and 'nickel' forged an almost inextricable link during the course of 2004, and most analysts expect the metal's roller-coaster rise to con- tinue in 2005. Responding to higher steel prices, many stainless...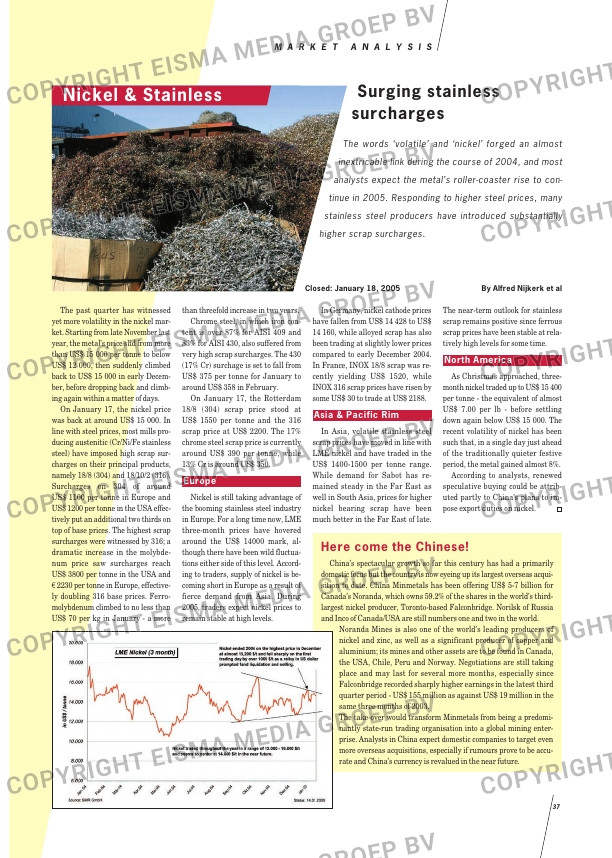 The words 'volati le' and 'nickel' forged an almost

inextricable link during the course of 2004, and most

analysts expect the metal's roller-coaster rise to con-

tinue in 2005. Responding to higher steel prices, many

stainless steel producers have introduced substantially

higher scrap surcharges.

Surging stainless
surcharges

M A R K E T A N A L Y S I S

The past quarter has witnessed
yet more volatility in the nickel mar-
ket. Starting from late November last
year, the metal's price slid from more
than US$ 15 000 per tonne to below
US$ 12 000, then suddenly climbed
back to US$ 15 000 in early Decem-
ber, before dropping back and climb-
ing again within a matter of days.
On January 17, the nickel price
was back at around US$ 15 000. In
line with steel prices, most mills pro-
ducing austenitic (Cr/Ni/Fe stainless
steel) have imposed high scrap sur-
charges on their principal products,
namely 18/8 (304) and 18/10/2 (316).
Surcharges on 304 of around
US$ 1100 per tonne in Europe and
US$ 1200 per tonne in the USA effec-
tively put an additional two thirds on
top of base prices. The highest scrap
surcharges were witnessed by 316; a
dramatic increase in the molybde-
num price saw surcharges reach
US$ 3800 per tonne in the USA and
€ 2230 per tonne in Europe, effective-
ly doubling 316 base prices. Ferro-
molybdenum climbed to no less than
US$ 70 per kg in January – a more
than threefold increase in two years.
Chrome steel, in which iron con-
tent is over 87% for AISI 409 and
83% for AISI 430, also suffered from
very high scrap surcharges. The 430
(17% Cr) surchage is set to fall from
US$ 375 per tonne for January to
around US$ 358 in February.
On January 17, the Rotterdam
18/8 (304) scrap price stood at
US$ 1550 per tonne and the 316
scrap price at US$ 2200. The 17%
chrome steel scrap price is currently
around US$ 390 per tonne, while
13% Cr is around US$ 350.
Europe

Nickel is still taking advantage of
the booming stainless steel industry
in Europe. For a long time now, LME
three-month prices have hovered
around the US$ 14000 mark, al-
though there have been wild fluctua-
tions either side of this level. Accord-
ing to traders, supply of nickel is be-
coming short in Europe as a result of
fierce demand from Asia. During
2005, traders expect nickel prices to
remain stable at high levels.
In Germany, nickel cathode prices
have fallen from US$ 14 428 to US$
14 160, while alloyed scrap has also
been trading at slightly lower prices
compared to early December 2004.
In France, INOX 18/8 scrap was re-
cently yielding US$ 1520, while
INOX 316 scrap prices have risen by
some US$ 30 to trade at US$ 2188.
Asia & Pacific Rim

In Asia, volatile stainless steel
scrap prices have moved in line with
LME nickel and have traded in the
US$ 1400-1500 per tonne range.
While demand for Sabot has re-
mained steady in the Far East as
well in South Asia, prices for higher
nickel bearing scrap have been
much better in the Far East of late.
The near-term outlook for stainless
scrap remains positive since ferrous
scrap prices have been stable at rela-
tively high levels for some time.
North America

As Christmas approached, three-
month nickel traded up to US$ 15 400
per tonne – the equivalent of almost
US$ 7.00 per lb – before settling
down again below US$ 15 000. The
recent volatility of nickel has been
such that, in a single day just ahead
of the traditionally quieter festive
period, the metal gained almost 8%.
According to analysts, renewed
speculative buying could be attrib-
uted partly to China's plans to im-
pose export duties on nickel.
Here come the Chinese!
China's spectacular growth so far this century has had a primarily
domestic focus but the country is now eyeing up its largest overseas acqui-
sition to date. China Minmetals has been offering US$ 5-7 billion for
Canada's Noranda, which owns 59.2% of the shares in the world's third-
largest nickel producer, Toronto-based Falconbridge. Norilsk of Russia
and Inco of Canada/USA are still numbers one and two in the world.
Noranda Mines is also one of the world's leading producers of
nickel and zinc, as well as a significant producer of copper and
aluminium; its mines and other assets are to be found in Canada,
the USA, Chile, Peru and Norway. Negotiations are still taking
place and may last for several more months, especially since
Falconbridge recorded sharply higher earnings in the latest third
quarter period – US$ 155 million as against US$ 19 million in the
same three months of 2003.
The take-over would transform Minmetals from being a predomi-
nantly state-run trading organisation into a global mining enter-
prise. Analysts in China expect domestic companies to target even
more overseas acquisitions, especially if rumours prove to be accu-
rate and China's currency is revalued in the near future.
Closed: January 18, 2005 By Alfred Nijkerk et al

Nickel & Stainless

37