January / February 2005
Subscribe
Page 33 from: January / February 2005
M A R K E T A N A L Y S I S has risen to no less than US$ 300-400 per tonne for those mills that were unable to fix an annual contract, or which purchased additional volumes in response to improving order books. The outcome of the 2005 ne...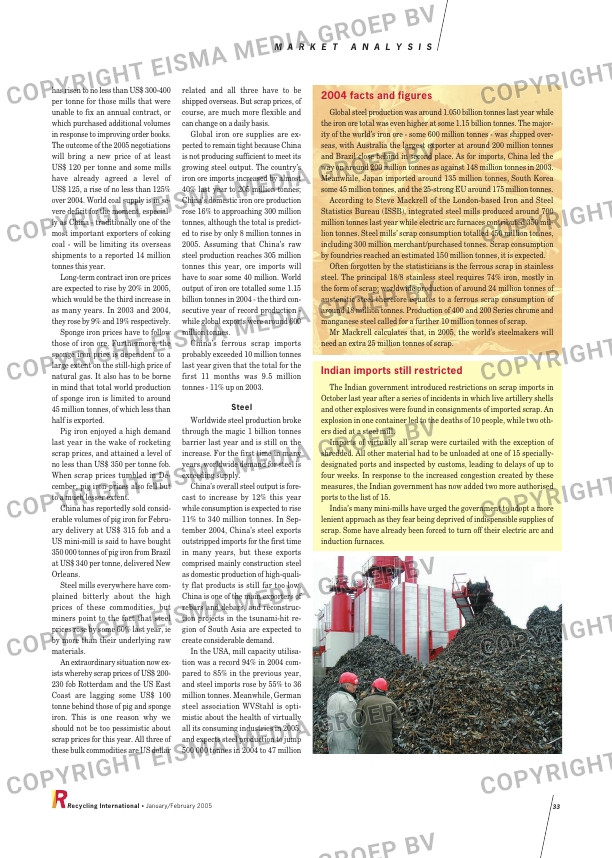 M A R K E T A N A L Y S I S

has risen to no less than US$ 300-400
per tonne for those mills that were
unable to fix an annual contract, or
which purchased additional volumes
in response to improving order books.
The outcome of the 2005 negotiations
will bring a new price of at least
US$ 120 per tonne and some mills
have already agreed a level of
US$ 125, a rise of no less than 125%
over 2004. World coal supply is in se-
vere deficit for the moment, especial-
ly as China – traditionally one of the
most important exporters of coking
coal – will be limiting its overseas
shipments to a reported 14 million
tonnes this year.
Long-term contract iron ore prices
are expected to rise by 20% in 2005,
which would be the third increase in
as many years. In 2003 and 2004,
they rose by 9% and 19% respectively.
Sponge iron prices have to follow
those of iron ore. Furthermore, the
sponge iron price is dependent to a
large extent on the still-high price of
natural gas. It also has to be borne
in mind that total world production
of sponge iron is limited to around
45 million tonnes, of which less than
half is exported.
Pig iron enjoyed a high demand
last year in the wake of rocketing
scrap prices, and attained a level of
no less than US$ 350 per tonne fob.
When scrap prices tumbled in De-
cember, pig iron prices also fell but
to a much lesser extent.
China has reportedly sold consid-
erable volumes of pig iron for Febru-
ary delivery at US$ 315 fob and a
US mini-mill is said to have bought
350 000 tonnes of pig iron from Brazil
at US$ 340 per tonne, delivered New
Orleans.
Steel mills everywhere have com-
plained bitterly about the high
prices of these commodities, but
miners point to the fact that steel
prices rose by some 60% last year, ie
by more than their underlying raw
materials.
An extraordinary situation now ex-
ists whereby scrap prices of US$ 200-
230 fob Rotterdam and the US East
Coast are lagging some US$ 100
tonne behind those of pig and sponge
iron. This is one reason why we
should not be too pessimistic about
scrap prices for this year. All three of
these bulk commodities are US dollar
related and all three have to be
shipped overseas. But scrap prices, of
course, are much more flexible and
can change on a daily basis.
Global iron ore supplies are ex-
pected to remain tight because China
is not producing sufficient to meet its
growing steel output. The country's
iron ore imports increased by almost
40% last year to 205 million tonnes;
China's domestic iron ore production
rose 16% to approaching 300 million
tonnes, although the total is predict-
ed to rise by only 8 million tonnes in
2005. Assuming that China's raw
steel production reaches 305 million
tonnes this year, ore imports will
have to soar some 40 million. World
output of iron ore totalled some 1.15
billion tonnes in 2004 – the third con-
secutive year of record production –
while global exports were around 600
million tonnes.
China's ferrous scrap imports
probably exceeded 10 million tonnes
last year given that the total for the
first 11 months was 9.5 million
tonnes – 11% up on 2003.
Steel

Worldwide steel production broke
through the magic 1 billion tonnes
barrier last year and is still on the
increase. For the first time in many
years, worldwide demand for steel is
exceeding supply.
China's overall steel output is fore-
cast to increase by 12% this year
while consumption is expected to rise
11% to 340 million tonnes. In Sep-
tember 2004, China's steel exports
outstripped imports for the first time
in many years, but these exports
comprised mainly construction steel
as domestic production of high-quali-
ty flat products is still far too low.
China is one of the main exporters of
rebars and debars, and reconstruc-
tion projects in the tsunami-hit re-
gion of South Asia are expected to
create considerable demand.
In the USA, mill capacity utilisa-
tion was a record 94% in 2004 com-
pared to 85% in the previous year,
and steel imports rose by 55% to 36
million tonnes. Meanwhile, German
steel association WVStahl is opti-
mistic about the health of virtually
all its consuming industries in 2005,
and expects steel production to jump
500 000 tonnes in 2004 to 47 million
Recycling International • January/February 2005 33

Indian imports still restricted
The Indian government introduced restrictions on scrap imports in
October last year after a series of incidents in which live artillery shells
and other explosives were found in consignments of imported scrap. An
explosion in one container led to the deaths of 10 people, while two oth-
ers died at a steel mill.
Imports of virtually all scrap were curtailed with the exception of
shredded. All other material had to be unloaded at one of 15 specially-
designated ports and inspected by customs, leading to delays of up to
four weeks. In response to the increased congestion created by these
measures, the Indian government has now added two more authorised
ports to the list of 15.
India's many mini-mills have urged the government to adopt a more
lenient approach as they fear being deprived of indispensible supplies of
scrap. Some have already been forced to turn off their electric arc and
induction furnaces.
2004 facts and figures
Global steel production was around 1.050 billion tonnes last year while
the iron ore total was even higher at some 1.15 billion tonnes. The major-
ity of the world's iron ore – some 600 million tonnes – was shipped over-
seas, with Australia the largest exporter at around 200 million tonnes
and Brazil close behind in second place. As for imports, China led the
way on around 200 million tonnes as against 148 million tonnes in 2003.
Meanwhile, Japan imported around 135 million tonnes, South Korea
some 45 million tonnes, and the 25-strong EU around 175 million tonnes.
According to Steve Mackrell of the London-based Iron and Steel
Statistics Bureau (ISSB), integrated steel mills produced around 700
million tonnes last year while electric arc furnaces contributed 350 mil-
lion tonnes. Steel mills' scrap consumption totalled 450 million tonnes,
including 300 million merchant/purchased tonnes. Scrap consumption
by foundries reached an estimated 150 million tonnes, it is expected.
Often forgotten by the statisticians is the ferrous scrap in stainless
steel. The principal 18/8 stainless steel requires 74% iron, mostly in
the form of scrap; worldwide production of around 24 million tonnes of
austenitic steel therefore equates to a ferrous scrap consumption of
around 18 million tonnes. Production of 400 and 200 Series chrome and
manganese steel called for a further 10 million tonnes of scrap.
Mr Mackrell calculates that, in 2005, the world's steelmakers will
need an extra 25 million tonnes of scrap.