January / February 2005
Subscribe
Page 3 from: January / February 2005
V I E W P O I N T According to many religious beliefs about the after-life, Hell is a place of torment, of great weep- ing and gnashing of teeth. The English word 'Hell' comes from the Norwegian 'Hel', which originally referred to ...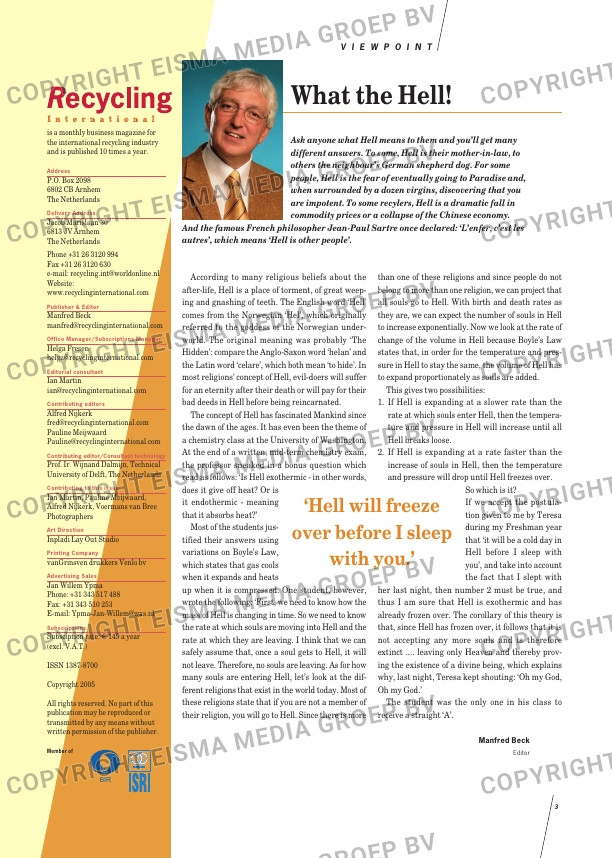 V I E W P O I N T

According to many religious beliefs about the
after-life, Hell is a place of torment, of great weep-
ing and gnashing of teeth. The English word 'Hell'
comes from the Norwegian 'Hel', which originally
referred to the goddess of the Norwegian under-
world. The original meaning was probably 'The
Hidden': compare the Anglo-Saxon word 'helan' and
the Latin word 'celare', which both mean 'to hide'. In
most religions' concept of Hell, evil-doers will suffer
for an eternity after their death or will pay for their
bad deeds in Hell before being reincarnated.
The concept of Hell has fascinated Mankind since
the dawn of the ages. It has even been the theme of
a chemistry class at the University of Washington.
At the end of a written, mid-term chemistry exam,
the professor sneaked in a bonus question which
read as follows: 'Is Hell exothermic – in other words,
does it give off heat? Or is
it endothermic – meaning
that it absorbs heat?'
Most of the students jus-
tified their answers using
variations on Boyle's Law,
which states that gas cools
when it expands and heats
up when it is compressed. One student, however,
wrote the following: 'First, we need to know how the
mass of Hell is changing in time. So we need to know
the rate at which souls are moving into Hell and the
rate at which they are leaving. I think that we can
safely assume that, once a soul gets to Hell, it will
not leave. Therefore, no souls are leaving. As for how
many souls are entering Hell, let's look at the dif-
ferent religions that exist in the world today. Most of
these religions state that if you are not a member of
their religion, you will go to Hell. Since there is more
than one of these religions and since people do not
belong to more than one religion, we can project that
all souls go to Hell. With birth and death rates as
they are, we can expect the number of souls in Hell
to increase exponentially. Now we look at the rate of
change of the volume in Hell because Boyle's Law
states that, in order for the temperature and pres-
sure in Hell to stay the same, the volume of Hell has
to expand proportionately as souls are added.
This gives two possibilities:
1. If Hell is expanding at a slower rate than the
rate at which souls enter Hell, then the tempera-
ture and pressure in Hell will increase until all
Hell breaks loose.
2. If Hell is expanding at a rate faster than the
increase of souls in Hell, then the temperature
and pressure will drop until Hell freezes over.
So which is it?
If we accept the postula-
tion given to me by Teresa
during my Freshman year
that 'it will be a cold day in
Hell before I sleep with
you', and take into account
the fact that I slept with
her last night, then number 2 must be true, and
thus I am sure that Hell is exothermic and has
already frozen over. The corollary of this theory is
that, since Hell has frozen over, it follows that it is
not accepting any more souls and is therefore
extinct …. leaving only Heaven and thereby prov-
ing the existence of a divine being, which explains
why, last night, Teresa kept shouting: 'Oh my God,
Oh my God.'
The student was the only one in his class to
receive a straight 'A'.
is a monthly business magazine for
the international recycling industry
and is published 10 times a year.
Address

P.O. Box 2098
6802 CB Arnhem
The Netherlands
Delivery Address

Jacob Marislaan 30
6813 JV Arnhem
The Netherlands
Phone +31 26 3120 994
Fax +31 26 3120 630
e-mail: [email protected]
Website:
www.recyclinginternational.com
Publisher & Editor

Manfred Beck
[email protected]
Office Manager/Subscriptions Manager

Helga Fresen
[email protected]
Editorial consultant

Ian Martin
[email protected]
Contributing editors

Alfred Nijkerk
[email protected]
Pauline Meijwaard
[email protected]
Contributing editor/Consultant technology

Prof. Ir. Wijnand Dalmijn, Technical
University of Delft, The Netherlands
Contributing to this issue

Ian Martin, Pauline Meijwaard,
Alfred Nijkerk, Voermans van Bree
Photographers
Art Direction

Inpladi Lay Out Studio
Printing Company

vanGrinsven drukkers Venlo bv
Advertising Sales

Jan Willem Ypma
Phone: +31 343 517 488
Fax: +31 343 510 253
E-mail: [email protected]
Subscriptions

Subsciption rate: € 149 a year
(excl. V.A.T.)
ISSN 1387-8700
Copyright 2005
All rights reserved. No part of this
publication may be reproduced or
transmitted by any means without
written permission of the publisher.
Member of

3

Manfred Beck
Editor
Ask anyone what Hell means to them and you'll get many
different answers. To some, Hell is their mother-in-law, to
others the neighbour's German shepherd dog. For some
people, Hell is the fear of eventually going to Paradise and,
when surrounded by a dozen virgins, discovering that you
are impotent. To some recylers, Hell is a dramatic fall in
commodity prices or a collapse of the Chinese economy.

And the famous French philosopher Jean-Paul Sartre once declared: 'L'enfer, c'est les
autres', which means 'Hell is other people'.

What the Hell!

'Hell will freeze
over before I sleep

with you.'

BIR