January / February 2005
Subscribe
Page 25 from: January / February 2005
costs have caused 'serious problems' for Russia's export-orientated companies. 'Freight from the nort- hern regions of Russia to Europe almost doubled in the final quarter of 2004,' he points out. Mr Neverov identifies two major...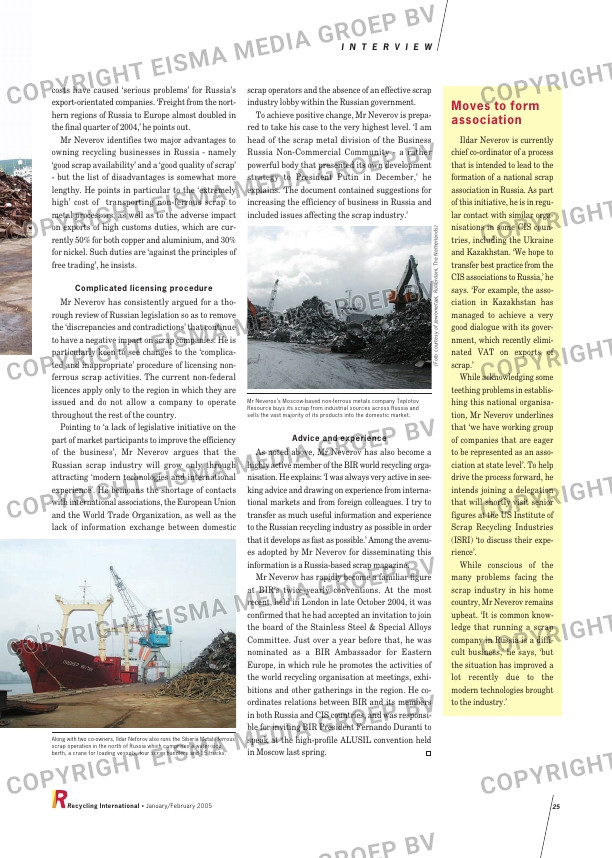 costs have caused 'serious problems' for Russia's
export-orientated companies. 'Freight from the nort-
hern regions of Russia to Europe almost doubled in
the final quarter of 2004,' he points out.
Mr Neverov identifies two major advantages to
owning recycling businesses in Russia – namely
'good scrap availability' and a 'good quality of scrap'
– but the list of disadvantages is somewhat more
lengthy. He points in particular to the 'extremely
high' cost of transporting non-ferrous scrap to
metal processors, as well as to the adverse impact
on exports of high customs duties, which are cur-
rently 50% for both copper and aluminium, and 30%
for nickel. Such duties are 'against the principles of
free trading', he insists.
Complicated licensing procedure

Mr Neverov has consistently argued for a tho-
rough review of Russian legislation so as to remove
the 'discrepancies and contradictions' that continue
to have a negative impact on scrap companies. He is
particularly keen to see changes to the 'complica-
ted and inappropriate' procedure of licensing non-
ferrous scrap activities. The current non-federal
licences apply only to the region in which they are
issued and do not allow a company to operate
throughout the rest of the country.
Pointing to 'a lack of legislative initiative on the
part of market participants to improve the efficiency
of the business', Mr Neverov argues that the
Russian scrap industry will grow only through
attracting 'modern technologies and international
experience'. He bemoans the shortage of contacts
with international associations, the European Union
and the World Trade Organization, as well as the
lack of information exchange between domestic
scrap operators and the absence of an effective scrap
industry lobby within the Russian government.
To achieve positive change, Mr Neverov is prepa-
red to take his case to the very highest level. 'I am
head of the scrap metal division of the Business
Russia Non-Commercial Community – a rather
powerful body that presented its own development
strategy to President Putin in December,' he
explains. 'The document contained suggestions for
increasing the efficiency of business in Russia and
included issues affecting the scrap industry.'
Advice and experience

As noted above, Mr Neverov has also become a
highly active member of the BIR world recycling orga-
nisation. He explains: 'I was always very active in see-
king advice and drawing on experience from interna-
tional markets and from foreign colleagues. I try to
transfer as much useful information and experience
to the Russian recycling industry as possible in order
that it develops as fast as possible.' Among the avenu-
es adopted by Mr Neverov for disseminating this
information is a Russia-based scrap magazine.
Mr Neverov has rapidly become a familiar figure
at BIR's twice-yearly conventions. At the most
recent, held in London in late October 2004, it was
confirmed that he had accepted an invitation to join
the board of the Stainless Steel & Special Alloys
Committee. Just over a year before that, he was
nominated as a BIR Ambassador for Eastern
Europe, in which role he promotes the activities of
the world recycling organisation at meetings, exhi-
bitions and other gatherings in the region. He co-
ordinates relations between BIR and its members
in both Russia and CIS countries, and was responsi-
ble for inviting BIR President Fernando Duranti to
speak at the high-profile ALUSIL convention held
in Moscow last spring.
Recycling International • January/February 2005 25

I N T E R V I E W

Moves to form
association

Ildar Neverov is currently
chief co-ordinator of a process
that is intended to lead to the
formation of a national scrap
association in Russia. As part
of this initiative, he is in regu-
lar contact with similar orga-
nisations in some CIS coun-
tries, including the Ukraine
and Kazakhstan. 'We hope to
transfer best practice from the
CIS associations to Russia,' he
says. 'For example, the asso-
ciation in Kazakhstan has
managed to achieve a very
good dialogue with its gover-
nment, which recently elimi-
nated VAT on exports of
scrap.'
While acknowledging some
teething problems in establis-
hing this national organisa-
tion, Mr Neverov underlines
that 'we have working group
of companies that are eager
to be represented as an asso-
ciation at state level'. To help
drive the process forward, he
intends joining a delegation
that will shortly visit senior
figures at the US Institute of
Scrap Recycling Industries
(ISRI) 'to discuss their expe-
rience'.
While conscious of the
many problems facing the
scrap industry in his home
country, Mr Neverov remains
upbeat. 'It is common know-
ledge that running a scrap
company in Russia is a diffi-
cult business,' he says, 'but
the situation has improved a
lot recently due to the
modern technologies brought
to the industry.'
Along with two co-owners, Ildar Neforov also runs the Siberia Metals ferrous
scrap operation in the north of Russia which comprises a water-side
berth, a crane for loading vessels, four scrap handlers and 15 trucks.
Mr Neverov's Moscow-based non-ferrous metals company Teplotov
Resource buys its scrap from industrial sources across Russia and
sells the vast majority of its products into the domestic market.
(F
o

to
c

o
ur

te
sy

o
f

Je
w

o
m

et
aa

l,
R

o
tt

er
d

am
,

T
he

N
et

he
rl

an
d

s)